New Jersey: Five More Cities Proclaim Falun Dafa Day
(Minghui.org) May 13 is World Falun Dafa Day and this year is the 30th anniversary of Falun Dafa's introduction. After 18 cities and one county issued proclamations or citations, five more cities proclaimed Falun Dafa Day. They are City of Hoboken, Township of Warren, Town of Harrison, City of New Brunswick, and City of Burlington.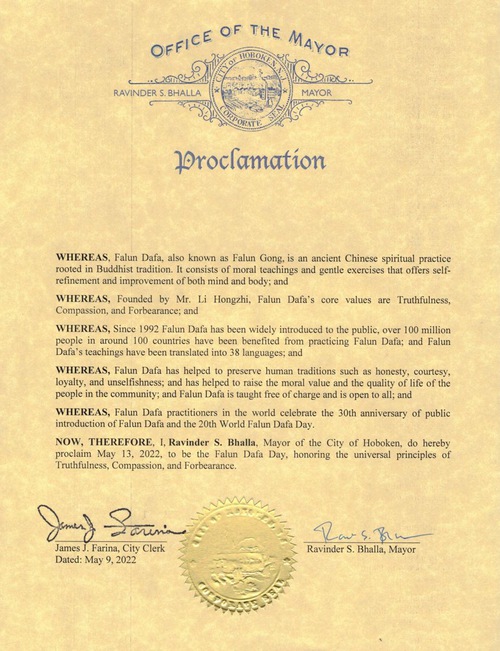 Proclamation issued by Mayor Ranvider Bhalla of Hoboken
The proclamation issued by Mayor Bhalla reads, "Falun Dafa, also known as Falun Gong, is an ancient Chinese spiritual practice rooted in Buddhist tradition. It consists of moral teachings and gently exercises that offers self-refinement and improvement of both mind and body; and
"Founded by Mr. Li Hongzhi, Falun Dafa's core values are Truthfulness, Compassion, and Forbearance; and
"Since 1992 Falun Dafa has been widely introduced to the public, over 100 million people in around 100 countries have been benefited from practicing Falun Dafa; and Falun Dafa's teachings have been translated into 38 languages; and
"Falun Dafa has helped to preserve human traditions such as honesty, courtesy, loyalty, and unselfishness; and has helped to raise the moral value and the quality of life of the people in the community; and Falun Dafa is taught free of charge and is open to all."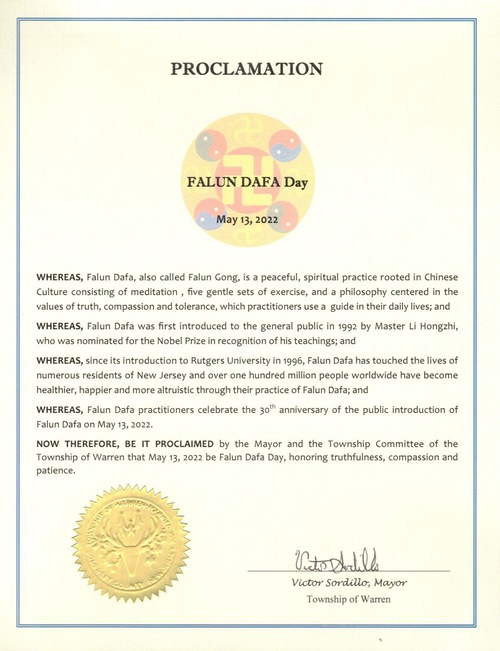 Proclamation issued by Mayor Sordillo of the Township of Warren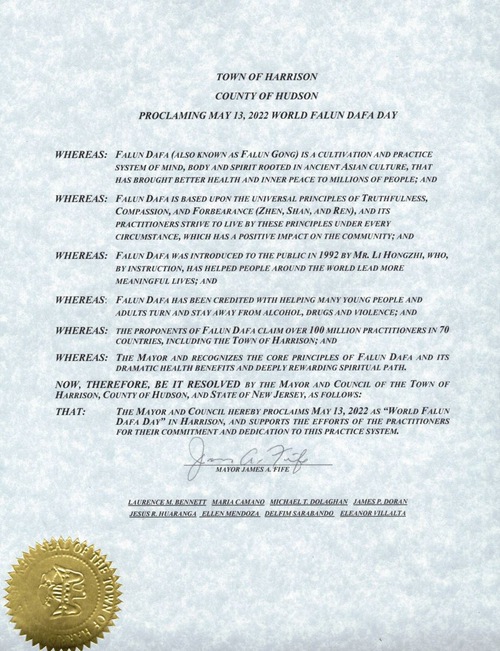 Joint proclamation by Mayor Fife and the Town of Harrison's City Council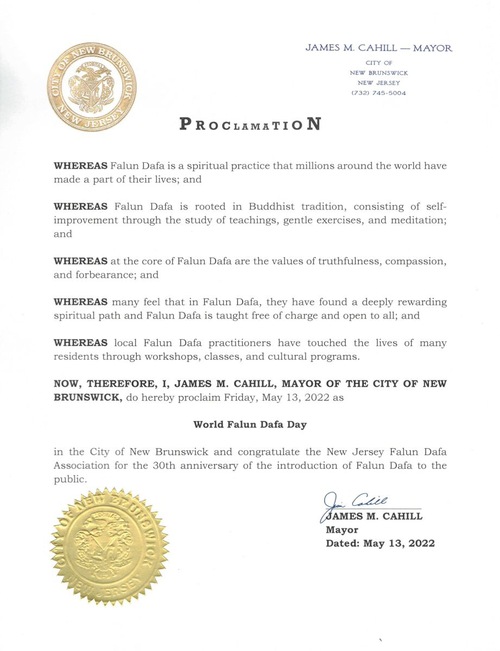 Proclamation issued by Mayor Cahill from the City of New Brunswick
Joint Citation issued by Mayor Conaway and the Common Council of the City of Burlington
Background: What Is Falun Dafa?
Falun Dafa (also known as Falun Gong) was first introduced to the public by Mr. Li Hongzhi in Changchun, China, in 1992. The spiritual discipline is now practiced in over 100 countries and regions worldwide. Millions of people who have embraced the teachings—which are based on the principles of Truthfulness, Compassion, and Forbearance—and learned the five exercises have experienced improved health and well-being.
All content published on this website are copyrighted by Minghui.org. Minghui will produce compilations of its online content regularly and on special occasions.