Ningxia Man Sentenced to Three Years for His Faith
(Minghui.org) A 66-year-old Yinchuan City, Ningxia Province resident was sentenced to three years in early April 2022 for practicing Falun Gong, a mind-body discipline that has been persecuted by the Chinese communist regime since 1999.
Mr. Zhao Hengde, a former healthcare bureau official, was arrested on November 26, 2021, for distributing informational materials about Falun Gong. The prosecutor indicted him on January 13, 2022 with the charge of "undermining law enforcement with a cult organization," a standard pretext used to criminalize Falun Gong practitioners.
During his hearing at the Xixia District Court on March 15, 2022, Mr. Zhao's lawyer entered a not guilty plea for him and demanded his acquittal. The lawyer emphasized that the Constitution protects one's freedom of belief and that Mr. Zhao didn't violate any law or harm anyone or anything.
Mr. Zhao, who was wearing a urinary catheter after developing a medical condition at the detention center, testified in his own defense. He maintained that he didn't do anything wrong in practicing Falun Gong.
The judge announced Mr. Zhao's verdict in early April. He is still being held at the Yinchuan City Detention Center at the time of writing.
Past Persecution
Since the onset of the persecution, Mr. Zhao has been repeatedly targeted for upholding his faith.
He was first arrested in October 2000 at Tiananmen Square for appealing for Falun Gong. After he was taken back to Ningxia and held at the Pengyang County Detention Center, two guards and two inmates tied his arms behind his back and pulled them upwards, until they couldn't move any further. After a period of time, they kept pushing his arms up. They did this torture three times. The pain was so intense that Mr. Zhao passed out.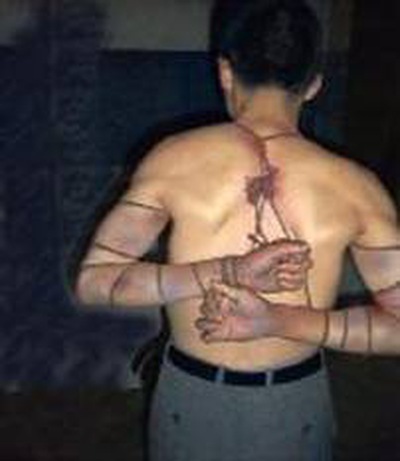 Torture re-enactment: tying up
After he came to, the guards forced him to wear shackles weighing 50 kg. Only a few steps would cause his ankles to become severely worn, yet the guards still forced him to walk. The guards refused to remove the shackles at night and ordered him to stand overnight.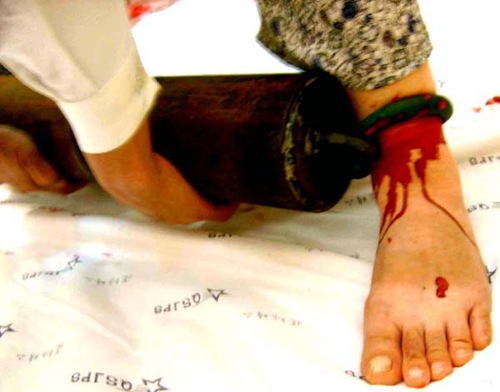 Torture reenactment: shackles
Mr. Zhao was later sentenced to three years and fired from his job. The prison guards continued to beat him and tie him up.
When his term ended in October 2003, the authorities refused to release him, but held him at a brainwashing center for 60 days.
Mr. Zhao was arrested again in December 2015 for filing a criminal complaint against Jiang Zemin, the former head of the communist regime who ordered the persecution.
Perpetrators' contact information:
Hu Guilan (虎柜兰), presiding judge: +86-951-4014281Wang Xiaojia (王小佳), judge: +86-18169093873Jin Jing (金菁), judgeRen Shuang (任爽), judge's assistant: +86-18995095907Liu Li (刘丽), prosecutor
Related reports:
Once Tortured for Three Years in Prison, Ningxia Man Faces Jail Time Again for His Faith
Ningxia Man Experiences Medical Condition Three Months Following Latest Arrest for His Faith
Views expressed in this article represent the author's own opinions or understandings. All content published on this website are copyrighted by Minghui.org. Minghui will produce compilations of its online content regularly and on special occasions.