Wife Sentenced to Five Years, Two Years After Husband Served Ten Years, for Their Shared Faith in Falun Gong
(Minghui.org) Ms. Li Shuchun was taken to Heilongjiang Women's Prison on January 7, 2022 to serve a 5-year term for hanging up banners about Falun Gong, a spiritual discipline that has been persecuted by the Chinese communist regime since 1999.
Ms. Li, of Daqing City, Heilongjiang Province, was arrested on the evening of February 5, 2020, after the police suspected her of putting up Falun Gong banner in Dumeng County in January. Her husband, Mr. Liu Fubin, who had just finished serving 10 years in prison for their shared faith, was also arrested.
While both of the couple were released on the next day, Ms. Li was arrested again on January 11, 2021. She was first held at Dumeng County Detention Center and transferred to Daqing No. 2 Detention Center in March. She was indicted by the Ranghulu District Procuratorate in April and sentenced to five years by the Ranghulu District Court on July 23.
Prior to her latest sentencing, Ms. Li and her husband have been subjected to ongoing persecution since 1999 for upholding their faith in the traditional spiritual discipline.
Ms. Li took up Falun Gong in the winter of 1996 when she was 25. At that time, she had heart disease, excessive production of thyroid hormones and inflammation of the bronchi in the lungs. Her four-year-old daughter, Liu Rui, also fell sick very often. Their monthly income of 700 yuan was far from being enough to cover the medical bills. They had to accumulate a lot of debt.
In the winter, Ms. Li's daughter couldn't stop coughing. One day Ms. Li's mother brought her the book Zhuan Falun, the main teaching of Falun Gong, and recommended her to practice Falun Gong, which can improve her health. Ms. Li read the book to her daughter and the little girl's coughing stopped three days later.
Since then, Ms. Li and Mr. Liu have persisted in practicing Falun Gong. They read the book, do the exercises every day and live by its principles of "Truthfulness-Compassion-Forbearance." Without her noticing, all of Ms. Li's illnesses were gone and she was able to run a small business. They paid off their debt and started having savings. The family was happy and harmonious.
However, the family was torn apart after the Chinese Communist Party started the persecution of Falun Gong on July 20, 1999.
When the couple went to a nearby park at 5:30 a.m. to do daily exercises on July 22, 1999, they were arrested and taken to the police station, where many other practitioners were standing in the yard. They were released in the afternoon. Since then, the couple have been repeatedly harassed by local police and also imprisoned for years for upholding their faith.
Husband and Wife Tortured to Extract Confessions
Seven officers, including Liu Fangwu and Hu Jianlong, broke into the couple's home on the evening of April 14, 2002. The police ransacked their apartment, confiscated two bags of Falun Gong informational materials and brought the couple to the police station without a search warrant or arrest warrant.
The couple refused to tell the police where they got the Falun Gong related materials found at their home. The police handcuffed Ms. Li, rolled up a pack of paper and used it to strike Ms. Li's face. Although Ms. Li was released at night, Mr. Liu was taken to a detention center for further persecution. Police officer Wang Zhongge inserted Mr. Liu's genitals into a metal pipe and said, "If you don't tell me, I'll make you disabled." Three months later, Mr. Liu was given three years at Daqing Forced Labor Camp.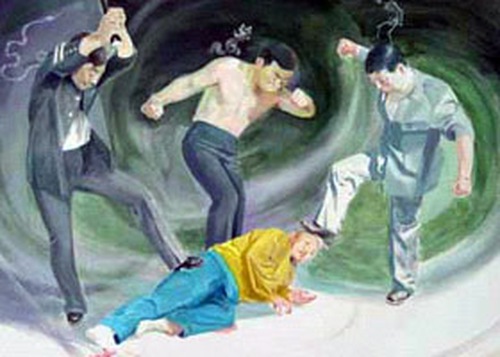 Torture illustration: beating
Mother Forcibly Separated from 18-Month-old Baby
One day in September 2002, police officers Liu Fangwu and Ye Jianlong went to Ms. Li's home. They grabbed her 18-month-old son from her arms, put him aside and took her to a detention center. Ms. Li was later transferred to the Harbin Drug Rehabilitation Center to serve one year of forced labor.
Ms. Li described the persecution she suffered in the drug rehabilitation center below.
"On the first day a female guard named Shi Shuai asked, 'Is Falun Gong good?' I replied, 'It's good!' Then she handcuffed me behind my back to the heating pipe for seven days. Every day the guards insulted me. Later they handcuffed me to the water pipe in the bathroom, and keep the window open in cold days.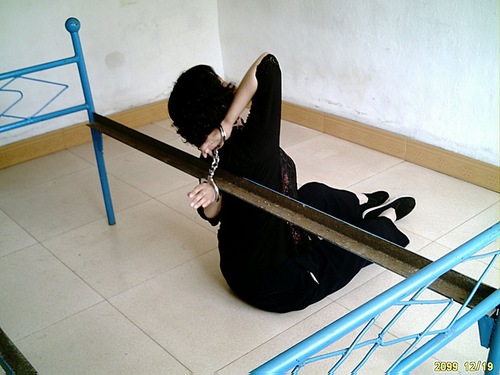 Torture reenactment: handcuffed behind one's back
"Five days later, they brought me to a warehouse and hung me from a metal frame. Guard Yi Na slapped me twice. Three days later, I was sent to a workshop to do free labor under the monitor of inmates.
"Because I refused to give up my faith, they intensified the torture. I was forced to sit on a small stool, while keeping the feet and knees together and my hands on my legs. I wasn't allowed to move a bit for a whole day. On the second day, they removed the stool and forced me to squat for another day. On the third day, guard Shi Shuai took off my jacket, leaving me with only one layer of clothes on. She dragged me to a basement and left the windows wide open, to let the cold wind blow on me.
"The director, Li Quanming, instigated inmates to cut female practitioners' hair randomly. They also stuffed clothes into my mouth. With an electric baton in his hand, guard Dong Shaoxing threatened me to write a statement slandering Falun Gong. After I refused, he handcuffed me to a ring on the ground.
"Many practitioners suffered terrible torture, some couldn't walk, some could not get out of bed, some were mentally ill and others were tortured to death. While being physically tortured, we were also forced to watch slanderous videos of Falun Gong. Most practitioners' hair turned grey as a result of the mental and physical torture."
When Ms. Li's term was about to expire in September 2003, the authorities extended it by another three months. When she was finally released, her son hid behind his grandmother and couldn't recognize his mother.
At that time, her husband Mr. Liu was still serving his three-year term at Daqing Forced Labor Camp, where he suffered various tortures including being forced to sit on the tiger bench, beaten or doused with cold or boiled water. An inmate was instructed to rub Mr. Liu's face until the skin was broken.
Wife Given Two Years of Forced Labor, Husband Ten Years of Prison Term
The couple were both arrested again when they went back home for lunch on July 13, 2009. Over 30 police officers, including Liu Fangwu and Hu Jianlong, broke into their home. They held Mr. Liu's hands from behind against the window. Ms. Li questioned the police on what they were doing, only to be held by the officers herself. When their 16-year-old daughter Liu Rui tried to stop them, they pepper sprayed her eyes and held her against the floor.
They took the couple and the teenage girl, without allowing the latter to change her pajama dress, to the police station. One officer tried to pull off the teen's dress, but relented when she warned him. Her eight-year-old brother, who was terrified and hid, was spared from being arrested.
Mr. Liu's younger brother, Mr. Liu Fuze, and his wife Ms. Zhao Mingjing, who lived in the same compound, were also arrested and taken to the police station for interrogation.
While Liu Rui was released the second day and her uncle released a month later, her mother and aunt Ms. Zhao were each given a two-year labor camp term. Her father Mr. Liu was sentenced to 10 years in Tailai Prison on May 20, 2010 by the Dumeng County Court.
On the day when Ms. Li was taken to the Harbin Drug Rehabilitation Center to serve the two-year term, her daughter went to the detention center to see her off. She ran after the police car, crying. When she fell, officer Hu Jianlong urged the driver to speed up.
The girl went to the drug rehabilitation center to see her mother on every visitation day, but wasn't allowed to see her each time.
During the two years in the forced labor camp, Ms. Liu was forced to work day and night assembling various products like toothpicks, chopsticks, straws and barbecue skewers in a very filthy environment without pay.
Related articles:
Two Heilongjiang Residents Sentenced for Hanging Up Banners About Their Faith
Three Heilongjiang Residents Tried for Hanging Up Falun Gong Banners, a Fourth One Faces Indictment
Authorities Refuse to Release Falun Gong Practitioner With Failing Health Attributed to Torture Suffered in Prison
Views expressed in this article represent the author's own opinions or understandings. All content published on this website are copyrighted by Minghui.org. Minghui will produce compilations of its online content regularly and on special occasions.