Organ Harvesting Atrocities in China Draw Concern During Winter Olympics
(Minghui.org) Lawmakers from the United States, Canada, and the United Kingdom have condemned China's human rights violations as the Winter Olympics are underway. Forced organ harvesting atrocities, in particular, have received widespread criticism from medical professionals, legislators, government officials, news media, human rights organizations, and the general public. Laws and resolutions have been introduced in numerous countries to help end organ tourism and the organ harvesting atrocities.
U.K. Parliament Member: Mass Killings by an Authoritarian State
The U.K. House of Lords discussed two amendments to the Human Tissue Act on February 4, the first day of the Winter Olympics. In particular, the parliament focused on atrocities against Falun Gong and Uyghurs.
Philip Hunt, Baron Hunt of Kings Heath, proposed Amendments 265 and 282 to stop U.K. citizens from engaging in organ tourism in China and to ban body exhibitions from China. This would prevent British citizens from becoming accomplices of of the crime.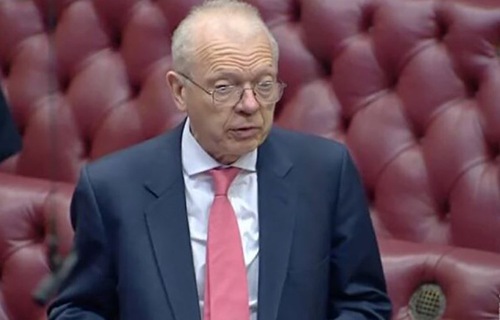 Lord Philip Hunt of Kings Heath spoke at the U.K. House of Lords on October 29, 2019. (Video screenshot from Parliamentlive.tv)
"Notably, Dalian labour lamp from 1999 to 2013 was notorious for its severe torturing of Falun Gong practitioners," remarked Lord Hunt of Kings Heath on February 4, "The commercial exploitation of body parts in all its forms is surely unethical and unsavoury, but when it is combined with mass killings by an authoritarian state, we cannot stand by and do nothing."
Citing Article 4 of the Universal Declaration on Combating and Preventing Forced Organ Harvesting, he said all governments should combat and prevent forced organ harvesting by providing for the criminalization of certain acts and facilitate the criminal prosecution of forced organ harvesting both at the national and international levels.
"I believe we must take action internationally and in the UK to do all we can to prevent this abhorrent practice," he added.
These two amendments received broad support from other parliament members. Baroness Finlay of Llandaff said she "strongly support these amendments and cannot see any reason for anyone not to. They set a basic moral standard."
There is overwhelming evidence that Falun Gong practitioners and other groups in China are being killed on demand for their organs, she added. "There is no consent, no dignity and no transparency," she explained. In fact, she received a letter one day before from a woman whose mother is a Falun Gong practitioner. "[The mother] has been in prison and effectively disappeared. She has no idea where her mother is; she has not heard from her. That is happening all over this population," she continued.
Lord Alton of Liverpool supported both amendments. Throughout China, forced organ harvesting of prisoners of conscience is taking place and the predominant victims have been Falun Gong practitioners. This is a systematic top-down persecution against 100 million Falun Gong practitioners since "the former CCP leader, Jiang Zemin, set up the 610 Office and gave the order to—his word—eradicate Falun Gong."
"Not since 1936, when the Nazi games were held in Berlin and the world saw Hitler use the Olympics to promote his hideous ideology, and most Jewish German athletes were barred from taking part in the Games, have we seen the Olympic ideal so scandalously debased," he added.
Lord Bernard Ribeiro continued saying the UN special rapporteurs had continued to raise concerns surrounding organ harvesting from Uyghurs in China with overwhelming evidence, where hearts, livers, kidneys and corneas are commonly taken. In fact, the British Medical Association (BMA) condemned this in January 2022 and urged the British government to exert pressure on the Chinese Government to stop these inhumane practices and to allow the UN investigators into the region.
Baroness Northover agreed. "We cannot say that we do not now know about forced organ harvesting... Forced organ harvesting has been committed for years throughout China on a significant scale," she explained, "A number of countries, including Spain, Italy, Belgium, Norway and Israel, have already taken action to prevent organ tourism to China. We surely must do the same."
Lord Patrick Cormack also expressed his "wholehearted support" to these amendments. "There is no more despicable trade than the trade in human organs and no more despicable practices than those that are going on in China at the moment, simultaneously with the opening of the shameful Games," he continued.
Baroness Northover explained Amendment 282 prohibits UK citizens from traveling to countries for the purpose of organ transplantation, while Amendment 265 aims to put a stop to real human body exhibitions being put on display in the UK when the cadavers do not have proof of identity or consent including those sourced from China.
"Forced organ harvesting has been committed for years throughout China on a significant scale," she said, "We have high standards for dealing with human tissue in this country... We need to make sure that we do not become complicit in what happens elsewhere, particularly—as we speak—in China."
Canadian MP: We Stand with the Victims
During an interview on February 4, Canadian parliament member Garnett Genuis said lawmakers have been calling on the Canadian government to declare genocide by the CCP and sanction against involved officials with Magnitsky Act.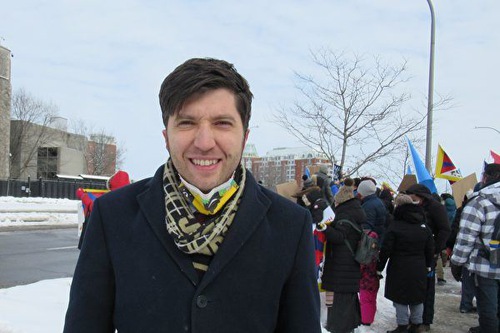 Garnett Genuis, member of Canadian parliament, condemned the CCP's genocide in front of the Chinese Embassy at Ottawa on February 4, 2022. (Epoch Times)
Senate Bill S-223, an act to amend the Criminal Code and the Immigration and Refugee Protection Act (trafficking in human organs), has passed the third Senate reading in the Parliament of Canada and is currently under review in the House of Commons.
Numerous pieces of legislation have been introduced in Canada to stop organ harvesting in China. In February 2008, Borys Wrzesnewskyj MP introduced a bill that would make it illegal for Canadians to get an organ transplant abroad if the organ was taken from an unwilling victim.
In December 2013, Liberal MP Irwin Cotler introduced a bill to crack down on those who trade in human organs, take part in organ harvesting, or get a transplant without making sure the organs were willingly donated.
In December 2017, Senator Salma Ataullahjan introduced Bill S-240 to amend the Criminal Code and the Immigration and Refugee Protection Act to combat organ trafficking. She did the same with S204 in 2020. However, none of these completed the required procedures to become laws.
"It's important for us to be here today to say no, to tell the Chinese Communist Party that we do see them, we see the crimes that are happening, and we stand with the victims," he added.
U.S. Congressman: Time is Now to Hold the CCP Accountable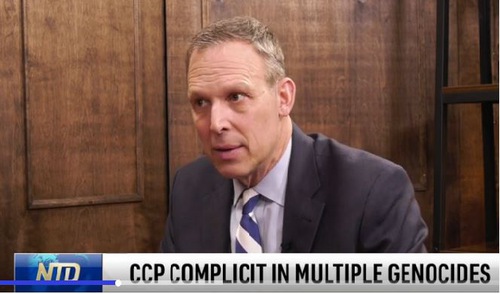 Representative Scott Perry was interviewed by NTD Television on February 2, 2022.
Scott Perry, U.S. Representative from Pennsylvania, was interviewed on NTD Television's "Capitol Report" program on February 2. He said the genocide in China is more sinister than the crime committed by the Nazis. In addition to large scale detention and killing based on faith, the regime even harvested organs from living people for profit.
In December 2021, Perry introduced H.R. 6319. Known as Falun Gong Protecting Act, it aims to sanction against perpetrators related to organ harvesting. The motion has now been forwarded to the Committee on Foreign Affairs and Committee on the Judiciary.
Canadian human rights lawyer David Matas referred to organ harvesting "an unprecedented evil on this planet." After the atrocity was exposed to the public in 2006, he and former Secretary of State (Asia Pacific) David Kilgour conducted independent investigations and published the results in their 2009 book – Bloody Harvest: The Killing of Falun Gong for Their Organs.
In this book, Matas and Kilgour found organ transplant in China could be scheduled in days or weeks, while NIH data shows the waiting time for kidney transplant in the U.S. is 4 years. This indicates the existence of a large "donor" population who would be killed on demand. A Chinese organ transplant company explicitly wrote on its website in 2004 that kidneys for transplant were from living people, which was totally different from the situations in Japanese hospitals or dialysis centers where organs were from cadavers.
Hudson Institute: Persecution of Falun Gong Is a Genocide
Nina Shea, Director of the Hudson Institute's Center for Religious Freedom, published an article in National Review on February 4 with a title of "The CCP Wages a Second Genocide – against Falun Gong."
"This means that victims are either killed while or shortly before their hearts, livers, lungs, and kidneys are surgically excised to be sold in what Beijing boasts is the world's largest organ-transplant market," she wrote in the article.
"American policy-makers show new willingness to recognize CCP repression. They should clearly condemn this persecution against Falun Gong and declare it a genocide," Shea concluded, "Had this been done earlier, the Uyghur genocide might never have happened. Notwithstanding, the Beijing Olympics gives warrant to special scrutiny of this horrifying and continuing chapter of the CCP's human-rights record."
Views expressed in this article represent the author's own opinions or understandings. All content published on this website are copyrighted by Minghui.org. Minghui will produce compilations of its online content regularly and on special occasions.