Mother of San Francisco Resident Arrested for Her Faith, Denied Family Visit
(Minghui.org) A Dalian City, Liaoning Province resident was arrested on October 22, 2022, after being forced to live away from home for over a year to avoid persecution for her faith in Falun Gong. Ms. Kong Qingping is now held at the Yaojia Detention Center and denied family visits.
Ms. Kong's daughter, Ms. Liu Zhitong, who currently resides in San Francisco, USA, joined a rally in front of the Chinese Consulate on November 3, 2022, demanding the immediate release of her mother.
Ms. Liu said that she is very concerned about her mother's safety. She choked up several times while she spoke.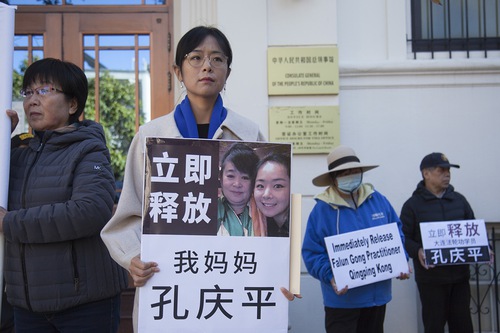 Ms. Liu Zhitong holds a photo of her mother. The board reads, "Immediately release my mother Kong Qingping."
Below is Ms. Liu's speech.
***
My name is Liu Zhitong. I am from Dalian City, Liaoning Province, and now I live in the San Francisco Bay Area. Today, I am here to seek help to rescue my mother, Falun Gong practitioner Kong Qingping.
On February 25, 2020, after being reported by someone who had misunderstandings about Falun Gong, my mother was arrested at home by officers from the Lijiajie Police Station. The police confiscated her Falun Gong books, photos of Falun Gong's Master, computer, printer, cellphone, and other belongings. The police took turns interrogating her and ordering her to renounce her faith at the police station. She didn't cooperate with them. After 24 hours of detention, she was released and placed on house arrest.
A month later, the officers ordered her to return to the police station and write a statement, promising not to practice Falun Gong anymore. She refused to write such a statement and was detained for a day. The police changed her case status to be "on bail" and forced our family to pay 10,000 yuan of bail bond before releasing her.
When my mother's bail condition expired a year later in March 2021, the police ordered her to go to the police station again. Fearing prolonged detention or a possible prison sentence, my mother was forced to live away from home to hide from the police.
Officer An and three others followed my mother to her temporary residence at 3 p.m. on October 22, 2022. They turned off her power supply and arrested her when she opened the door to check the situation. She has been detained at the Yaojia Detention Center since and denied family visits. My family and I are very worried about her. I'm having much trouble falling asleep every night. As soon as I close my eyes, my mother's smiling face would appear in front of me.
I remember when I was a child, my mother had very poor health with more than ten ailments. She took many medications and her life was miserable. Before every meal, my father would prepare a handful of pills and water for her. Because of her physical suffering, she was constantly in a bad mood and often lost her temper with my father. But my father never fought with her, knowing that she didn't mean to be that way. I was scared of her, but I was more afraid of losing her.
In early 2004, my mother suffered a persistent fever. After going to several hospitals, she was confirmed to have septicemia. Her condition was very dangerous and the medical treatment didn't have much effect on her. We were worried, but there wasn't much we could do to help her.
One day, my mother told me that she would start to practice Falun Gong and she would be healthy again. Because I had read many slandering reports about Falun Gong at school or on TV, I was scared. But as soon as I thought that she might become healthy by practicing it, I supported her.
Amazingly, in just one month of practicing Falun Gong, my mother's health improved significantly and her ailments disappeared before we knew it. The melasma on her face was gone and her complexion became rosy and refined. In addition to the improvement in her physical health, her bad temper was also gone. Her relationship with my father and other family members became harmonious again. We were all impressed by her changes and understood that Falun Gong has been wronged all the time.
I don't understand why the Chinese Communist Party has been persecuting such a wonderful practice and spreading propaganda to demonize it. So many people have become hostile towards Falun Gong because of the propaganda and some have even become accomplices to the regime and participated in the persecution.
In fact, Falun Gong is a virtuous practice that teaches Truthfulness-Compassion-Forbearance. Its practitioners are striving to become better and better people. Those who practice it experience elevation in their physical and mental well-being. My mother is the best example.
I also began to understand why so many Falun Gong practitioners still persist in upholding their spiritual belief, despite the decades of brutal persecution, and risk their lives to raise awareness of the persecution. That's their way of paying back to Falun Gong for all the benefits they've received and they hope more people can benefit from it.
Perhaps some in the government know that Falun Gong is great. But in order to keep their job, they took part in the persecution against their conscience. But what I want to tell you is that those German soldiers who killed the Jewish people in the concentration camps probably thought the same way. They thought that they were just following the order from above and they didn't see the day of their standing trial in the International Tribunal as a war criminal. If you can't stop the persecution, you can decide how you carry out the task and you have the choice to raise the muzzle higher by one centimeter [so as to miss the target on purpose].
Since my mother was arrested, I have been worrying about her safety all the time. The weather in Dalian is very cold now. I don't know if she has warm clothes or not. Because the detention center doesn't allow my family to visit her, we don't know how she is doing.
I know the persecution is really brutal. Since it was started on July 20, 1999, countless practitioners have been arrested and sentenced. Some were even tortured to death or killed for their organs. Thinking of the possible torture my mother might be suffering really pains my heart. I'm not someone who is mentally strong. But I kept telling myself that I have to stay strong and try my best to rescue my mother.
So, I'm standing here today, demanding the Chinese government to immediately release my mother and other incarcerated Falun Gong practitioners. As long as she is still detained, I will not give up my effort to rescue her. I hope more kind-hearted people can join me and help to stop the persecution together.
Related report:
San Francisco, California: Rally in Front of Chinese Consulate Calls for Release of Falun Dafa Practitioners Detained in China
All content published on this website are copyrighted by Minghui.org. Minghui will produce compilations of its online content regularly and on special occasions.