Eight U.S. House Representatives and Senators Seek Release of a Falun Gong Practitioner Detained in China
Nov. 20, 2022
|
By a Falun Gong practitioner in the U.S.
(Minghui.org) Two U.S. Senators and six members of the U.S. House of Representatives wrote to U.S. Secretary of State Antony Blinken on September 27, 2022, asking him to raise the case of Falun Gong practitioner Mr. Zhou Deyong with his Chinese counterparts and press the Chinese Communist Party (CCP) authorities to release Mr. Zhou.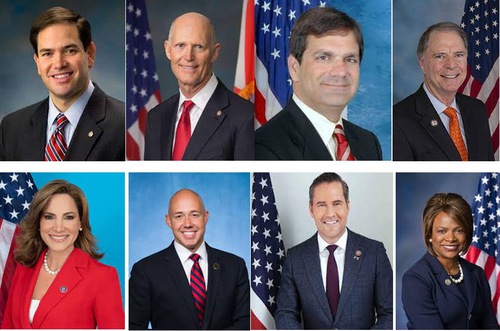 Sen. Marco Rubio, Sen. Rick Scott, Rep. Gus Bilirakis, Rep. Bill Posey, Rep. María Elvira Salazar, Rep. Brian Mast, Rep. Mike Waltz, and Rep. Val Demings co-signed a letter seeking the release of Falun Gong practitioner Mr. Zhou Deyong.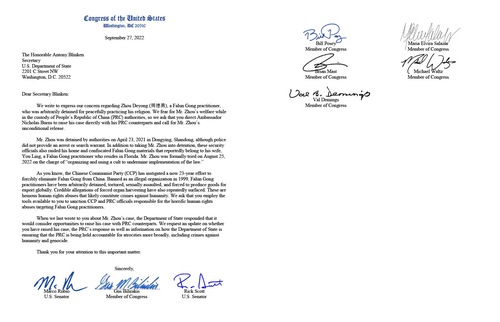 Letter to U.S. Secretary of State Antony Blinken
Mr. Zhou, a senior geological engineer of Shengli Oilfield, Dongying City, Shandong Province, was arrested at home on April 23, 2021 for practicing Falun Gong, a mind-body practice that has been targeted by the communist regime since 1999.
He was tried by the Dongying District Court on August 25, 2022 and is now awaiting verdict at the Binhai Detention Center. His wife, Ms. You Ling, a Falun Gong practitioner who currently resides in Florida with their son, is calling for his release.
In the letter, the senators and representatives said that they were concerned about Mr. Zhou's wellbeing in custody. They pointed out that in the now 23-year long persecution of Falun Gong, the practitioners "have been arbitrarily detained, tortured, sexually assaulted, and forced to produce goods for export globally." In addition, "credible allegations of forced organ harvesting have also repeatedly surfaced."
They asked Secretary Blinken to sanction CCP officials for its genocide and heinous human rights crimes against humanity, and also for Nicholas Burns, the U.S. Ambassador to China, to raise Mr. Zhou's case with his Chinese counterpart and demand his unconditional release.
Related reports:
U.S. Congressman Calls on CCP Head Xi to End Persecution of Falun Gong
Man Faces Trial in China, Wife and Son in Florida Call for His Release
U.S. State Department to Senator Marco Rubio: "We Share Your Concerns"
U.S. Congress Members Urge Release of Florida Residents' Relatives Detained in China for Their Faith