Falun Dafa Practitioners in the Judiciary, Military and Government Agencies Wish Master Li a Happy New Year
(Minghui.org) With the arrival of the 2022 New Year, Falun Dafa practitioners in China's military, judiciary, public security, and other government agencies are sending their most sincere greetings to Master Li Hongzhi, the founder of the practice.
They thanked Master Li for guiding them on their spiritual journey and protecting them along the way. They vowed to cherish the precious opportunity to practice Falun Dafa and be more diligent in cultivating themselves and saving sentient beings.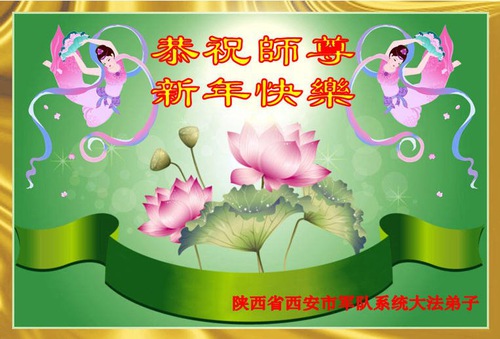 A police officer said, "Working in this special position, I must keep Master's teachings in mind at all times, do the three things well, and save more people."
A practitioner who works in the judiciary wrote, "I know that Master cherishes every being that came for the Fa. I will cherish the final leg of our cultivation journey, let go of my attachments, and be more diligent. I long for the day to be reunited with Master."
A married couple who retired from a government agency in Zhaoyuan City, Shandong Province, wrote, "We are honored to have practiced Dafa for over 20 years. With Master's compassionate protection, we were able to come this far despite this terrible persecution. Master renewed our lives and purified our bodies. There is no way for us to repay what Master has given us."
Other greetings hailed from practitioners in the following places:
The Military in Xi'an City, Shaanxi ProvinceThe National Defense System in Shanxi ProvinceThe Judicial System in BeijingThe Judicial System in Jiangsu ProvinceThe Judicial System in Jinan City, Shandong ProvinceThe Judicial System in Guan County, Shandong ProvinceThe Judicial System in Hengshui City, Hebei ProvinceThey Political and Judicial System in Liaoning ProvinceA retired cadre in Hanzhong City, Shaanxi ProvinceA police officer in Shenyang City, Liaoning ProvinceA judge in ChinaThe Public Security System in ChinaThe overnment in TianjinA retired police officer in Zhaoyuan City, Shandong ProvinceA government agency in Qiqihar City, Heilongjiang ProvinceA government agency in Bin County, Heilongjiang ProvinceA government agency in Jilin ProvinceA government employee in Yanbian Prefecture, Jilin ProvinceA government employee in Anhui ProvinceA military hospital in Hunan ProvinceA military officer in BeijingA military officer in Zhenjiang City, Jiangsu ProvinceA demobilized air force officerA demobilized military officerA retired military officer in Chengdu City, Sichuan ProvinceA retired prosecutor in Chengdu City, Sichuan ProvinceThe 7th Agricultural Division of Xinjiang Production and Construction Corps
All articles, graphics, and content published on Minghui.org are copyrighted. Non-commercial reproduction is allowed but requires attribution with the article title and a link to the original article.