Seoul, South Korea: Nine Day Falun Dafa Workshop for Children Held at Tianti Bookstore
Sept. 7, 2021 | By a Falun Dafa practitioner in South Korea
(Minghui.org) During the summer break, a Nine Day Falun Dafa Workshop for children was held August 7-15, 2021, at the Tianti Bookstore in Seoul, South Korea.
"It was a little difficult, but also lots of fun," one child said. "I feel my heart has become kinder and more compassionate," another child said.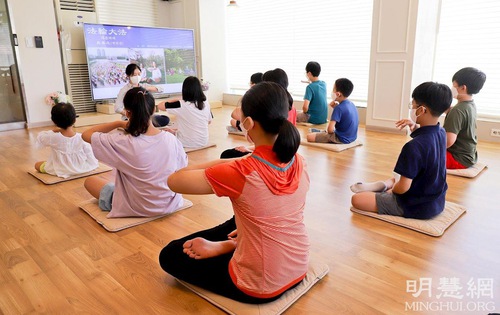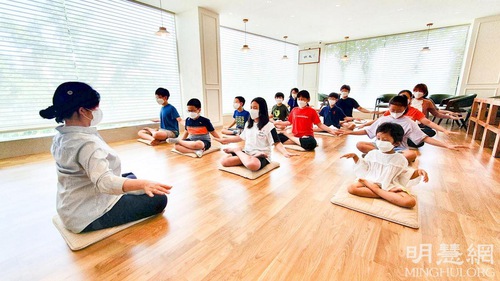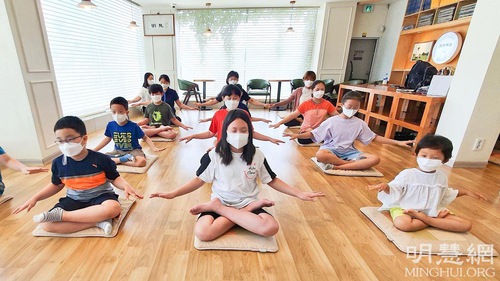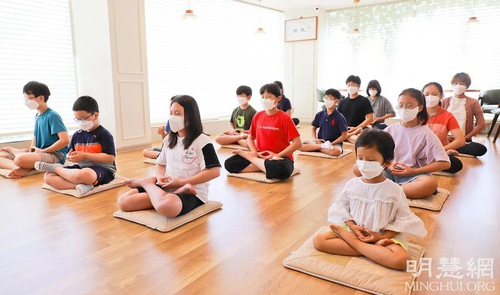 Children learn the fifth Falun Dafa exercise, the meditation.
Mother: My Daughter Is More Attentive Than I
In order to be on time for the classes which started at 10 a.m., five-year-old Lee Doyun had to get up at 7:30 a.m. every morning. "I didn't think it was hard. Plus, the exercises are interesting," she said, "I really like Falun Dafa and I will continue to practice."
Her mother, Hong Miryeong, was a little worried in the beginning because her daughter is so young she wondered whether she would behave during the classes. "What surprised me is that she was more attentive than I during the lecture portion," she explained. "If this was for something else, she may have complained about it or had a tantrum. But when I called her every morning saying it is time for the Falun Dafa workshop, she immediately got up."
Two brothers, Choi Hyeonjun, 9, and Choi Seongjun, 8, also attended the classes with their mother. Since it was the first time they did the exercises, Seongjun said the sitting meditation was difficult for him. "But somehow I always looked forward to it and I would do it even without someone telling me to."
Their mother Han Jiyeong said she heard about Falun Dafa from a hospital president. "My mother was sick, so I went there for treatment," she recalled. "The president told me about the practice and I also read Zhuan Falun, which I found to be very good." Just as she was planning to teach her sons how to practice, she heard about the Nine Day Falun Dafa Workshop for children. "I was so happy and that is why we are here," she said.
Eleven Year Old: Ashamed about Arguing with Mother
Falun Dafa, also known as Falun Gong, is a mediation system based on the principles of Truthfulness-Compassion-Forbearance. About 100 million people from over 100 countries practice. Nine Day Falun Dafa Workshops are offered by volunteer practitioners to the public around the world—but this is the first time a session was offered just for children. From kindergarten to elementary school, 10 children attended the session. Some of them learned the exercise earlier, but they found the refresher class to be very valuable.
Ju Hyeran, 12, started to practice with her parents when she was four. Noticing her 5-year-old sister also learning the exercise diligently, she felt more motivated and could finish all the exercises even though some of them were a little hard for her in the past. "Falun Dafa means a lot to me – it gives me good health and reminds me to be a good person. When something comes up between my friends and me, I often remember teachings from Zhuan Falun and correct myself," she said. "I feel so lucky to be a practitioner and I think after this session, I will also do better at home."
Thirteen-year-old Lee Hyeonjun said he had learned the exercises before, but slacked off for a while. "It is good to be here doing the exercises with others and the energy is strong." His young brother, 11-year-old Lee Hyeonu, agreed. "After listening to Master Li's (the founder of Falun Dafa) lectures, I have a better understanding of what it means to practice," he explained. "After I go home, I will spend more time reading Zhuan Falun and doing the exercises instead of fooling around."
Park Junsong, also 11, said the workshop not only helped with his sitting meditation, which he's done for a while, but also gave him so much more. For example, he had a better understanding of Truthfulness-Compassion-Forbearance. "Now I feel ashamed about arguing with my mother," he said. "Now when I play the violin, I found the sound is richer than before."
"No Longer a Lazy Boy"
Part of the workshop was learning the five Falun Dafa exercises. This is important for new practitioners and is also helpful for those who have been practicing for a while.
Im Hyangyeo, 13, found it very helpful to have her movements corrected. "Now I know I was doing some of the movements wrong, and I also have a better understanding of the correct movements," she said. "I used to stay up late and I need to fix that too." She found herself more conscientious about doing the exercises and is able to read Zhuan Falun every evening.
Kim Siwoo, 11, said the classes taught her a lot. "For example, I should be more considerate of others such as caring about my friends," she said. "To me, practicing has become more meaningful and interesting. After my exercise movements were corrected, I could tell the difference."
Kim Hongbeom, also 11, said the classes offered more than he expected. "The exercises have made me more tolerant, more agile, and calmer," he explained, "More importantly, I am no longer lazy. I plan to keep it this way after getting back home."
For more information on the Nine Day Falun Dafa Workshop, please contact Tianti Book Store at:Website: TiantiBooks.orgNew York, USA: 888-842-6845 (English), +1 845-381-5032 (Chinese)Seoul, Korea: +82 02-504-0860Paris, France: +33 7-8247-0564Sydney, Australia: +61-422 837 008Hong Kong: (852) 25588933, (852) 64143200 (WhatsApp)
All articles, graphics, and content published on Minghui.org are copyrighted. Non-commercial reproduction is allowed but requires attribution with the article title and a link to the original article.
Category: Parades & Other Community Events