Switzerland: Members of Parliament in Jura Condemn the Persecution in China at Falun Gong Activity
July 29, 2021 | By Falun Gong practitioners in Europe
(Minghui.org) Falun Gong practitioners in Switzerland gather at the Pace del Gare in downtown Delémont on July 23, 2010, to expose the persecution of Falun Gong in China. Delémont is the capital of Jura, a French-speaking region of Switzerland. Pierre-André Comte and Nicolas Maître, elected officials in Jra, came to offer their support in calling for an end to the persecution. Passersby also learned about the atrocities.
Delémont is the fourth stop in practitioners' tour around the country's French-speaking region to raise awareness of the persecution. Similar events were held in Geneva, Neuchâtel, and Lausanne. Delémont in northwest Switzerland is just across the border from France. The region has a long history and is known for its precision machinery industry, most notably the Wenger Swiss Army Knife.
Practitioners demonstrate the exercises outside Place de la Gare, a train station in downtown Delémont.
Elected Official in Jura: I Will Try My Best to Let People Know about the Persecution
Elected official Nicolas Maître said he felt very tranquil seeing practitioners do the exercises. He said he found it inconceivable and unacceptable that people are persecuted for following this practice.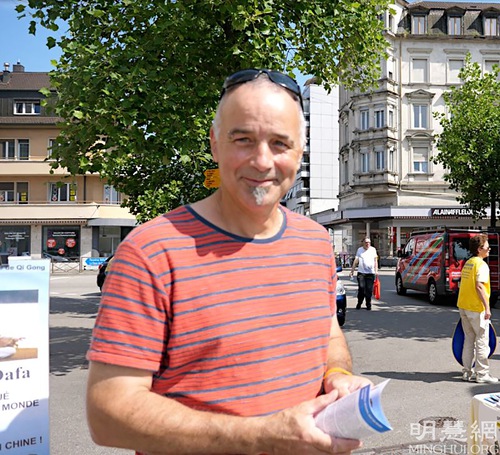 Elected official Nicolas Maître
He also said that he would raise a parliamentary resolution in the French-speaking region on Falun Gong and call for people to pay attention to this, ultimately exerting pressure on the Chinese Communist Party (CCP). He also said he would try his best to let people know about the persecution and push for other countries to take action.
Elected Official in Jura: This Persecution Is Unacceptable
Pierre-André Comte is a Member of the Jura Parliament. He said it was the first time he'd seen practitioners demonstrate the five exercises. He said, "I come as a Member of the Jura Parliament to express my personal support for Falun Gong practitioners. This practice that I see today is completely peaceful. ...[the] sitting meditation I see in front of me indicates that there is no reason to stop people from practicing this cultivation."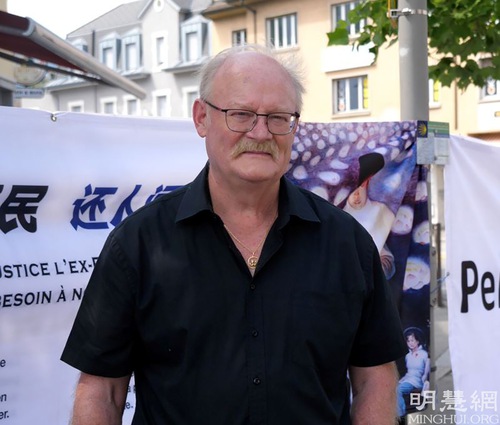 Pierre-André Comte, a Member of the Jura Parliament
"I am anguished and shocked by the CCP's suppression. This is barbaric and must be condemned everywhere in the world," he continued. "I think even though China is a powerful nation, it still has to ensure that every individual and organization can say, 'No, this is not acceptable.' Everywhere in the world, every country must protect human rights. Violating these rights is totally unacceptable."
In his opinion, democratic countries and the entire international community will not accept having people stripped of everything just because of their belief, especially the forced removal of organs. Mr. Comte said this was totally barbaric, cannot be tolerated, and must be denounced.
He also told practitioners their parliamentary group might discuss the issue again. If the Jura Parliament can pass a resolution in support of Falun Gong and its practitioners, it will be a positive and proactive result.
He said, "When people rely on humane values such as Truthfulness, Compassion, and Forbearance as tenets, they cannot be a threat to anyone politically. These beliefs should motivate every one of us, especially our nation's leaders."
"Truthfulness, Compassion, Forbearance Is Very Correct"
Rosemarie and Sonia accepted interviews from Minghui correspondents.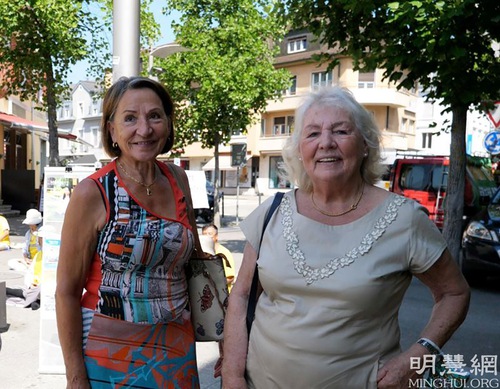 Rosemarie (left) and Sonia (right) thought that the forced organ harvesting was "outrageous."
Rosemarie thinks that everything Falun Gong practitioners do to stop the persecution is very brave: "I am truly moved. What you do here is wonderful." Sonia said, "Truthfulness, Compassion, Forbearance is very correct."
When asked about removing organs from detained practitioners, Sonia agreed with Rosemarie's views. She said, "That is appalling! People live for money. Society has become so outrageous."
The Police Protect Practitioners
Two men came in the afternoon, and practitioners told them about Falun Gong.
The men showed them their police IDs and asked the practitioners if everything was all right or if anyone had harassed them. They were plainclothes officers. They explained that sometimes the CCP hires people to sabotage protests and they (the police) were there to offer protection if needed.
The practitioners told them, "We are extremely fortunate here because the police protect us. In China, the police arrest practitioners and throw them into prison."
The officers thanked practitioners for telling them about the persecution and said it was a great thing to expose the CCP's atrocities.
All articles, graphics, and content published on Minghui.org are copyrighted. Non-commercial reproduction is allowed but requires attribution with the article title and a link to the original article.
Category: Voices of Support Worldwide