Michigan: Practitioners Introduce Falun Dafa at Ann Arbor Art Fair
July 29, 2021 | By Falun Dafa practitioners in Michigan, U.S.A.
(Minghui.org) Home to the University of Michigan, Ann Arbor is renowned as the state's educational hub. The Ann Arbor Art Fair began in 1960 and attracts millions of visitors each year. Canceled in 2020 due to the CCP virus (coronavirus), it resumed this year and was held July 15-17, spanning 30 city blocks in downtown Ann Arbor. Although this year's fair was scaled back, it featured nearly 1,000 artists and non-profit organizations and was attended by approximately 400,000 people.
Local Falun Dafa practitioners once again participated in the art fair. They demonstrated the exercises, introduced Falun Dafa, and told people about the guiding principles Truthfulness-Compassion-Forbearance. Those who were interested asked about local practice sites around Michigan.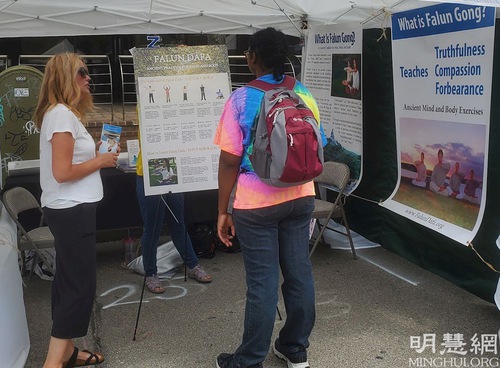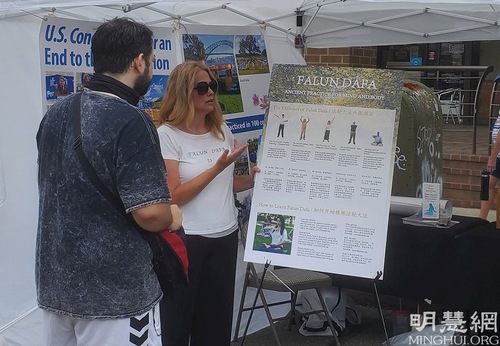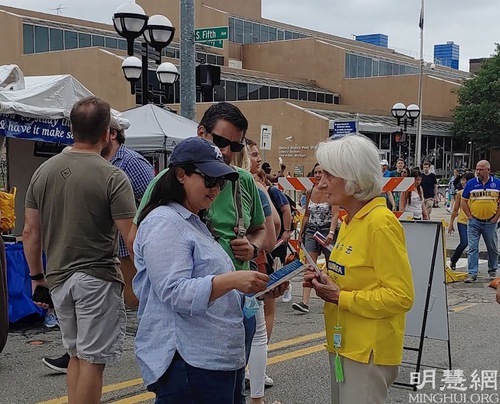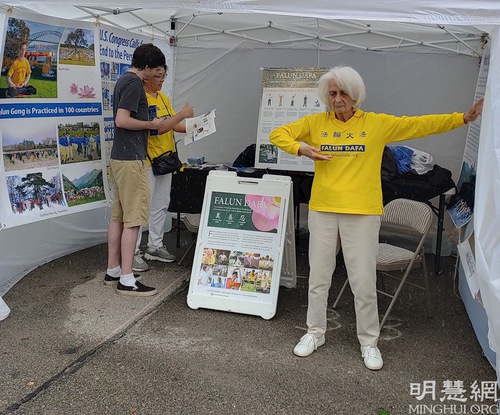 Practitioners tell passersby about Falun Dafa at the Ann Arbor Art Fair.
"I Am Very Attracted to this Practice"
"Although I'm not sure what Falun Dafa is, I am very attracted to it. I can tell that this is a practice that cultivates oneself," said an Indian woman who'd been strolling through the booths with her husband. She came over to watch as a practitioner demonstrated the exercises. She said she felt connected to practitioners and learned the first exercise.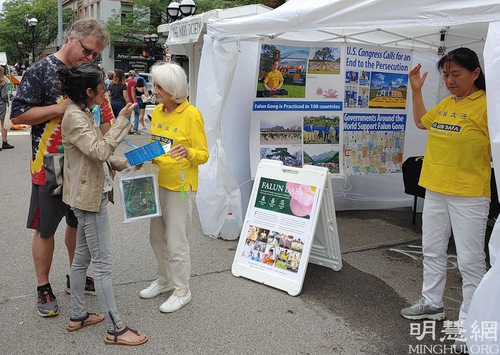 An Indian lady (second on left) said, "I am very attracted to this practice."
As crowds of people walked back and forth, several Chinese students and people from all walks of life stopped by the Falun Dafa booth to learn about the practice.
Falun Dafa practitioners hold group exercises in a local park every Sunday. Three people who learned about Falun Dafa at the art fair drove one hour to Ann Arbor just to learn the practice.
Three people from Lansing (first three on the left) drove an hour to learn the Falun Dafa exercises at the Ann Arbor practice site.
Former Congressional Assistant: "I Support Falun Dafa"
A former congressional assistant noticed the Falun Dafa booth and chatted with practitioners. He said, "Falun Dafa practitioners have done well, especially in seeking support from local senators and representatives." Mr. Matle was the assistant to former Congressman Kerry Bentivolio. He had many opportunities to meet Falun Dafa practitioners from 2013-2015 and learned the truth about the CCP's (Chinese Communist Party) persecution. He also arranged for practitioners to meet with Congressman Bentivolio, who signed resolution H. Res. 281, which was passed unanimously.
According to the Minghui website, the resolution was finalized on July 30, 2013, and was signed by 245 Members of Congress. The resolution "calls for a Department of State investigation into organ transplant practices in China, and for the prosecution of those found to have engaged in such practices" and "demands an end to the persecution of the Falun Gong spiritual practice by the Communist Party of China and the release of all Falun Gong practitioners and other prisoners of conscience."
"The Persecution Pertains to Everyone"
This year marks the 22nd year the CCP has persecuted Falun Dafa. Most of the people who talked to practitioners at the fair had heard about Falun Dafa and knew about the persecution.
Dr. Xu, a Falun Dafa practitioner in Michigan, said, "After experiencing the CCP virus (coronavirus), many people are glad because they were able to return to the art fair. They are more receptive to hearing about the persecution and I also saw people come to our practice site the next day.
"For many years, most people felt that the persecution had nothing to do with them. However, just like the CCP virus that originated in China and has spread all around the world, the persecution of Falun Dafa might seem far away, but it will spread just like the CCP virus if we don't stop it. People are all connected in this world, and if we do nothing to stop these compassionate people from being persecuted, then we might be next. This is why practitioners have persisted in telling people about the persecution all these years. We hope that more people will say 'No' to communism. The path that we choose determines our future."
Background: What Is Falun Dafa?
Falun Dafa (also known as Falun Gong) was first introduced to the public by Mr. Li Hongzhi in Changchun, China in 1992. The spiritual discipline is now practiced in over 100 countries and regions worldwide. Millions of people have embraced the teachings—which are based on the principles of Truthfulness, Compassion, and Forbearance and includes five gentle exercises—and experienced uplifted health and well-being.
Jiang Zemin, former head of the Chinese Communist Party (CCP), perceived the spiritual discipline's growing popularity as a threat to the CCP's atheistic ideology and on July 20, 1999, issued an order to ban the practice.
Minghui.org has confirmed the deaths of thousands of practitioners as a result of the persecution over the past 22 years. The actual number is believed to be much higher. More have been imprisoned and tortured for their faith.
There is concrete evidence that the CCP sanctions the harvesting of organs from detained practitioners, who are murdered to supply the organ transplant industry.
Under Jiang's personal direction, the CCP established the 610 Office, an extralegal security organization with the power to override the police and judicial systems and whose sole function is to carry out the persecution of Falun Dafa.
All articles, graphics, and content published on Minghui.org are copyrighted. Non-commercial reproduction is allowed but requires attribution with the article title and a link to the original article.
Category: Parades & Other Community Events