Two Years Following Her Arrest for Speaking Out for Falun Gong, Chongqing Woman's Whereabouts Unknown
March 30, 2021 | By a Minghui correspondent in Chongqing, China
(Minghui.org) A 72-year-old Chongqing woman's whereabouts remains unknown two years after she was arrested for filing a complaint against Chongqing Women's Prison for torturing her while she was incarcerated for practicing Falun Gong.
Since the Chinese communist regime started to persecute Falun Gong, a spiritual and meditation discipline, in 1999, Ms. Tan Changrong was given one year of forced labor in 2001, sentenced to a nine-year prison term in 2005, and sentenced again to three years in 2015.
While serving her first term at the Chongqing Women's Prison, she was tortured and forced to work for over ten hours a day.
During her second term, the prison guards beat and cursed at her, and shocked her with an electric baton for an extended period of time. The guards also tried to force Ms. Tan to write statements renouncing Falun Gong.
After Ms. Tan was released, she filed a complaint with the Chongqing Municipal Justice Department and the Prison Administration Department on September 2, 2018, describing the torture she had been subjected to in the prison.
Instead of seeing justice served, she was arrested on October 15, 2018 and tried by the Jiangbei District Court on November 15, 2019. The prosecutor recommended a three to four year prison sentence.
More than a year has passed since her hearing, and it still remains unclear whether she was sentenced and where she is currently being detained.
Ms. Tan once told a friend that because of the decades of persecution she has suffered, her son was deprived of a mother's love and he held grudges against her for her continued Falun Gong practice. An agent of the 610 Office, an extralegal agency created specifically to persecute Falun Gong, has also threatened her son that his mother's upholding of Falun Gong would affect his career and his own children's admission to colleges.
In an attempt to prevent her from contacting other practitioners in Chongqing, her son didn't want her to live there and insisted that she move in with him in Chengdu City, Sichuan Province. When Ms. Tan refused to move, her son stopped financially supporting her.
To support herself, Ms. Tan made a living by operating a small tailor's shop in Chongqing. She was very friendly and her work was very delicate and beautiful, attracting customers from around town.
Now two years after her arrest, weeds have crept across the front gate of her home in Chongqing, and the door of her tailor's shop remains shut. Her neighbors saw her son coming back to clean the house not long ago and he mentioned that he intends to list it for rental.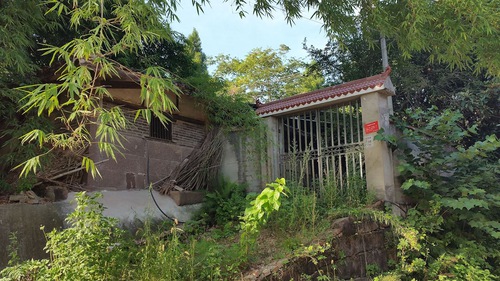 The front door of Ms. Tan's home
Ms. Tan's tailor shop
Related reports:
Chongqing Woman Detained for Two Years for Filing Complaint Against Prison, Current Status Unknown
Ms. Tan Changrong Detained for Filing Complaints Against Chongqing Women's Prison
Woman Facing Indictment for Filing Complaints Against Prison Abuse
Abuse of Falun Gong Practitioners Continues in Chongqing Women's Prison
All articles, graphics, and content published on Minghui.org are copyrighted. Non-commercial reproduction is allowed but requires attribution with the article title and a link to the original article.
Category: Accounts of Persecution