Heilongjiang Woman Recalls Two Years of Abuse in Detention for Her Faith in Falun Gong
Feb. 10, 2021 | By a Minghui correspondent in Heilongjiang Province, China
(Minghui.org) Ms. Bai Xia of Suihua City, Heilongjiang Province, was arrested on October 3, 2018, along with four other Falun Gong practitioners for telling people about their faith, also known as Falun Dafa, a mind-body practice that has been persecuted by the Chinese communist regime since 1999. 
She was subsequently incarcerated in Anda Detention Center and Heilongjiang Women's Prison for a total of two years, during which time she was once tortured to the point of having amnesia. When she was released on November 6, 2020, her weight had dropped from over 120 to 100 pounds.
Below is an account of the persecution.
Arrest and Detention
On October 3, 2018, Ms. Bai and four other Falun Gong practitioners, Ms. Zhao Tingting, Mr. Yang Chuanhou, Ms. Wang Fang, and Ms. Wang Fuhua, were arrested in Lanxi County when they were handing out information about Falun Gong. They were interrogated at the Lanxi County Detention Center and Ms. Bai's 1,000 yuan in cash was confiscated. Ms. Bai's and Ms. Wang Fuhua's houses were ransacked the next day. 
On October 10, 2018, three other practitioners, Ms. Song Hongwei (Mr. Yang's wife), Ms. Gao Jinshu, and Ms. Wu Jinghua were also arrested and taken to the detention center when they went to deliver clothes to the practitioners who were detained. Ms. Wu's daughter paid the police a huge bail bond and she was released eight days later.
On October 15, Ms. Song, Ms. Wang Fang, and Ms. Zhao were admitted to Anda Detention Center. But the detention center refused to accept Ms. Gao and Ms. Wang Fuhua after finding them to have dangerously high blood pressure. The police forced the detention center staff members to measure the practitioners' blood pressure thrice, before allowing them to be released. Ms. Bai was also released on bail on the same day.
The next morning, Ms. Bai, Ms. Wang Fuhua, and Ms. Gao were taken back to the police department for interrogation. The police threatened to arrest them again if the practitioners exposed their persecution online.
Prosecutors from Anda Procuratorate arrived in the afternoon and ordered the practitioners to sign a document, but they refused. A male prosecutor said to Ms. Bai, "Weren't you released on bail for health problems? You don't look like a sick person to me." The interrogation lasted for nearly two hours, and the practitioners were allowed to go home afterward.
On November 20, 2018, Ms. Bai and Ms. Wang Fuhua were arrested again and taken to Anda Detention Center. As the police couldn't find Ms. Gao, they threatened her siblings and her granddaughter. When they finally found Ms. Gao, the detention refused to admit her due to her high blood pressure. She was released on bail again.
Persecuted in Anda Detention Center
The environment in the Anda Detention Center was harsh, dark, and humid. A cell room usually holds 20 to 32 people. All the detainees had to shower, eat, defecate, and sleep in the same cell all day. As the window in the room was very narrow and the sunlight couldn't shine through, many people, including Ms. Bai, developed scabies.
Anytime a new detainee received a deposit from their family, an inmate named Chen Dandan would use their cards to buy food for herself. The things there were very expensive; the detainee may not receive the item even though payment has already been made.
Guard Lu Feifei operated a small shop inside the detention center. The detainees' family members had to buy high-priced goods from the shop before they were allowed to visit their loved ones.
When Ms. Bai's family came to visit, they were told to deposit 200 yuan for one carton of cigarettes as a gift to the detention center director.
Sudden Amnesia
One day in April 2019, a guard threatened Ms. Bai, telling her that if she refused to renounce her faith, she would be sentenced and her children's education or jobs would be affected.
Due to the harsh environment, the mental pressure, and her longing to reunite with her family, Ms. Bai suddenly lost her memory one day. She couldn't recognize anyone nor find her bed. She kept asking others why they were staying in the room and not going home.
Other practitioners in the same room tried to help Ms. Bai by reciting Falun Gong's teachings to her and she was back to normal the next day. However, she had no memory of what happened the day before. She only knew about it when others told her.
Tortured in Prison
The practitioners were sentenced by the Anda City Court in May 2019. Ms. Bai, Ms. Wang Fuhua, Ms. Zhao, Ms. Wang Fang, and Mr. Yang were each sentenced to two years and fined 10,000 yuan. Ms. Gao and Ms. Song were sentenced to one and a half years respectively, with a 5,000 yuan fine. They appealed against the sentences, but the verdict was upheld.
On October 29, the female practitioners were taken to Heilongjiang Women's Prison while Mr. Yang was transferred to Hulan Prison.
Sitting on a Small Stool
When Ms. Bai arrived at the prison, three inmates tried to force her to write guarantee statements. One said that if she refused to be transformed, she would be sent to a brainwashing class when her term is up and if she still refused to be transformed, she would be taken back to prison.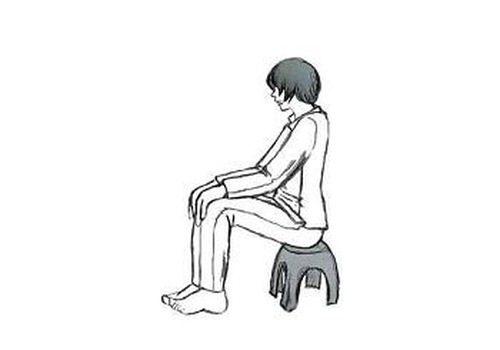 Torture illustration: Sitting on a small stool
The inmates tortured her by forcing her to sit on a small stool. The stool is about 25 cm high and has a very narrow stool surface. Practitioners are forced to sit on a stool with their legs pressed together and hands on their knees. If the inmates see the practitioners closing their eyes, they would kick or beat the practitioners. 
After a few days of sitting, Ms. Bai was aching all over and was unable to straighten her back. In an attempt to make Ms. Bai transform, the inmates forced her to sit from 3 a.m. to 10 p.m. without moving. The sitting caused her buttocks to become bruised.
On May 3, 2020, Ms. Bai and another practitioner, Ms. Sui Guilan, decided not to cooperate with the prison rules as they felt that they didn't commit any crimes. As the two of them refused to write thought reports or do a roll call while squatting down, the authorities placed them under strict discipline and made them sit on a small stool. Ms. Bai was punched in her head and sworn at. The guards also prohibited other detainees from talking to the two practitioners. 
At that time, a practitioner named Ms. An Xianping had been sitting on a small stool for over a year because she refused to renounce her faith. The three practitioners encouraged each other when they were forced to sit on a small stool from 3 a.m. to 7:30 p.m. every day.
As the room was not ventilated, Ms. Bai's scabies became worse. The torture only ended on October 19—several days before she was to be released—as she had to be sent to a quarantine area. The two other practitioners were still forced to continue sitting on the stool.
While imprisoned, Ms. Bai was also forced to watch videos slandering Falun Gong with other inmates.
Slave Labor
In addition to the physical and mental torture, those who were imprisoned were made to do unpaid labor work.
In January 2020, the prison assigned every inmate to fold 800 to 900 disposable gloves every day for over ten days. Later the inmates were assigned to work with tin foil. While working, the inmates were also restricted from using the restroom.
As the gloves and tin foil were made inside the cell room, the room was filled with a pungent smell. The tin foil, used to fold paper gold ingots, was created by pressing yellow paper and tin foil together with equipment. After working on them, many inmates had allergies when they touched their faces and necks, and many developed scabies. Ms. Bai's scabies became worse.
The inmates started working from 6 a.m. and would stop for a meal at 7:30 a.m. before continuing to work again. They ended work at about 6 to 7 p.m. The work stopped when nearing the Chinese New Year in 2020 and was later put on hold when the pandemic occurred.
Related reports:
Seven Heilongjiang Falun Gong Practitioners Imprisoned and Tortured for Their Faith
Heilongjiang Teacher Dies Two Months After Prison Release
Seven Heilongjiang Province Residents, Including One with a Severe Medical Condition, Sentenced for Their Faith in Falun Gong
Suihua, Heilongjiang Province: Eight Arrested in One Week for Their Faith, Seven Facing Trial
Seven Falun Gong Practitioners Sent to Prison After Appeals Court Upholds Their Wrongful ConvictionsAppeals Court Reverses Decision to Assign Trial Court Judge to Hear Appeal of Own Cases