Jilin Woman Secretly Sentenced to Six Years for Her Faith
(Minghui.org) After being detained for 13 months, a 53-year-old woman from Jilin City, Jilin Province, was secretly sentenced to six years for practicing Falun Gong, a spiritual discipline that has been persecuted by the Chinese communist regime since 1999.
Ms. Jin Min, who used to work at the Tonghua Steel Mill, was arrested on September 11, 2020, after she was reported for talking to a taxi driver about Falun Gong. She was held at the Jilin City Detention Center and denied family visits.
Ms. Jin's father, in his 80s, went around town trying to rescue her, but to no avail. The court prevented him from hiring an out-of-town lawyer to represent Ms. Jin or to represent her himself.
Without informing her family, the Chuanying District Court secretly tried Ms. Jin in early October and convicted her. Her family has appealed against the verdict with the Jilin City Intermediate Court.
Ms. Jin Min
Before practicing Falun Gong, Ms. Jin loved to be helpful but she had a bad temper. She had a stomach problem that kept her from eating noodles, so whenever she saw anyone making noodles, she would break the plates and dish rack. Her neighbors called her a tomboy.
Ms. Jin changed after she took up Falun Gong. Her ailments disappeared and her temper improved. She became tolerant and respectful of the elderly.
Because she refused to renounce her faith after the persecution started, she has been arrested nine times, detained in a brainwashing center, and sent to forced labor camps twice.
Arrested and Sent to Forced Labor Camp
Ms. Jin was first arrested in February 2000 for going to Beijing to appeal for the right to practice Falun Gong and given one year of forced labor. Her term was extended by 11 months because she remained firm in her belief. She was tortured and force-fed for over 100 days and was twice deprived of sleep for over 10 days. She was also beaten, forced to squat, shocked with electric batons, and tied to the death bed.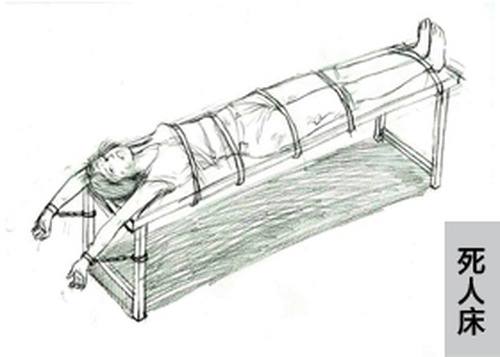 Torture illustration: Death bed
Ms. Jin was once tied to the death bed for 18 days straight and the guards shocked her with electric batons after pouring water on the metal bed. She couldn't walk after she was released.
Another time, the guards tied Ms. Jin's legs on top of each other and left her like that for eight hours. She was tortured for two days and not allowed to use the restroom or eat.
The guards slapped her in the face and scratched her face with a ring. Her face swelled up.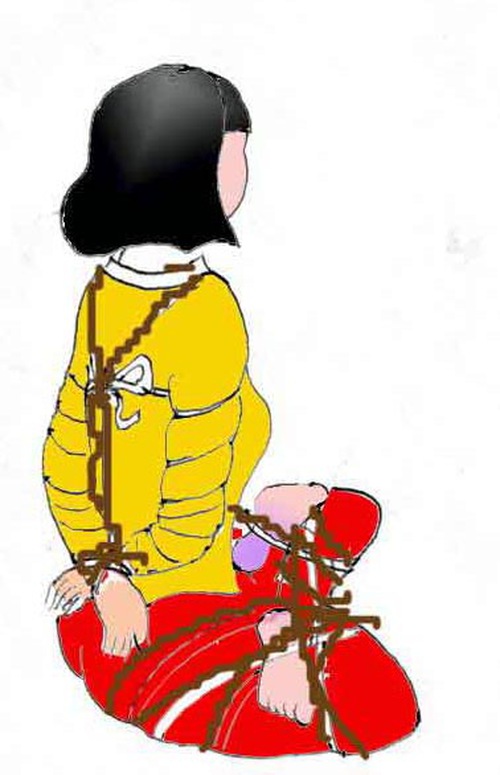 Torture illustration: Tied-up
In 2001, the authorities at Heizuizi Forced Labor Camp forced her to squat in the hallway and tried to brainwash her for 10 days. Despite being deprived of sleep during those days, Ms. Jin remained steadfast in her faith.
Not long after Ms. Jin was released, she was seized again in a mass arrest in 2002 after practitioners in Changchun City tapped into the TV cable to broadcast videos about Falun Gong. She was given two years of forced labor, and all her salary was withheld.
Ms. Jin returned to work after serving her labor camp term but was she fired in 2005.
Ms. Jin was repeatedly arrested and detained from June 2010 to December 2013.
Sentenced to One Year in Prison
In 2016, Ms. Jin and her father moved to a rental home in Jilin City while they were trying to rescue her two sisters who were serving prison sentences for practicing Falun Gong.
When Taoyuan Police Station officers showed up at her rental home on August 19, they flashed their IDs and told Ms. Jin to step out. Her father asked to be present when the police talked to Ms. Jin, but they ignored him.
The police later seized Ms. Jin but didn't tell her father where she was. After asking around, her father learned that she'd been arrested by officers from Taoyuan Police Station in Tonghua City and was being held in the Changliu Detention Center. She started a hunger strike a month later to protest the arbitrary detention and was on the verge of death.
While she was being treated in the hospital, a Erdaojiang District Court judge held a hearing in her hospital room and sentenced her to one year. She was later taken to Jilin Women's Prison.
Parties involved in the persecution:Liu Junpeng (刘俊鹏), head of Shuanghe Town police station: +86-139-04446822Liu Jie (刘杰), deputy head of Shuanghe Town police station: +86-139-43214500Li Zhongcheng (李忠诚), judge of the Chuanying District Court: +86-137-04326606, +86-432-62404967
(More participants in the persecution contact information is available in the original Chinese article.)
Related reports:
Ms. Jin Min in Critical Condition After Recent Arrest
Jilin Woman Detained Incommunicado, Octogenarian Father Given Run-around While Inquiring About Her Case
Man in His 80s Demands Prosecutor Drop Daughter's Case for Upholding Her Faith
All articles, graphics, and content published on Minghui.org are copyrighted. Non-commercial reproduction is allowed but requires attribution with the article title and a link to the original article.