Toronto, Canada: Falun Gong Practitioners Participate in Three Christmas Parades in Two Days
(Minghui.org) Christmas parades that were canceled in Canada last year due to the pandemic resumed in November 2021 in London, Georgetown, and Milton. The Tian Guo Marching Band, composed entirely of Falun Gong practitioners, participated in three parades. A team of waist drummers took part in the Milton Christmas parade. They were warmly received.
The Tian Guo Marching Band performed at the London parade on November 13. The band also participated in the Georgetown parade on November 20, and performed in Milton the next day.
After the parade, W. Deline, the Milton Santa Claus parade coordinator, called Mr. Jiang Fan, the Tian Guo Marching Band lead. She thanked the band for participating in the parade, and told Mr. Jiang that the band was very well received.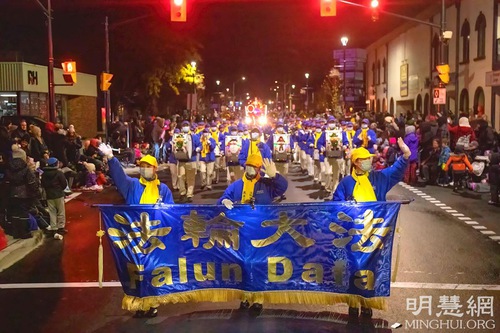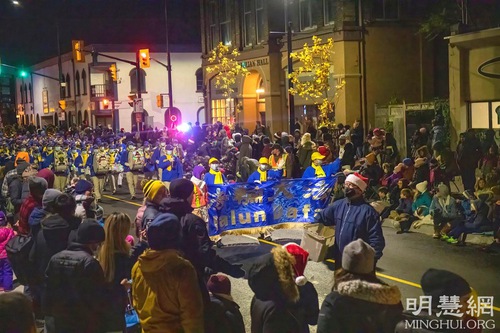 The Tian Guo Marching Band participates in the London Santa Claus Parade on November 13.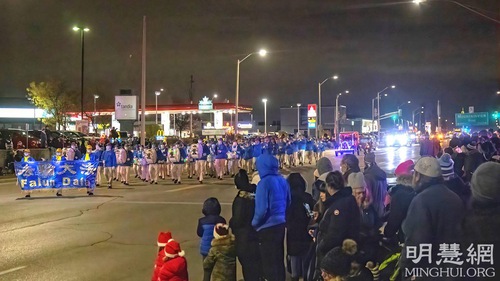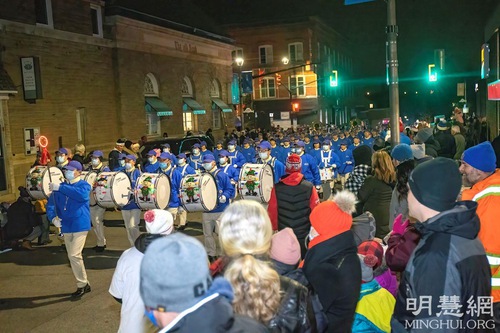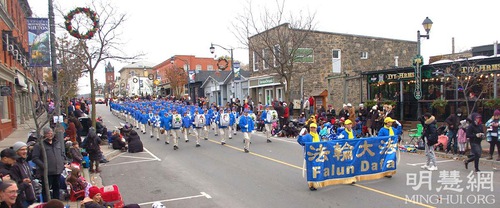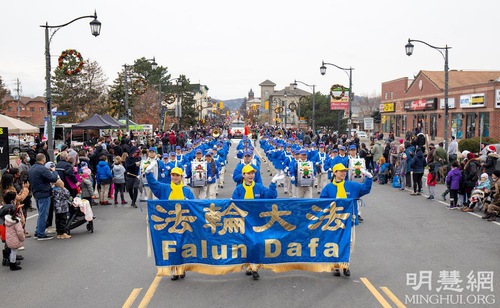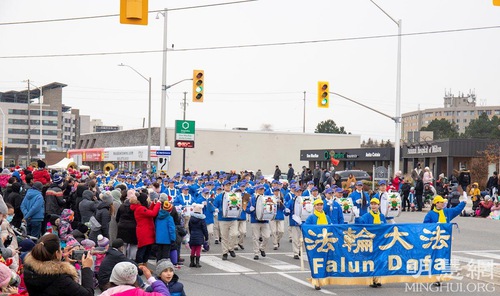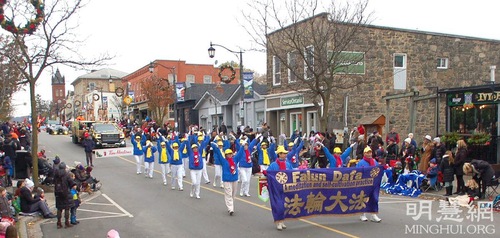 The Tian Guo Marching Band participates in the Georgetown Christmas parade on November 20.
Spectator Enthusiasm was Inspiring
Mr. Jang Fan said, "There were many spectators at the London parade. It seemed that the whole city was out on the street. We were well received. People waved and shouted Merry Christmas from the beginning to the end of the parade. The practitioners who held our band's banner kept waving cheerfully towards the crowd. Every time when we played Jingle Bells, the crowd on both sides sang along. Even the police officers waved, and some officers on duty recorded our performance."
After the London parade, several passersby and Santa Claus from other teams said to the band members, "You were great! Good job! You guys are amazing! Your music brings us a sense of peace."
Mr. Jiang said, "We cherish the opportunity to perform at the parades. We can show the spectators what kind of people we are. It was appreciated by different communities who heard the pure and peaceful music."
"Thanks to Falun Gong for Bringing Such Beautiful Music to Everyone"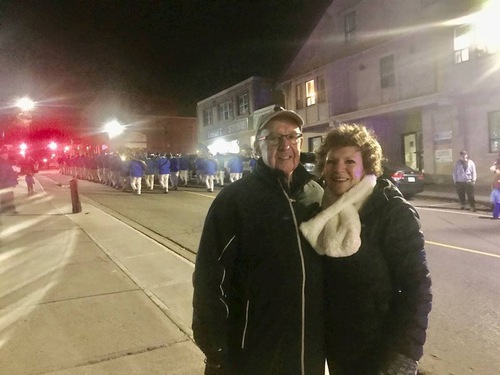 Joe and his wife Jane enjoyed the band's performance in Georgetown.
Joe and Jane, a Georgetown couple who watch the Santa Claus Parade every year, applauded and greeted the Tian Guo Marching Band as it passed by. When a reporter came up to greet her, Jane excitedly shook hands and hugged the reporter.
Jane said excitedly, "The music is great! I don't know why, but I felt deeply touched in my heart. Thank you, Falun Gong, for bringing such beautiful music to everyone."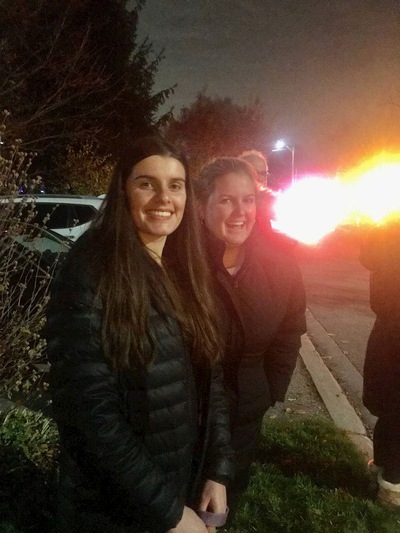 Two sisters said in unison, "We admire Falun Gong practitioners."
Two sisters were very excited to see the Tian Guo Marching Band. They danced to the music and said, "The music is great, and we admire Falun Gong practitioners very much."
"These Peaceful People Should Not be Persecuted in China."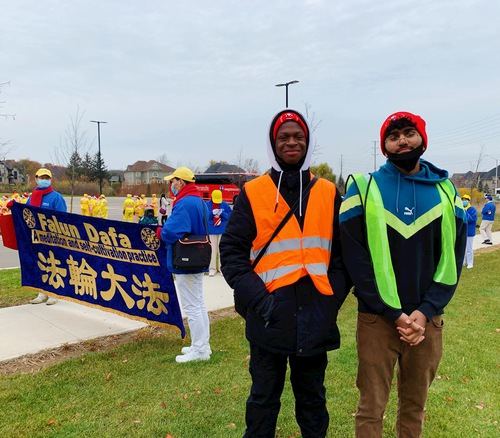 Faizan and Jola said, "We support Falun Gong."
Faizan and Jola, volunteer security personnel for the Milton parade, enjoyed the Tian Guo Marching Band's performance very much. "The music they played was amazing," said Faizan. "I enjoyed it." Jola continued, "This band is really great, and it is going to be really cool to participate in the parade!"
When being told more about Falun Gong and the persecution, They said, "It's unbelievable. These practitioners are so peaceful, and we can feel their kindness when listening to their music. It's so sad to hear about the persecution. We both came to Canada at a very young age, and we can't imagine people being persecuted for their belief."
They said they supported practitioners' persistence in opposing the persecution. Faizen said, "It is really good to see they have come to Canada, a free country. Thank you, practitioners, for telling people about the persecution that is happening on the other side of the world." He continued, "The music you played is fantastic! Unbelievably beautiful!"
"It's Hard To Believe That Such a Wonderful Group is Persecuted in China."
Nargis, who came with her family to the Milton parade, was very happy to see the Tian Guo Marching Band perform. She danced to their music when it passed them.
She said, "Their music is great!"
She continued, "I knew about Falun Gong, and I had heard before that Falun Gong practitioners were being persecuted by the Chinese Communist Party (CCP). It was difficult to believe. I feel sad for them, and I am very happy to see the practitioners here, and see they are doing so well in Canada."
Nargis loved the waist drum performance. She said it was wonderful to know they were also practitioners. Her young daughter shouted to the drummers as they passed, "Merry Christmas! Merry Christmas!"
"It's an Honor for Our Town To Have the Tian Guo Marching Band."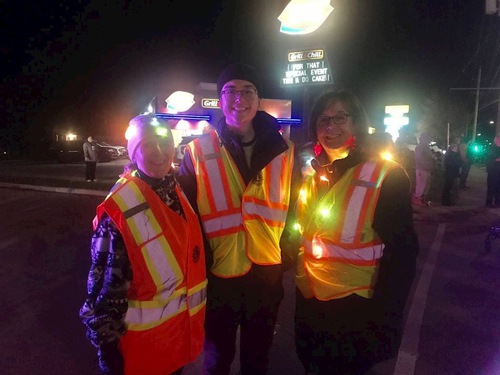 Cindy, Carl, and Cathy
Cindy, Carl, and Cathy, coordinators for the Georgetown Christmas parade, danced to the music as the Tian Guo Marching Band passed by.
They said, "This is the best band we have ever seen. We are really lucky to have them in this year's parade. It is an honor for our town. We hope they can come again next year." All three gave a thumbs up and said, "Falun Gong is good!"
All articles, graphics, and content published on Minghui.org are copyrighted. Non-commercial reproduction is allowed but requires attribution with the article title and a link to the original article.