Sweden: "Your Peaceful Resistance to the Persecution in China Is Admirable"
(Minghui.org) On Stureplan near the center of Stockholm and the Nobel Prize Museum, Falun Dafa practitioners demonstrated the exercises and exposed the Chinese Communist Party's (CCP) crimes of forced organ removal that targets practitioners on October 1 and 2, 2021.
Practitioners in Sweden have been holding public events to raise awareness about the persecution for many years, and the police know that they are a peaceful group that live by the principles of Truthfulness, Compassion, and Forbearance. They said they have no issues with practitioners holding activities anywhere in the city. Everywhere practitioners hold events, they are praised by local residents. Some even said they did an excellent job telling people about the persecution through peaceful means.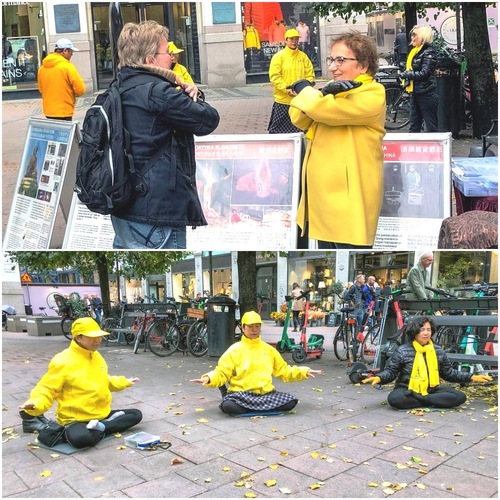 Practitioners held activities to tell people about the atrocities in China on Stureplan near the center of Stockholm on the afternoon of October 1.
"I Must Learn This"
On October 1, a cool autumn day, practitioners set up in an open area on a street lined with high-end shops. Carrying his guitar, a man stopped to read the display boards. He took out his guitar, sat down on a bench near the site, and started playing a song. 
A practitioner walked over, told him about the persecution, and said his music was beautiful, but practitioners were doing the exercises to their exercise music. The man, whose name was Marcus, explained that he wanted to get more people to pay attention to the brutalities in China through his music, "I really want to help you. I know you are here to call attention to human rights violations in China. I understand the CCP violates human rights and has done many bad things."
When he learned practitioners were collecting signatures on a petition to end the persecution he signed it and said, "I am very interested in your practice. I must learn this."
Chinese Student Learns the Truth about Falun Dafa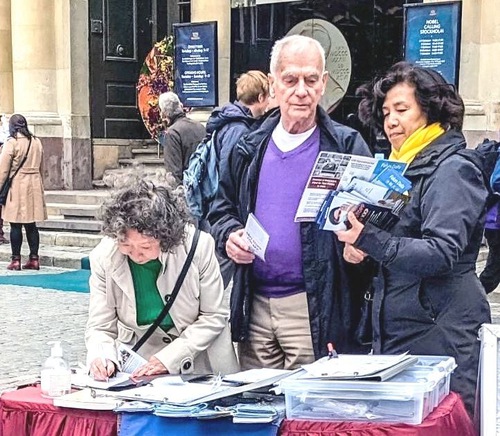 Practitioners held activities near the Nobel Prize Museum in Stockholm on October 2. Many people signed the petition to end the persecution.
The Nobel Prize Museum is located in the center of the old town area of Stockholm and attracts visitors from around the world. Practitioners set up an information booth and demonstrated the exercises next to the museum on the afternoon of October 2, 2021. Many tourists stopped to read the display boards and talk with practitioners about Falun Dafa.
A medical student in her 20s who had just arrived from China chatted with practitioners to learn more about Falun Dafa. She said, "Before I left China I was warned more than once not to contact Falun Dafa practitioners. China has shut out all information so that we don't know what the outside world is like. We are forbidden from accessing uncensored information on the internet. I know people who were arrested for circumventing the internet blockade."
Practitioners explained what Falun Dafa is and that it is practiced by millions of people outside of China. They also told her about the lies fabricated by the CCP to vilify the practice. She kept nodding and said repeatedly, "I am very grateful. You have helped me learn the truth about Falun Dafa." She said she planned to go online and read more.
"We Will Go to a Local Practice Site to Learn the Exercises"
"My friend recommended Falun Dafa to me," a man told a practitioner. "I went to Beijing, and a Chinese friend told me this was amazing. He said many people outside China practice it, including in Sweden. He asked me to try it if I ever got the chance." The man said he lives in Gothenburg and asked if he could learn the exercises online. Practitioners helped him find the Swedish Falun Dafa website as well as how to download the teachings free of charge. They also gave him the phone number of the person in charge of the practice site in Gothenburg. He was overjoyed and said, "I am so lucky!"
"Your Peaceful Resistance Is Admirable"
Kristina from Gothenburg was very excited when she noticed the Falun Dafa booth. She told practitioners she and her mother are very interested in traditional Chinese culture and that she'd found Falun Dafa on the internet two weeks before. She thought it was wonderful and wanted to learn it. She did not expect to come across practitioners. She was delighted when they told her about the practice site in Gothenburg. She said she and her mother would go to there to learn the exercises.
She also told practitioners she was devastated to read about the ongoing persecution in China, especially the forced organ harvesting. She signed the petition to help stop the atrocities. "I really feel sad for practitioners in China who are being persecuted. Organ harvesting must stop! You are doing an excellent thing using peaceful means to tell people about this suppression and stopping it. It is admirable," she said.
Background: What Is Falun Dafa?
Falun Dafa (also known as Falun Gong) was first introduced to the public by Mr. Li Hongzhi in Changchun, China, in 1992. The spiritual discipline is now practiced in over 100 countries and regions worldwide. Millions of people who have embraced the teachings that are based on the principles of Truthfulness, Compassion, Forbearance and learned the five gentle exercises have experienced uplifted health and well-being.
Jiang Zemin, former head of the Chinese Communist Party (CCP), perceived the spiritual discipline's growing popularity as a threat to the CCP's atheistic ideology and on July 20, 1999, issued an order to ban the practice.
Minghui.org has confirmed the deaths of thousands of practitioners as a result of the persecution over the past 22 years. The actual number is believed to be much higher. More have been imprisoned and tortured for their faith.
There is concrete evidence that the CCP sanctions the harvesting of organs from detained practitioners, who are murdered to supply the organ transplant industry.
Under Jiang's personal direction, the CCP established the 610 Office, an extralegal security organization with the power to override the police and judicial systems and whose sole function is to carry out the persecution of Falun Dafa.
All articles, graphics, and content published on Minghui.org are copyrighted. Non-commercial reproduction is allowed but requires attribution with the article title and a link to the original article.