Paris Resident: Falun Dafa Can Change People's Hearts
(Minghui.org) Falun Dafa practitioners held information day events on Saturday, October 2 and Saturday, October 9, 2021, at Place Colette and Chatelet Les Halles, respectively. They introduced the spiritual discipline to people through brochures, display boards and exercise demonstrations. They also collected signatures to stop the ongoing persecution of Falun Dafa (also known as Falun Gong) in China.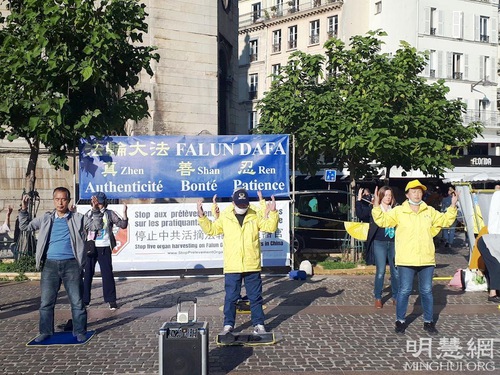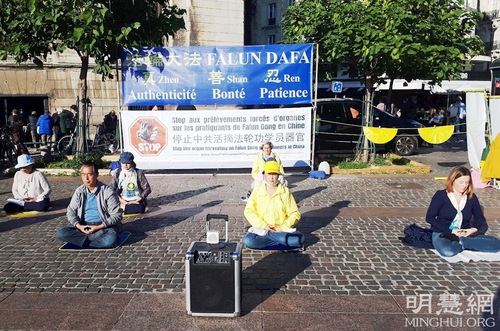 Falun Dafa practitioners in Paris hold an information day event at Chatelet Les Halles on October 9, 2021.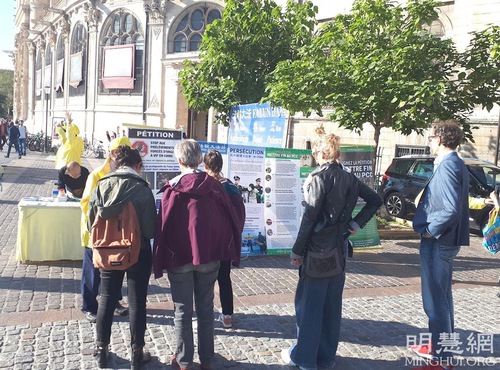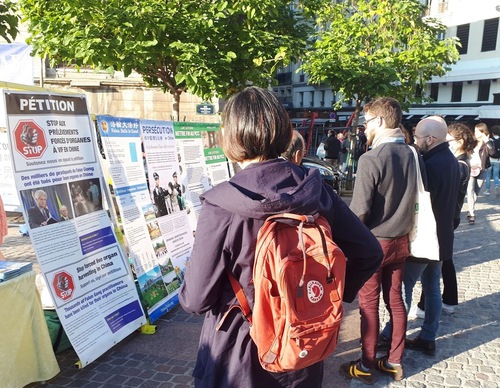 Passersby stop to read information about Falun Dafa at Chatelet Les Halles.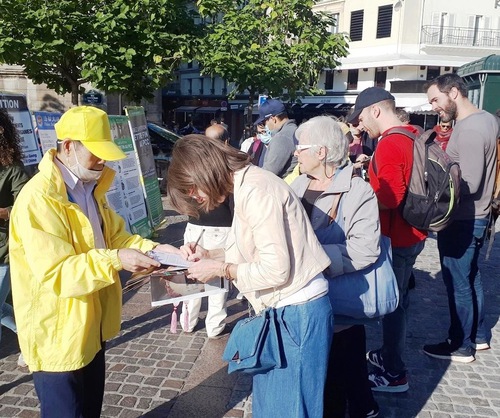 People sign a petition to support practitioners' efforts to resist the persecution in China.
Falun Dafa Can Change People's Hearts
It was a cool autumn afternoon on Saturday, October 9, when practitioners held an information day event at Chatelet Les Halles, the largest train station in Paris. Amid the bustle, some people stopped to take information from practitioners, while others watched them do the exercises. Some read information on display boards and asked questions.
When people learned that practitioners are brutally tortured by the Chinese communist regime simply for living by the principles of Truthfulness-Compassion-Forbearance, they were shocked and angered. One after another, they signed the petition, hoping to stop these atrocities. People praised practitioners for their courage and persistence in the face of violence and hoped that those in China would soon be able to practice Falun Dafa freely.
Jean-Marie Michel is a psychotherapist. He said that his friend who practices Falun Dafa had told him about the CCP removing organs from detained practitioners without consent and selling the organs for transplants. He searched online for information, as he did not believe this could happen, only to learn that it was true. As a psychotherapist, he believes human greed is caused by the issues of moral values.
"If we don't do things with conscience, then we are constantly at odds with one another. If people's hearts don't change, then the earth will never change. No matter what nationality, one needs to change one's heart," he said.
"Falun Dafa is the law of nature, the principles of the cosmos. It is about the relationship between humans and the universe, humans and gods. It is about respecting lives. Falun Dafa can change people's hearts," he said.
Researcher: Practitioners Have Done Well
Mr. Chen is a student from Taiwan who is studying law in Paris. He said practitioners who follow the principles of Truthfulness-Compassion-Forbearance should have freedom of belief and that the CCP should not suppress them.
Egor Ignapyev is an IT engineer from Russia who is working in Paris. He knew about the Chinese communist regime and said he sincerely hopes that "Chinese citizens can have freedom and stop being brutally persecuted by the totalitarian communist regime."
Samuel is a researcher at a university. He spoke out about the CCP's actions. "For several decades we were deceived and our trust was abused. But now, I feel people are waking up. Perhaps in the near future the CCP will collapse," he said.
Before leaving, he said, "Falun Gong practitioners have done well. Keep going!"
The CCP Will Never Succeed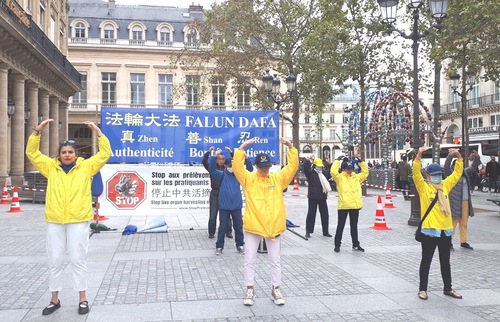 Practitioners demonstrate the Falun Dafa exercises at Place Colette in Paris on October 2, 2021.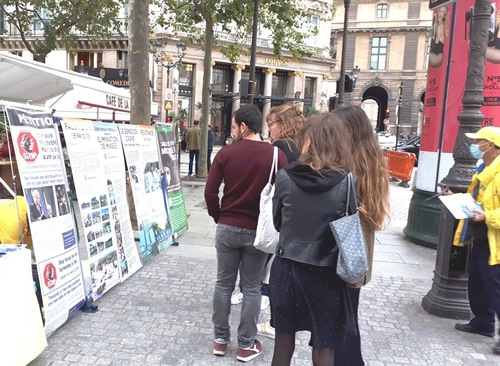 Passersby stop to read about Falun Gong.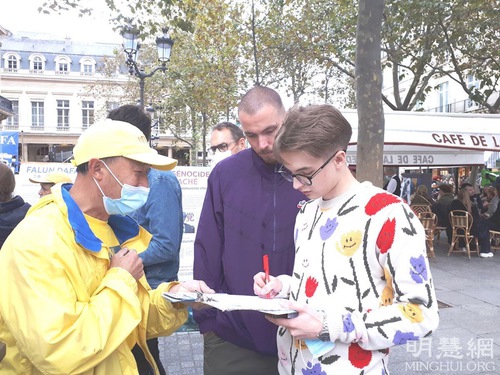 A young student signs a petition to call for an end to the persecution of Falun Dafa in China.
Thierry Mauduit is a makeup artist. He was delighted to see Falun Gong practitioners at Place Colette on Saturday, October 2.
"The CCP uses threats and other tactics to suppress the truth," he said. "They do the worst things. But now, people know more about what they do. The CCP will never get its way!"
All articles, graphics, and content published on Minghui.org are copyrighted. Non-commercial reproduction is allowed but requires attribution with the article title and a link to the original article.