Persecution Can't Shake Their Faith—Falun Dafa Practitioners Incarcerated Respectfully Wish Master Li Hongzhi a Happy New Year
(Minghui.org) With the arrival of the 2021 New Year, many Falun Dafa practitioners are sending their most sincere and heartfelt wishes to Master Li Hongzhi, the founder of Falun Dafa.
Among the well-wishers are those who are currently incarcerated in China's prisons, detention centers, and brainwashing centers for refusing to give up their faith. Through special channels, they have managed to get their messages out. Many of them said that, despite the suffering, nothing can shake their faith in Falun Dafa. In the special environment, they still live by the principles of Truthfulness, Compassion, and Forbearance and clarify the facts about Falun Dafa to everyone they encounter.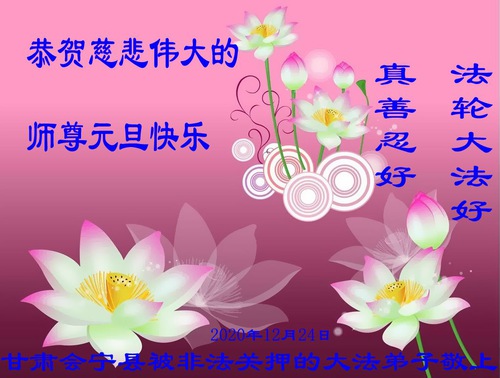 One practitioner who is currently in Chengdu Women's Prison in Sichuan Province wrote, "With Master's protection and weathering the storm for us, we are still able to clarify the facts about Falun Dafa and fulfill our historic vows in this special circumstance. Master, you have been working hard! I wish you a great Happy New Year!"
Other greetings hailed from practitioners from the following regions who are currently incarcerated:
TianjinBeijingJiamusi City, Jixi City, Beian City, Heihe City, and Daqing City, Heilongjiang ProvinceTongliao City, Inner MongoliaXianning City, Hubei ProvincePingdu City and Taian City, Shandong ProvinceQidong City and Lianyungang City, Jiangsu ProvinceXuchang City, Xinxiang City, and Jiaozuo City, Henan ProvinceHengyang City, Hunan ProvinceHuining County, Gansu ProvinceLiaoyang City, Dalian City, and Shenyang City, Liaoning ProvinceJilin City, Jilin ProvinceShijiazhuang City, Hebei ProvinceJincheng City, Shanxi ProvinceKaijiang County, Sichuan ProvinceGuangdong ProvinceGuizhou ProvinceDaqing OilfieldXinjiang Uygur Autonomous RegionNingxia Autonomous Region
And the following prisons:
Fanjiatai Prison in Hubei ProvinceZhejiang Province Women's PrisonShandong Province PrisonBaoanzhao Prison in Inner MongoliaRongqi Detention Center in Inner MongoliaXinxiang Prison in Henan ProvinceWeinan Prison in Shaanxi ProvinceShaanxi Province Women's Prison