Once Incarcerated 4.5 Years, 64-Year-Old Woman Harassed and Arrested for Her Faith Again
Sept. 30, 2020 | By a Minghui correspondent in Jiangxi Province, China
(Minghui.org) A 64-year-old woman in Wanzai County, Jiangxi Province, was arrested on September 7, 2020, for practicing Falun Gong. Although Ms. Guo Yunying returned home on September 13, it's not clear whether she was released on bail and will face further prosecution.
Falun Gong, also known as Falun Dafa, is an ancient spiritual and meditation discipline that has been persecuted by the Chinese communist regime since 1999.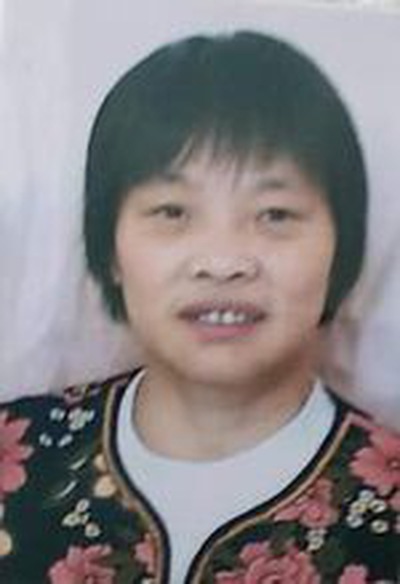 Ms. Guo Yunying
In the past five months leading up to Ms. Guo's latest arrest, the Political and Legal Affairs Committee, an extra-judiciary agency tasked to persecute Falun Gong, has ordered the police to frequently harass her and her husband, who just started practicing Falun Gong two years ago. The officers attempted to pressure the couple into renouncing their faith, but both of them refused to comply.
Benefiting from Falun Gong
Ms. Guo was born into a poor family and had to help care for her family ever since she was young. After she got married, she had to take care of her ailing husband who suffered from various ailments, feed her two children, and care for her elderly mother who has Alzheimer's disease.
Her family's financial situation became worse after she was retrenched from her plastic manufacturing factory and only given 30 yuan a month as living expenses. The many years of stress took a toll on Ms. Guo's health.
In January 1999, Ms. Guo started to practice Falun Gong and regained her health. She follows Falun Gong's principles, Truthfulness-Compassion-Forbearance, in her daily life, treats her husband kindly, and takes good care of her mother. Her relatives, friends, and neighbors praised her for her actions.
Multiple Arrests for Telling People About Falun Gong
Prior to her latest arrest, Ms. Guo was arrested five times, sent twice to the forced labor camp for a total of four years and six months and fined 1,000 yuan. Her children lived in fear, worrying that she may be arrested at any time. Her husband, who had preexisting conditions, often collapsed and fell to the ground after his health further declined due to the mental distress from the persecution.
On July 20, 1999, the police ransacked Ms. Guo's home and confiscated her Falun Gong books, materials, and personal belongings.
A year later in July 2000, Ms. Guo was arrested and detained 15 days for passing Falun Gong's teaching to another practitioner.
Ms. Guo received a call from her workplace supervisor on January 19, 2001, and asked her to go to the factory. She went there, only to be arrested and sent to the local detention center.
The next day, the crew from the local TV station came to the detention center and attempted to force Ms. Guo and other practitioners to slander Falun Gong on TV. When Ms. Guo refused, the higher-ups threatened to sack her workplace supervisor if he could not convince her.
The director had no choice but told Ms. Guo that he would write a guarantee statement for her to sign. Ms. Guo still refused to comply and felt sad about the communist regime's turning the whole society into accomplices to the persecution.
She was detained for a month and her family was forced to pay 1,000 yuan bail.
Three-year Labor Camp Term
On September 6, 2002, several police officers barged into Ms. Guo's home and started to ransack her place. The officers confiscated her Falun Gong books and other personal belongings, before taking her to the Wanzi County Police Department for interrogation.
While the police released her shortly after, they arrested her again the next day and later gave her three years at the province's Women's Forced Labor Camp.
In the labor camp, Ms. Guo was forced to watch videos that slandered Falun Gong and write guarantee statements to renounce her faith. If she refused, she would not be allowed to use the restroom or go to the cafeteria to eat. She had to follow the instructions of two inmates who were assigned to monitor her, or she would be beaten or face other forms of punishment. She was also forced to do unpaid work for long hours.
A Year-and-a-Half Labor Camp Term
On June 10, 2010, several police officers barged into Ms. Guo's home and told her that someone had reported her for distributing Falun Gong materials. The officers ransacked her home and confiscated a computer, eight bottles of ink, 600 pieces of printing paper, Falun Gong books, materials, and DVDs, and many personal belongings.
The police held her at Yichun Detention Center for almost four months before giving her one-and-a-half years at Jiangxi Women's Forced Labor Camp.
Two More Arrests
Ms. Guo was arrested at home again in December 2013 after being reported for distributing calendars with information about Falun Gong. The officers ransacked her home and confiscated her Falun Gong materials.
As her husband was in poor health and it was near the New Year, Ms. Guo was forced to write a guarantee statement before she was released.
Ms. Guo was spotted by the police on May 8, 2015, for giving her neighbor a Falun Gong booklet. The police arrested her and detained her for 10 days.