Repeatedly Arrested and Detained, Retired Nurse Arrested Once More for Her Faith
Sept. 24, 2020 | By a Minghui correspondent in Hubei Province, China
(Minghui.org) A Yichang City, Hubei Province resident has been detained since her arrest on August 25, 2020, for practicing Falun Gong, a mind-body discipline that has been persecuted by the Chinese communist regime since 1999. She was put in criminal detention on September 8, 2020.
Ms. Chen Facui, a 58-year-old retired nurse, took up Falun Gong in 1997. She credits the practice for curing her carotid artery disease, chronic pharyngitis, breast hyperplasia, chronic gastroenteritis, lumbar disc herniation, and joint pain.
For refusing to renounce her faith in the past two decades, Ms. Chen has been arrested repeatedly. She served two one-year labor camp terms and a four-year prison sentence, during which time she was subjected to relentless torture.
On January 26, 2000, Ms. Chen was arrested for going to Beijing to appeal for Falun Gong. She was kept in the basement of a detention facility in Beijing for two days and taken back to Yichang on January 28. The police hung her up by her wrists, with her arms pulled up from the back. The handcuffs cut deep into her flesh, leaving a ring of bruises on her wrists. Her hands were severely swollen and resembled steamed buns.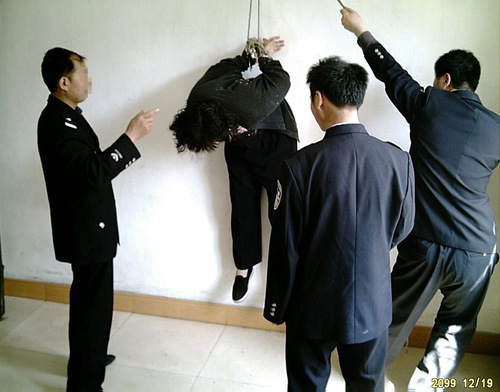 Torture reenactment: Hung up
Starting in March 2000, guards at the Yiling District Detention Center began to force Ms. Chen to do unpaid labor, including harvesting oranges, working in the farms, and doing road construction. Not given any shoes, she often stood in the water barefoot, causing her feet to fester from the prolonged soaking.
After Ms. Chen held a hunger strike to protest the persecution in August 2000, the guards force-fed her. They also hung her up by her wrists and then suddenly loosened the handcuffs. She fell hard on the ground. Then they hung her up by a single wrist to increase her suffering.
Huang Dingshan, the head of the detention center, ordered guards to torture Ms. Chen by placing a car tire on the ground, putting Ms. Chen into it, and fastening her limbs to it. She was tied to the tire for 36 hours as part of the so-called "carrying a tire" torture method.
Before she was released, the guards took her to the Yiling District Brainwashing Center and kept her there for one and a half months.
Ms. Chen was arrested again on April 16, 2004, and given one year at the Shayang Forced Labor Camp on May 20. The police ordered the guards to watch her around the clock, not allow her to sleep, and force her to sit on a small stool for long hours. She was so tired from lack of sleep that she fell asleep while standing. Because of the sitting torture, her legs swelled and oozed pus.
Only five months after Ms. Chen was released on April 15, 2005, she was arrested again on September 24, 2009. She was given another year at Wuhan Women's Forced Labor Camp and held there until September 23, 2006.
Ms. Chen was arrested again on August 7, 2008, and detained at Yiling District Detention Center.
The Yiling District Court sentenced her to four years in prison after her arrest on April 11, 2016. She was taken to the Hubei Province Women's Prison on December 15, 2016.
Her latest arrest came only four months after she was released from the prison.
Related reports:
Snapshot of Falun Gong Practitioners Whose Copies of Lawsuits Against Jiang Zemin Were Received by Minghui on October 26-27, 2015
Seven Practitioners from Yichang City Tried; Three Imprisoned