Sydney, Australia: a Meditation that Brings Peace and Happiness
June 18, 2020 | By a Minghui correspondent in Sydney
(Minghui.org) Australia has eased its coronavirus restrictions, and groups of up to ten people are now allowed to gather outdoors in New South Wales. Falun Dafa practitioners in Sydney have returned to Hyde Park to introduce the meditation system to the public.
Practitioners started to resume their exercise demonstrations in the park on May 22. They set up a canopy tent, display banners, and posters explaining how Falun Dafa practitioners are being persecuted in China. Practitioners there have noticed that more people are stopping by to ask for information and reading materials than before the lockdown.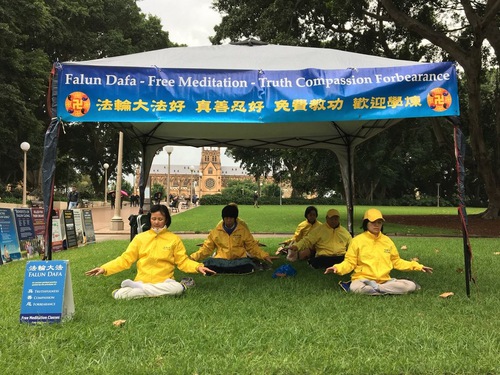 Falun Dafa practitioners meditate together at Hyde Park in Sydney, Australia.
Passerby talks with a practitioner at Hyde Park in Sydney.
Holding onto Principles
Sydney resident Chantel was walking with her son and a friend when they saw the practitioners. Chantel said, "I like meditation. Can I join you for the exercises?"
Chantel said that her mother, who lives overseas, and her friend both practice Falun Dafa. They have both recommended the practice to her and suggested that she contact practitioners to find out about upcoming workshops and group exercise sites. She said, "The principles of Truthfulness-Compassion-Forbearance mean a lot to me, because they can bring peace and happiness to this world."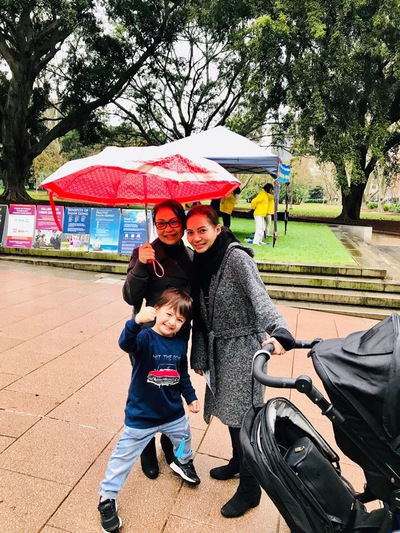 Chantel (right), with her son and her friend.
Chantel said that the Chinese Communist Party (CCP) is really bad because of its intense persecution of religious groups. She said the crimes range from burning temples to harvesting organs from prisoners of conscience. After the Australian government requested that the CCP investigate the source of the coronavirus, the regime started to threaten Australia. "I think we should stop working with such a totalitarian regime, since it has no respect for moral values or human rights," Chantel said.
Supporting the Upright
A man came over to the practitioners' booth on June 12. He spent a long time reading through the posters, and asked many questions. He said, "I have passed here many times and have heard about the suppression of Falun Dafa in China, including forced organ harvesting. Could you tell me why the CCP would do that?"
A practitioner explained that because there were about 100 million people practicing the principles of Truthfulness-Compassion-Forbearance in China, the CCP viewed that as a threat and began to suppress practitioners.
The man nodded in agreement. Through consistent cover-ups by the CCP, he had learned how the regime was fearful of the truth. "In addition to harming people inside China, the coronavirus pandemic has caused hundreds of thousands of deaths. I think the entire world knows how bad the regime is now," he said.
Visiting Students: Please Keep It Up!
Lauren, a student from Chicago in the United States, said this was the first time she had heard about Falun Dafa. After learning about the cruel persecution in China, she found it hard to imagine that such a gentle exercise would face such brutal mistreatment in China. "We need to tell more people about this, so they can help bring this tragedy to an end," she said, "Please keep doing this and don't give up!"
She said the principles of Truthfulness-Compassion-Forbearance connect with people's hearts. Although people come from different backgrounds, they can all benefit from these fundamental values.
Matila (second from right) and her friends came from Italy. She wished the practitioners in China well.
Matila, another student from Italy, agrees. "Persecution based on belief is among the worst," she said, "Plus, what you are practicing represents universal values. Please keep doing that and I will also share this information with my friends."