Taiwan: Practitioners Celebrate the 21st Anniversary of World Falun Dafa Day
May 9, 2020 | By a Minghui correspondent
(Minghui.org) This May 13, 2020, marks the 21st World Falun Dafa Day, and the 28th anniversary of Falun Dafa's introduction to the public. It also coincides with the 69th birthday of Mr. Li Hongzhi, the founder of Falun Dafa. More than 100 million people in over 100 countries have improved their health and uplifted their morality by cultivating themselves according to Falun Dafa's guiding principles of Truthfulness-Compassion-Forbearance. Falun Dafa books have been translated into more than 30 languages.
About 6,500 Falun Dafa practitioners from Taiwan and around the world formed the words, "Falun Dafa Around the World" on Liberty Square in Taipei on November 16, 2019.
The first Falun Dafa (also known as Falun Gong) group exercise site was established in China in April 1995. Soon afterward, practitioners started doing the exercises in parks, on college campuses, and in front of government office buildings. By following the spiritual practice's principles, Truthfulness-Compassion-Forbearance, practitioners strive to be good people at their jobs, in society, and in their families.
As more and more people regained their health, the benefits of the practice were spread by word of mouth. In October 2009, the Falun Gong Society was established by the Taiwan Superior Court. The Bureau of Foreign Trade, Taiwan Customs, the Taoyuan District Prosecutor's Office, the Keelung City Police Bureau, and the Taiwanese government agencies have a Falun Gong Society.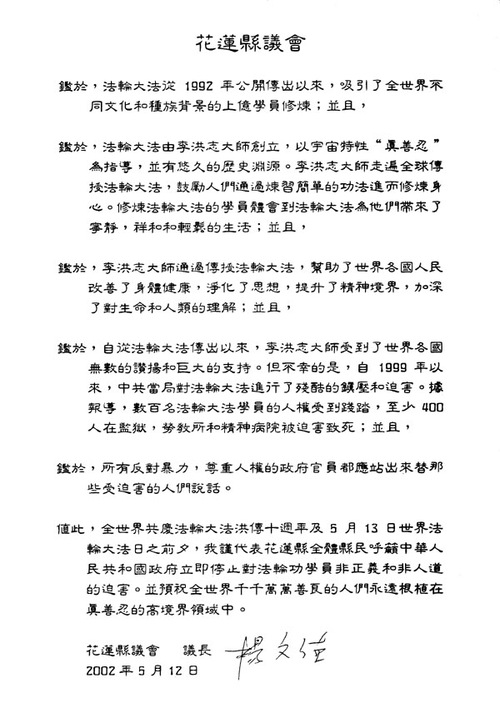 On behalf of the people in Hualian, Speaker of Hualian County Council Mr. Yang Wenchi wrote a letter, urging the Chinese Communist Party (CCP) to stop its persecution of Falun Gong and sent congratulations on World Falun Dafa Day in 2002.
Mr. Li Hongzhi gave lectures in Taipei and Taichung in November 1997. Close to 1,000 Falun Gong practitioners attended them. As people learned about Falun Dafa more people began practicing. Soon 1,000 group practice sites were established in 20 counties and over 300 townships. Taiwan has the second largest population of Falun Dafa practitioners in the world today.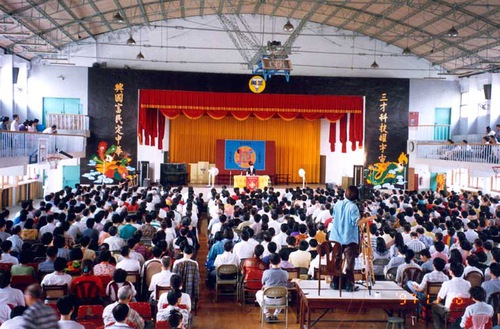 Mr. Li Hongzhi gives a lecture in the Taipei Municipal Sanxing Elementary School on November 16, 1997.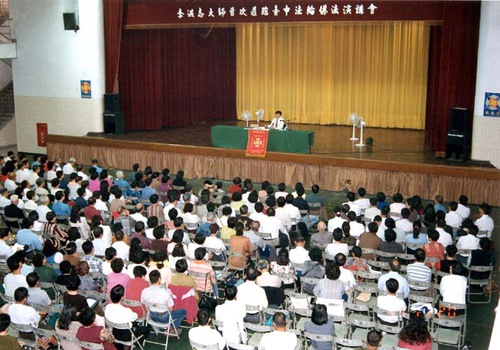 Mr. Li Hongzhi gives a lecture in the Taichung Municipal Wufeng Agricultural & Industrial High School on November 20, 1997.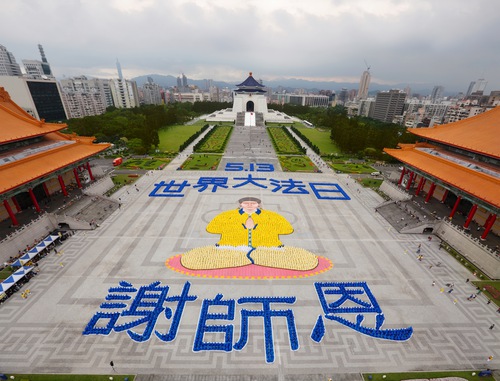 About 6,000 Falun Gong practitioners formed an image and the words "5.13 World Falun Dafa Day" and "Thank You Master" on Liberty Square in Taipei on April 26, 2014.
Having enjoyed the great benefits of Falun Dafa, practitioners express their gratitude to Master on his birthday every year. Many of them used to have serious diseases. They recovered by practicing Falun Dafa and enjoy more harmonious relationships at home and at work by following the guiding principles of Truthfulness-Compassion-Forbearance. 
The CCP (Chinese Communist Party) launched the persecution of the ancient spiritual practice in July 1999. Thousands of practitioners have been imprisoned, tortured, and lost their lives due to torture or forced organ harvesting.
Despite the brutality of the persecution Falun Dafa practitioners have put Truthfulness-Compassion-Forbearance into practice and peacefully stood up against it.
The 28th anniversary of Falun Dafa's public introduction reminds the world's people of Falun Dafa's blessings.