Queensland, Australia: Practitioners Celebrate World Falun Dafa Day
May 23, 2020 | By a Minghui correspondent in Queensland
(Minghui.org) May 13, 2020, was the 28th anniversary of the public introduction of Falun Dafa and the 21st World Falun Dafa Day. It was also the birthday of the founder of Falun Dafa, Mr Li Hongzhi. To mark the occasion, practitioners in Queensland hold celebrations in Brisbane every year.
Due to the coronavirus pandemic, large gatherings are not allowed this year, so practitioners in Queensland have expressed their appreciation for Master Li in other ways.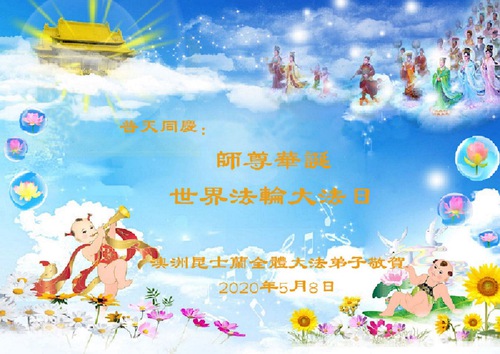 Greeting card from Falun Dafa practitioners in Queensland, Australia, wishing Master Li a Happy birthday and celebrating World Falun Dafa Day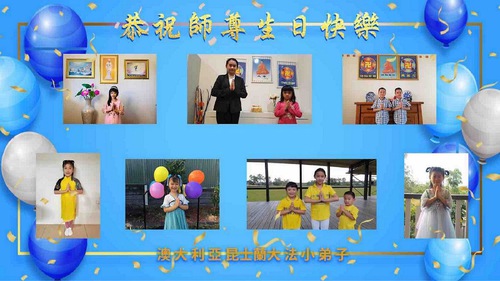 Greeting card from young practitioners in Queensland wishing Master Li a Happy birthday. 
A Family of Three Generations Practice Falun Dafa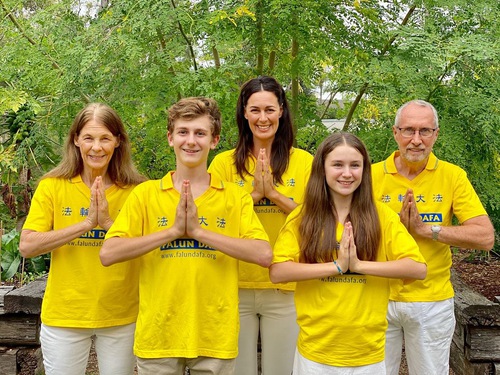 A family of three generations who practice Falun Dafa wish Master Li a Happy Birthday. 
"A Chinese friend gave us the book Zhuan Falun," Laurel said. "My husband and I were drawn by the principles described in the book. We started practicing Falun Dafa in 1999." 
Laurel was a high school teacher before she began practicing. Because of her poor health she could not work. She resumed working after becoming healthy from practicing Falun Dafa. She thinks of others and strives to become a better person. 
After her daughter Andrea read Zhuan Falun she also started practicing. Andrea and her husband have their own furniture design company. They apply the guiding principles of Truthfulness-Compassion-Forbearance at work and their company quickly expanded. 
Andrea read Zhuan Falun with her son Jamali and daughter Kamala. By following the teachings, Jamali learned to not compete with others in school.
The entire family appreciates Master Li for giving them good health and a happy family. 
Understanding the Meaning of Life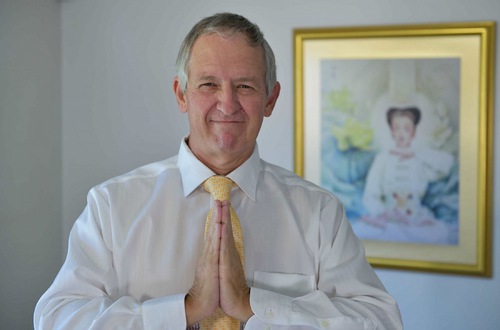 Practitioner Mark sends greetings to Master Li
Practitioner Mark started practicing Falun Dafa one year ago. He had many questions about life and why we're here. While he watched a video on social media about the persecution of Falun Dafa in China he noticed the peaceful exercises the practitioners were doing. 
After he searched online and browsed the Falun Dafa website Mark realized that Falun Dafa was what he had been searching for. 
He was excited and contacted a Falun Dafa practitioner in Queensland. He later moved to Brisbane and began attending the local practice site. 
"I wish more people would learn about Falun Dafa," said Mark. "I wish practitioners in China could practice freely, like me." 
A Second Life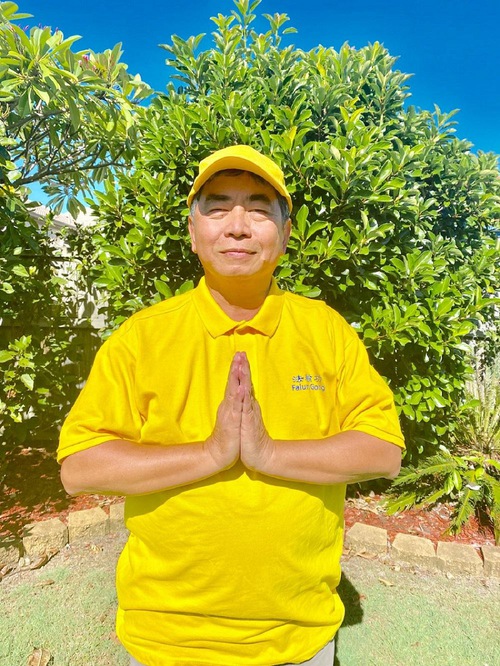 Hong from Laos sends greetings to Master Li, grateful for being given a second life.
Hong from Laos is Chinese and manages a Thai restaurant in Queensland. His career was successful and he had a happy family. But he suddenly developed a cerebrovascular tumor. He thought he would easily recover after surgery but his memory became impaired.
"I thought what happened yesterday happened a few years ago, and vice versa," Hong said. "My memory was declining, and my reaction became sluggish. 
"Even my physical strength declined. My wife lost her patience with me and her temper kept getting worse. We kept having conflicts. I felt I was a burden on the family. I didn't know what to do and I felt my situation was desperate."
At his lowest point Hong recalled seeing people in a local park practicing Falun Dafa, so he went there and learned the exercises. 
"Master cleansed my body again and again," Hong recalled excitedly. "I often felt a warm flow going through my body. I was deeply moved by the marvelous change in my health." 
"My memory loss was resolved. My response time became normal. After practicing Falun Dafa, I became free from illness!" 
"Falun Dafa also helped improve my character," Hong said. "Seeing my positive changes, my mother-in-law also started practicing."
Hong said no words can describe his appreciation for Master Li. 
Vlad and his wife Louise send greetings to Master Li. 
Chu'er from Taiwan sends greetings to Master Li.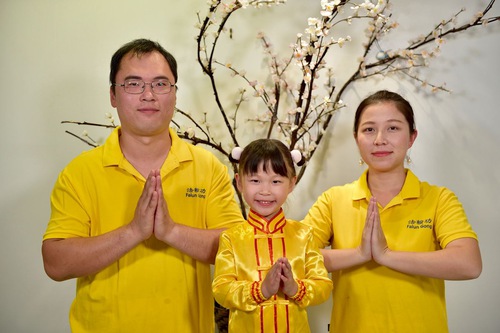 Hank, his wife, and daughter send greetings to Master Li.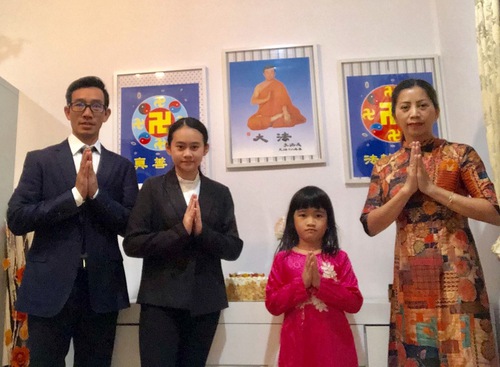 A family of practitioners sends their greetings to Master Li.