Wisconsin State Legislators Recognize World Falun Dafa Day, Condemn the Persecution in China
(Minghui.org) Wisconsin Senator André Jacque and Assembly Representative Jeremy Thiesfeldt sent a letter to the Wisconsin Falun Dafa Association on May 13. 
"We write to you today in recognition of the 21st Anniversary of World Falun Dafa Day as you celebrate truthfulness, compassion and forbearance and stand in solidarity with those still being persecuted today for adhering to the spiritual practice of Falun Dafa or Falun Gong in the People's Republic of China," they stated in the letter. 
"The revelation by the international tribunals of the Chinese Communist Party's use of prisoners of conscience as a living organ bank is horrifying. We are pleased to join many of our colleagues in the Wisconsin Federal Delegation in standing with these efforts to highlight, educate, and hopefully bring to an end the practice of forced organ harvesting.
"Our offices were also proud to introduce Senate Joint Resolution 72 and Assembly Joint Resolution 100 earlier this Legislative Session to officially draw attention to this horrific persecution in China. 
"As staunch defenders of religious liberty, we believe that no person should be persecuted and subject to arrest by their government for the peaceful practice of their spiritual beliefs, such as has been experienced by adherents to Falun Dafa."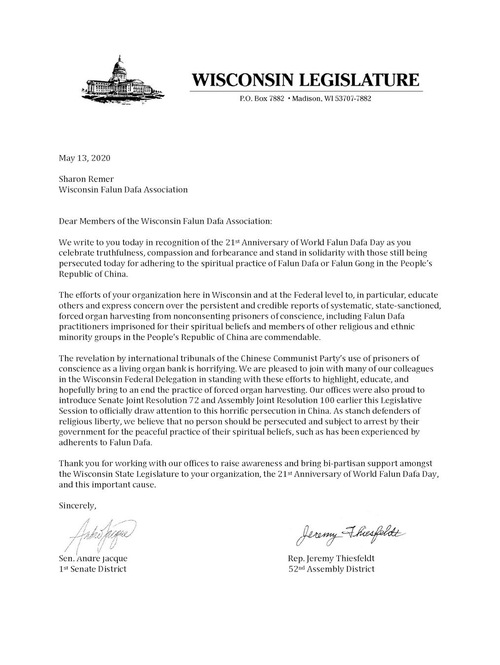 Letter from Wisconsin Senator André Jacque and Assembly Representative Jeremy Thiesfeldt