Taiwan: Falun Dafa Practitioners in Taoyuan Celebrate World Falun Dafa Day
May 13, 2020 | By a Falun Dafa practitioner in Taoyuan, Taiwan
(Minghui.org) Falun Dafa practitioners in Taoyuan celebrated the 21st World Falun Dafa Day at Shihmen Reservoir and Zhongzheng Park of Zhongli on May 2 and 3, 2020.
World Falun Dafa Day, May 13, coincides with the birthday of the founder of Falun Dafa, Mr. Li Hongzhi. Every year, practitioners around the world express their appreciation and gratitude by holding various activities.
This year marks the 28th anniversary of the spiritual discipline's introduction to the public. Practitioners in Taoyuan held several public events, including demonstrating the Falun Dafa exercises and holding a choral performance, as they wished Mr. Li Hongzhi a happy birthday.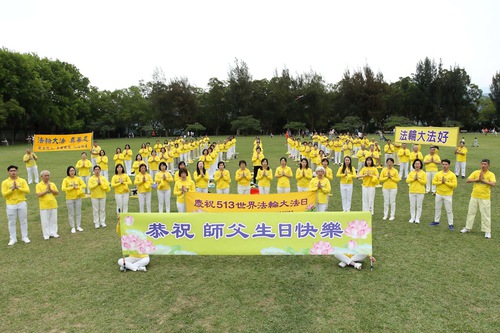 Practitioners gathered to celebrate World Falun Dafa Day at the Shihmen Reservoir tourist site in Taoyuan on May 2, 2020.
Practitioners celebrate World Falun Dafa Day at Zhongzheng Park in Zhongli, Taoyuan, on May 3, 2020.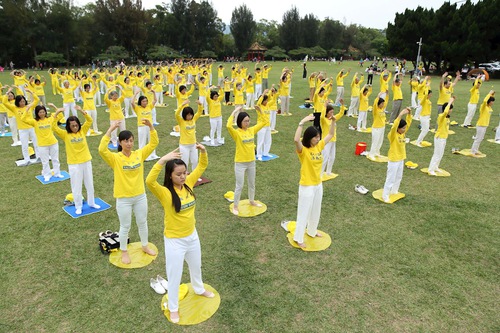 Practitioners demonstrate the Falun Dafa exercises at the Shihmen Reservoir tourist site.
Practitioners Share Their Stories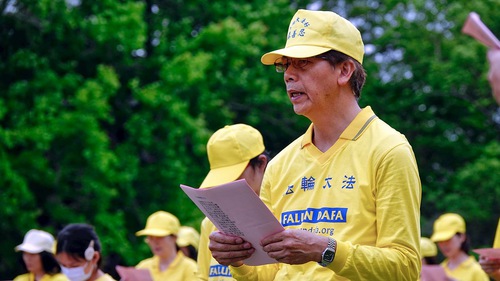 Falun Dafa practitioner Liu Minghui
Liu Minghui said he first heard of Falun Dafa on the radio while driving to work one day in 2004. The news said that the Chinese communist regime was arresting Falun Dafa practitioners. He became curious and decided to learn more about Dafa.
He received a pamphlet and was impressed to learn that Falun Dafa is a spiritual cultivation discipline practiced by over 100 million worldwide. He began to read Zhuan Falun, the main book of Falun Dafa.
Mr. Liu described his reaction, "I was deeply moved. The book is easy to read, but its content is deep and profound." He found a local practice group and learned the exercises, thus starting his journey of returning to his true self.
The practice improved both his health and his character. As a supervisor of his work unit, he was strict and used to order his subordinates around. Falun Dafa's teachings guided him to be compassionate, so he changed his attitude. 
"After I changed, my entire team became more harmonious," Mr. Liu explained.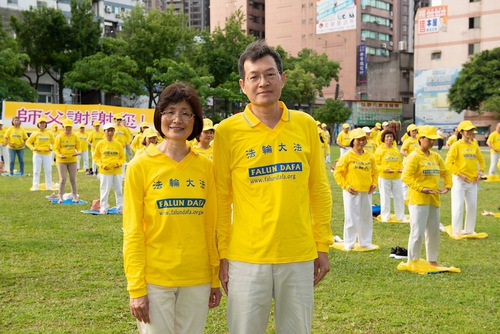 Practitioners Cai Zheng-dong and his wife
Cai Zheng-dong's wife has practiced Falun Dafa for more than a decade. Mr. Cai said he listened to the recordings of Master Li's teachings when his wife played them and felt he was already benefiting from Falun Dafa. Four years ago, he decided to begin practicing as well.
He talked about his experiences. "I was depressed at my job and contemplated suicide many times. Master used other people to talk me out of it. After I began practicing [Falun Dafa] for a long time, I couldn't meditate with both legs crossed. One day I said in my heart, 'Master, please help me. I want to cross both legs.' Immediately, I could pull both legs up."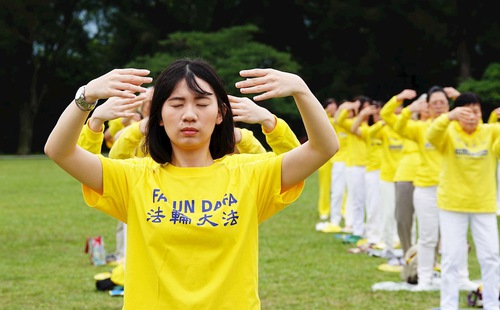 Practitioner Lu Wanlun
Lu Wanlun started practicing Falun Dafa with her mother when she was in kindergarten. Now that she's graduated from college and has a job, she feels very fortunate to practice Falun Dafa and said, "I wish Master a happy birthday! The most fortunate and happiest thing in my life is being a Falun Dafa practitioner."
Soon after she began practicing Falun Dafa, Ms. Zheng Bao-zhu regained her health and has been healthy ever since. Since 2010, she has frequently traveled to Hong Kong to talk to tourists from mainland China about the persecution of Falun Dafa there. She also volunteered at local tourist attractions.
Because of the coronavirus pandemic, Chinese tourists have stopped coming to Taiwan, so she now phones China. She would tell whoever picked up, "You are a kind person. This pandemic is not coincidental." She then tells them that many people feel blessed after remembering two phrases, "Falun Dafa is good" and "Truthfulness-Compassionate-Forbearance is good."
Nancy and Sam are a young couple who recently came from New York. Nancy is from China and started practicing Falun Dafa in 2006. She moved to New York, where she met and married Sam, a practitioner from Taiwan.
"People on both sides of the strait are kind. China is run by an authoritarian communist party, but people in democratic Taiwan can freely practice Falun Dafa. People in Taiwan truly enjoy a happy life," Nancy said.