Taiwan: Falun Dafa Practitioners in Fucheng City Celebrate World Falun Dafa Day
May 12, 2020 | By Minghui correspondents in Tainan City
(Minghui.org) May 13 marks World Falun Dafa Day and the birthday of Master Li Hongzhi, the practice's founder. On this day 28 years ago, Master Li introduced the spiritual and meditation discipline of Falun Dafa to the public. Since then, millions have embraced the teachings founded on the principles of Truthfulness-Compassion-Forbearance. As a result, they found better health and well-being, and many reported having more harmonious relationships with family and society.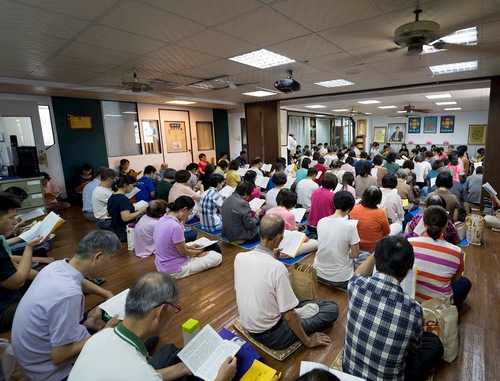 Practitioners in Fucheng City, Tainan County gathered on May 3, 2020, to read Falun Dafa teachings together and share cultivation experiences.
To celebrate the upcoming World Falun Dafa Day, practitioners in Fucheng City gathered on May 3, 2020. They first took a group photo to wish Master Li a happy 69th birthday in the morning, followed by reading the practice's teachings and sharing cultivation experiences.
Experiencing the Beauty of Dafa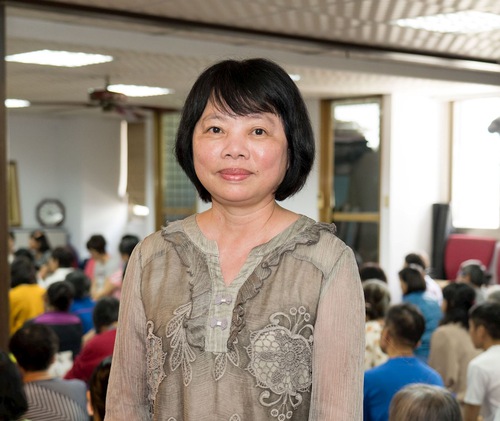 Jin Yan, a practitioner from Tainan City, thanks Master Li for the opportunity to practice Falun Dafa and wishes him a happy birthday.
Jin Yan has been practicing for 19 years. She gets up at 4 a.m. every morning to practice the Falun Dafa exercises with a group outdoors. She completes all five sets of exercises in one go. Her complexion is rosy and radiant. She said, smiling, "My relatives think it is a miracle that I can wake up early in the morning to do the exercises. Before practicing Dafa, I suffered from insomnia and would often toss and turn until I finally fell asleep at 2 a.m. During the day I got dizzy constantly and my heart felt weak. I didn't know what illness I had, but I just felt unwell all the time."
"Nineteen years ago, I was living in Taipei. My older brother practiced Dafa, and he thought it was wonderful. He strongly recommended that I give it a try. He sent me Zhuan Falun, the main text of the practice, and told me to read it first." He had many vices, such as drinking, smoking, gambling, and so on. But after he became a practitioner, he quit all these bad habits."
Seeing the complete turnaround in her brother's character and physical health, Jin Yan was moved and curious at the same time. She moved back to Tainan City after her son graduated from middle school. She attended a nine-day introductory class on Falun Dafa and joined a local practice group in the morning.
She confessed that she frequently played card games till the early hours of the morning, but after attending the Falun Dafa class, she did not feel like gambling anymore. In the past, she had many health problems and would visit both Western and Chinese doctors. Soon after she took up Falun Dafa, people commented that she looked healthy. She no longer needed to go to the doctors.
Besides regaining a healthy body, Jin Yan shared that she became a better person by following Dafa's teachings. "I previously managed a restaurant with my husband and son. I had very different ideas than they did about how to run the business. When my son did not listen to me at work, I would reprimand him and even lost my temper. In return, he treated me disrespectfully. Through reading the Dafa books, I reminded myself to be kind and forgiving to people around me. Gradually, I noticed that my son changed. He is more diligent, and my husband supports my practice, too. The atmosphere at home is more harmonious."
Being a Good Person Who Thinks of Others First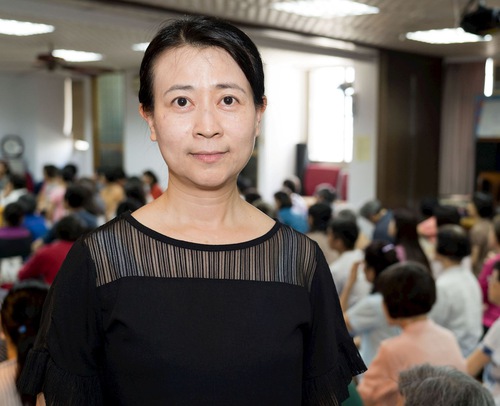 Xin Yu says practicing Falun Dafa is the most wonderful thing in her life.
Xin Yu became close friends with a classmate at nursing school. They went separate ways after graduation, then many years later rented a place in Tainan City together. Her best friend suffered from many illnesses. Xin Yu searched for ways to treat her friend's sickness. A co-worker suggested she try Falun Dafa. Every morning before dawn, she accompanied her friend to a practice site to do the exercises. At night they attended a study group. She began to practice the spiritual discipline unintentionally.
Her best friend experienced severe symptoms on several occasions. But after doing the exercises and studying the teachings diligently, her friend miraculously recovered. Seeing this strengthened Xin Yu's faith in Dafa. She gained a deeper understanding of the teachings through constantly reading the books.
In the process, she observed her character improving. She said, "I used to think I was good at handling conflicts and loved to help others. When I compared myself to the requirements of Dafa, I realized I had resentment. These negative feelings melted away through practicing Dafa."
Xin Yu says practicing Dafa is the happiest thing in her life. She thanks Master Li for his guidance.
A New Lease on Life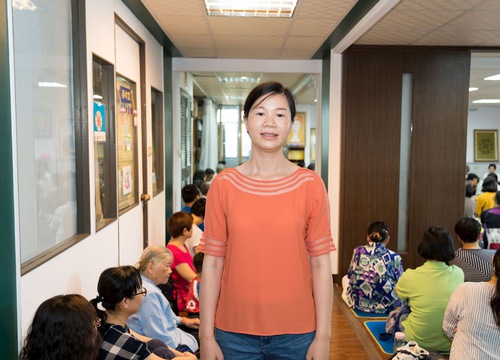 Ruan Xiufang is grateful to Master Li for giving her a new lease on life. 
Ruan Xiufang works as a translator at a foreign labor resources company in Tainan. Two and a half years ago, she was in poor health due to stress at work and started to search for a form of exercise to improve her health at local parks and on the internet. Her mother, who lives in Vietnam, had a friend who practiced Falun Dafa. Xiufang started to practice Falun Dafa through this friend. Several months later, her illnesses disappeared. 
In the past, she would have gastric pain whenever she was stressed at work. Doctors told her there was no treatment; she could only rely on painkillers. But taking painkillers for long periods of time led to stomach pain when she was hungry or full. On top of that, she had migraines. Through practicing Falun Dafa, these symptoms, including tightness in her chest and breathing difficulties, went away. For the first time in her life, she experienced what it was like to be healthy and free of sickness. 
She is also very grateful for the improvement in her character, which she says is "the greatest benefit from practicing Dafa." Previously she got upset fighting with coworkers when they competed for the best projects. "I was responsible for allocating cases to coworkers. After I became a Dafa practitioner, I understood the principle of no loss, no gain. I tried to give good opportunities to others, and my relationships at work became more harmonious. My pay was unaffected, too."
Witnessing her positive changes after practicing Dafa, her father, brother, and sisters decided to take up the practice, one after another. She said, "I love Taiwan because there are so many practitioners here. I treasure the opportunity to do the exercises and study the teachings together. I frequently go out and give brochures introducing Dafa to people. I thank Master for giving me a new lease on life."