Sichuan Woman Imprisoned Eight Years for Her Faith
February 04, 2020 | By a Minghui correspondent in Sichuan Province, China
(Minghui.org) A woman in Yibin City, Sichuan Province, was subjected to eight years of imprisonment and other unjust treatment for upholding her belief in Falun Gong.
Ms. Tan Xinglan used to live on medicine. She had many health problems and had to avoid sunshine, cold water, and many foods. After she started practicing Falun Gong, an ancient mind-body practice, in September 1996, her ailments all disappeared, and she could eat anything.
Tragedy began for Ms. Tan when the Chinese Communist Party (CCP) started persecuting Falun Gong in July 1999. The following is her own account.
Detained for Going to Beijing
I went to Beijing to appeal for justice for Falun Gong on February 28, 2000. I wanted to share with the government the health and spiritual benefits that I received from the practice.
I was arrested before I could get to the Appeals Office. The police took me to the Sichuan Representative Office in Beijing, and then the police from Sichuan came to take me back.
I was detained at the Yibin Detention Center for 15 days and fined 3,000 yuan. The police threatened that if my family didn't bring in the money, they would take our TV set and refrigerator.
Denied Family Visits During Three Years of Imprisonment
The police came to my home to arrest me on April 15, 2002, and ransacked my home. They took me to a drug rehabilitation center. I tried to do the Falun Gong exercises, but the police stopped me, then hung me by my handcuffed wrists on a window for three days as punishment.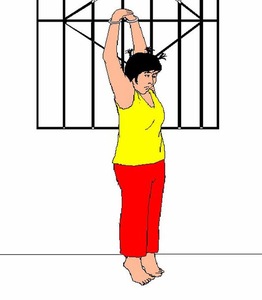 Torture Illustration: Hanging
I was later transferred to a detention center and was strip-searched. I was detained there for 18 months.
The court sentenced me to three years in prison and didn't even notify my family of the hearing. I served time at the Chuanxi Prison for two years. As I refused to give up my belief, the prison didn't allow my son to see me.
After I was released, staff of the Yibin City 610 Office arrested me and detained me in the Jinshajiang Hotel for brainwashing in 2005. An attorney wrote a statement promising to give up Falun Gong on my behalf, but I didn't acknowledge it. I was released 22 days later.
Force-fed Unknown Drugs During Five-Year Imprisonment
I was arrested on October 24, 2009, after being reported for talking to people about Falun Gong.
I was detained at the Yibin Detention Center for eight months before being tried by the Yibin Court. The court rejected my request to notify my family and sentenced me to five years in prison. I appealed but the appeal was rejected a month later.
I was taken to the Sichuan Women's Prison. I refused to write statements promising to renounce Falun Gong or recite the prison rules, as I knew I shouldn't be in prison. Guards forbid me from buying toilet paper or other necessities, gave me only a little food to eat, forced me to stay under the baking sun for many hours, and didn't allow me to sleep for 12 days.
They subsequently allowed me to sleep only one hour each day and forced me to stand for the rest of the time for nearly four months. Five guards once took me to their office, slapped me in the face and shocked me with electric batons.
Guards also forced me to watch brainwashing videos and ordered me to write thought reports. I refused to write, and they forced me to squat and denied me access to the restroom for a whole afternoon. They also force-fed me unknown medicine that I managed to throw up each time.
My family sent money to my account in the prison, but I never received it.
After I was released, the police came to my home to check on me and harass me every year.