Belated News: Heilongjiang Woman Dies Three Months After Prison Release (Graphic Photos)
February 29, 2020 | By a Minghui correspondent in Heilongjiang Province, China
(Minghui.org) Ms. Li Xiuqin recovered from a severe heart condition after taking up the practice of Falun Gong, only to be repeatedly arrested for holding firm to her faith. She had a relapse of her heart ailment and developed other symptoms while serving eight years in prison. She died on September 15, 2018, three months after being released. She was 58.
Falun Gong, also known as Falun Dafa, is an ancient spiritual and meditation discipline that has been persecuted by the Chinese communist regime since 1999.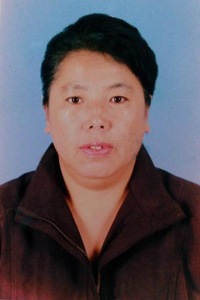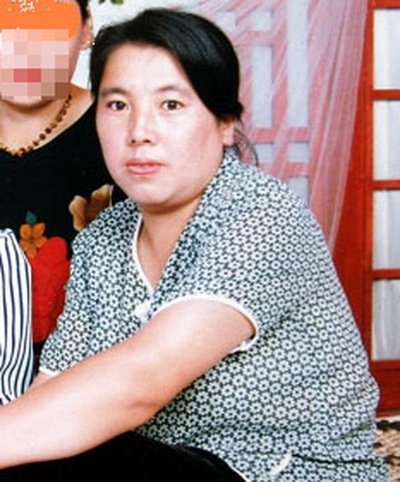 Ms. Li Xiuqin before the persecution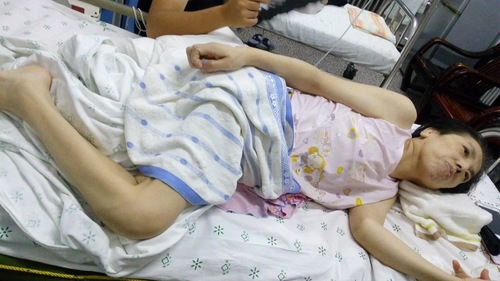 Ms. Li in the hospital after abuse in detention
Heart Condition Cured by Practicing Falun Gong
Ms. Li Xiuqin, a Tangyuan County, Heilongjiang Province resident, was a director at a local winery. She suffered a congenital heart disease since childhood and often passed out with no warning.
In frequent pain, Ms. Li often scratched herself or pulled her hair when the pain was unbearable. Her husband had to hold her hands to prevent her from hurting herself.
Due to the physical suffering, she often lost her temper and yelled at her husband. "Even though she treated me like that, I couldn't leave her, or she would hurt herself even worse," her husband recalled.
After the couple took up Falun Gong in 1996, Ms. Li's heart condition was cured and her hot temper was gone. Her family was filled with harmony and happiness.
One year later, Ms. Li's mother suffered whole body edema and was in critical condition. At Ms. Li and her husband's recommendation, her mother also learned Falun Gong and saw her edema disappear in two months. The bronchitis and emphysema that had tormented her for decades were also cured. Many of their family members took up Falun Gong after witnessing the miraculous changes in Ms. Li and her mother.
Four Years of Labor Camp and Mistreatment in a Detention Center
After the persecution began, Ms. Li was arrested on December 30, 2001 for passing out informational materials about Falun Gong. She suffered a heart condition while detained at the Tangyuan County Detention Center, yet Lu Wenge, a deputy head of the detention center, kicked and verbally abused her.
Ms. Li was given one year at Xigemu Forced Labor Camp. She was initially rejected admission due to her physical condition, but just as she recovered a little, the police took her back into custody to serve time.
Ms. Li was arrested again on January 4, 2003, shortly after she was released. Twenty days later, the police gave her three more years at Xigemu Forced Labor Camp.
On May 27, 2006, only a few months after she was released, five police officers stopped her at the entrance to her subdivision. They took away her purse and forced her to open her apartment door for them. Without any search warrant, they ransacked her home and confiscated her Falun Gong books and related materials.
The officers interrogated Ms. Li at the police station and then sent her to the Tangyuan County Detention Center. She went into shock twice within a few days after her heart condition recurred as a result of the abuse she experienced there.
Instead of providing medical care to Ms. Li, Liu Jian, another deputy head of the detention center, verbally abused her and accused her of "faking illness" and "causing trouble" for him.
After 48 days at the detention center, Ms. Li was emaciated and unable to walk without assistance. Despite her condition, the police gave her one more forced labor camp term. The labor camp, however, refused to accept her. When Ms. Li's husband went to the detention center to take her home, he had to carry her out on his back, as she was too weak to walk.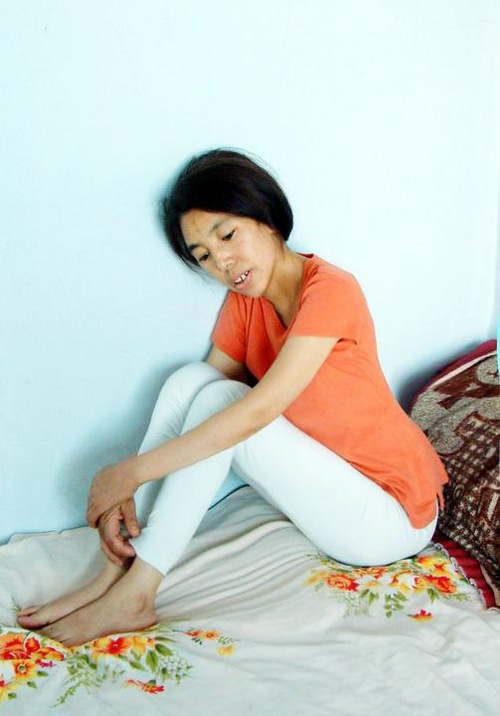 Ms. Li was emaciated after 48 days of detention in 2006.
Sentenced to Eight Years in Prison
Ms. Li was arrested on July 1, 2010, after she was reported for distributing informational materials about Falun Gong.
She held a hunger strike to protest the persecution and was force-fed. She became incapacitated and bedridden. She was unable to walk and had to rely on others to care for her. Around August 23, less than two months after she was arrested, she was hospitalized twice for emergency treatment.
When Ms. Li's husband went to the police station to demand her release, the police attempted to arrest him but relented after his strong resistance.
Zhou Jinzhe, deputy political director of the police department, once said to Ms. Li's husband, "I am the executioner. If the (Chinese Communist Party) asks me to kill someone, I will."
The Tangyuan County Procuratorate approved Ms. Li's arrest in late July 2010 and later indicted her.
She was carried into Tangyuan County Court with a black hood over her head on December 2, 2010. Her lawyer entered a not guilty plea for her. When the lawyer challenged the judge and the prosecutor for the lack of legal basis for the persecution, Lu Lin, the presiding judge, shouted at the lawyer, "I will have you removed from the courtroom if you continue to argue (with me)."
The judge later sentenced Ms. Li to eight years in prison.
Life-threatening Condition from Continual Abuse
At Heilongjiang Women's Prison, Ms. Li was forced to sit on a small stool for 21 hours a day, from 5 a.m. to 2 a.m. She barely had any sleep every day before being woken up and subjected to the torture again. The inmates and guards frequently beat and verbally abused her if she moved even a little while sitting on the stool.
The sitting torture caused the flesh on her buttocks to develop oozing sores that stuck to her clothing. The pain was excruciating when she took off her pants or took a shower.
The prison continued to force Ms. Li to sit on the small stool even after she suffered a heart attack.
A guard attempted to entice her to renounce her faith by promising to stop the torture. Ms. Li refused to comply.
Ms. Li later developed a severe liver condition and had a significant amount of blood in her stool. She was also diagnosed with diabetes.
Every time her husband visited her in the prison, she wept uncontrollably. Her husband said he was heartbroken to see her crying and he could sense the unbearable pain and suffering she was enduring.
Ms. Li developed a persistent high fever in July 2015 and her condition became serious. The prison had to send her to a hospital, where the doctors operated on her to remove excessive pus in her liver. As she was so weak, the incision still hadn't fully healed by the time she was released three years later.
When Ms. Li was finally released on June 30, 2018, her body weight had dropped from 140 lbs to less than 90 lbs. Only ten days after her release, she was in critical condition and hospitalized.
The wound from her surgery three years prior had become infected and the doctor performed another surgery on her liver to remove the excessive pus and treat the infection.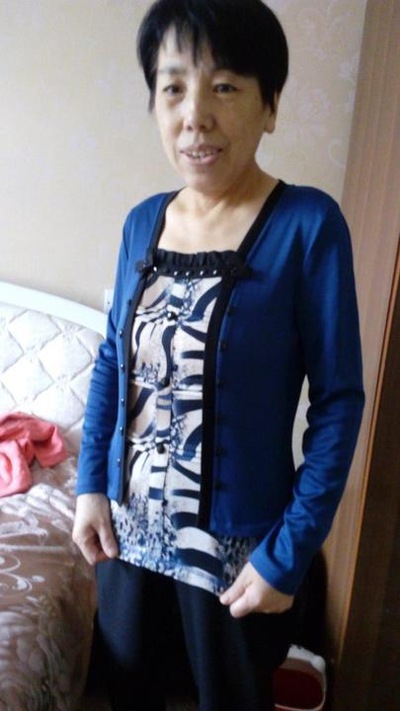 Ms. Li after being released in June 2018.
Ms. Li being treated in the hospital not long before her death.
Ms. Li was in extreme pain in her final days. She was unable to sleep or keep food down. Her family stayed with her and provided care for her around the clock in the hospital.
Around 3 a.m. on September 14, 2018, Ms. Li suffered a stroke and fell into a coma. She passed away around 7:40 a.m. the next day, at the age of 58.
Related reports:
Ms. Li Xiuqin Emaciated After Being Detained for 48 Days
Please Help Rescue My Wife Whose Life Is in Danger
Ms. Li Xiuqin in Critical Condition After Being Persecuted
Wife and Son Arrested While Picking Up Mr. Song Yan from Prison