Hong Kong: Press Conference Calls for Help to Stop the Persecution of Falun Gong
Dec. 16, 2020 | By Minghui correspondent Fang Hui
(Minghui.org) A press conference was held in Hong Kong on December 10, 2020, the 70th anniversary of International Human Rights Day, to call for global support to stop the Chinese Communist Party's (CCP) persecution of Falun Gong. The conference was sponsored by the Hong Kong Falun Dafa Association, the Hong Kong Branch of the World Organization to Investigate the Persecution of Falun Gong (WOIPFG), and the Hong Kong Association for Rescuing Persecuted Falun Gong Practitioners.
Hong Kong Falun Dafa Association Chair Liang Zhen said recently more than 900 elected officials and dignitaries from 35 countries jointly signed a petition condemning the CCP's persecution. More than 100 elected officials and dignitaries from Hong Kong, Macau, and Taiwan participated in the joint petition. She said the petition was an important action to stop the persecution and to safeguard human rights.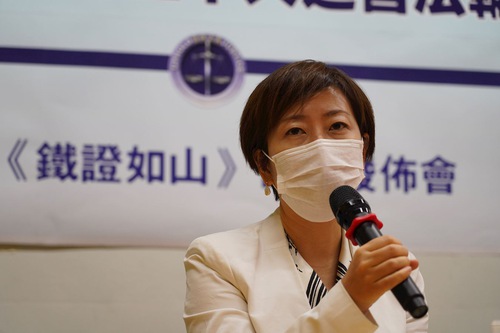 Hong Kong Falun Dafa Association Chair Liang Zhen
Pastor Fung Chi-wood, a former member of the Hong Kong Legislative Council, and Lam Wing Yin, a former member of Sai Kung District Council, spoke at the press conference to support Falun Gong practitioners and to call for an end to the persecution.
The CCP is Like a Dead Tree About to Fall
Lam Wing Yin said he felt bad because hundreds of thousands of Falun Gong practitioners have been persecuted over the past 21 years, and many were persecuted to death. He wished more Hong Kong people and tourists would learn about the CCP's state-sanctioned organ harvesting from living Falun Gong practitioners and really understand the evil nature of the Party. He expressed his admiration for Falun Gong practitioners and his wish that practitioners would continue their efforts.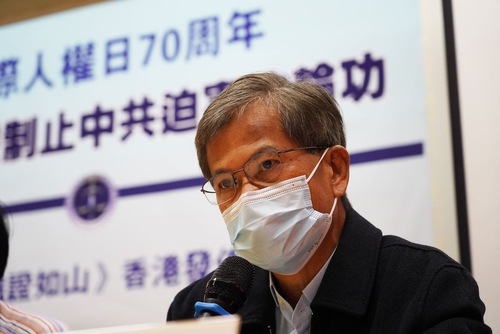 Pastor Fung Chi-wood, a former member of the Hong Kong Legislative Council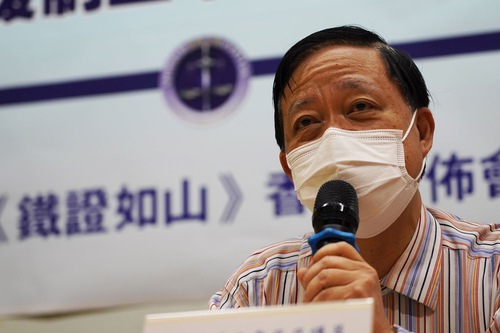 Lam Wing Yin, former member of the Sai Kung District Council
Pastor Fung Chi-wood said that the plight of human rights in China has worsened under the CCP's control, like a dead car on a slope that is sliding down faster and faster. He said the CCP regime was like a dead tree that was about to fall and people should move away from it to avoid injury.
The CCP suppression has been weighing heavily on the people of Hong Kong, "We are waiting for the new era. Now is the darkness before dawn. Hong Kong people will suffer more, but we should be able to stand it," Fung said. "Light will always defeat darkness, and good will always defeat evil. This is the unchanging truth and our belief."
Justice Will Prevail Over Evil
Lawyer Chen Guangcheng, who is in exile in the United States, issued a video speech to be broadcast at the event. He first thanked the Hong Kong people for their attention to China's human rights crisis and for exerting pressure on the CCP.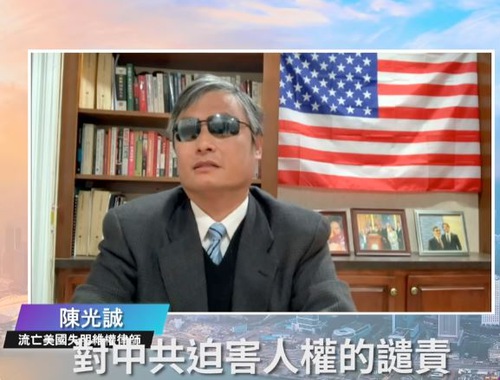 Lawyer Chen Guangcheng
"Falun Gong practitioners continue protesting in China, making the CCP terrified," Chen said, "However no matter how the CCP persecutes, suppresses, and imprisons practitioners, information on Falun Gong has spread across the country. The Party is very annoyed, but helpless."
"The CCP's persecution has no moral bottom line, it is beyond the imagination of good people. Therefore, it is hard for people to believe the live organ harvesting. Thanks to the efforts of Falun Gong practitioners and people from all walks of life, they have obtained a lot of information about the atrocities. The righteous forces will bring the CCP to justice for its crimes against humanity."
Live Organ Harvesting Must Stop
Enver Tohti Bughda, a Xinjiang Uyghur doctor who is in exile in the United Kingdom, spoke via video about his personal experiences of participating in organ harvesting from death row prisoners in 1995. He said at the time he was brainwashed by the CCP and believed that death row prisoners were "enemies of the state."
Only after coming to a foreign country did he realize that harvesting death row prisoners' organs was a crime. "People have dignity and rights. A person's life should not be transferred by the will of another person or an organization," he said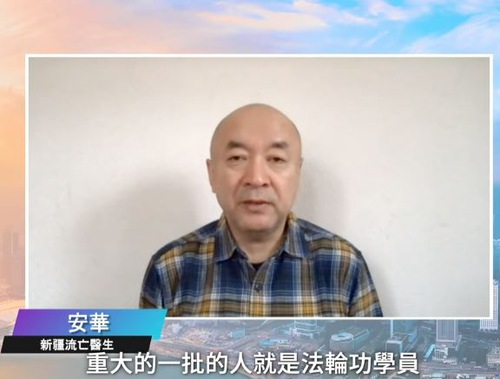 Enver Tohti Bughda, a Xinjiang Uyghur doctor who is in exile in the United Kingdom
Enver said the Party persecutes many people and a large number of those persecuted are Falun Gong practitioners. Falun Gong is a belief group. But the CCP does not allow people to have any beliefs other than communism or socialism. A spiritual or religious belief will be defamed as an evil cult. But this world does not support the persecution of people for their beliefs.
Enver wished that Chinese people could live with dignity and all groups that are persecuted could unite. "For our belief and keeping our belief, we fight with the evil CCP regime and stop its trampling people's lives and property," he said.
He commended the more than 300 million people who have withdrawn from the CCP and its associated youth organizations. He wished to awaken Chinese people's consciences and make them aware of the CCP's evil. The day that the CCP collapses will arrive soon, Enver said.