Hebei Woman Serving Time for Her Faith Admitted to Hospital for Tuberculosis of the Spine, Denied Family Visits
Oct. 7, 2020 | By a Minghui correspondent in Hebei Province, China
(Minghui.org) A Chengde City, Hebei Province resident developed tuberculosis of the spine two months after she was imprisoned to serve a two-year term for her faith in Falun Gong. Ms. Wang Guilan has been admitted to the prison hospital, where the authorities denied her family visits, citing concerns about the coronavirus pandemic.
Falun Gong, also known as Falun Dafa, is an ancient spiritual and meditation discipline that has been persecuted by the Chinese communist regime since 1999.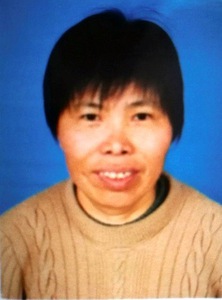 Ms. Wang Guilan
Ms. Wang, 58, was arrested by a group of officers who broke into her home on September 4, 2019. Her computer, printer, Falun Gong books and photo of Falun Gong's founder were confiscated.
Ms. Wang usually wore a complete set of dentures, but the police only allowed her to bring the top half when they arrested her. The guards at Chengde Detention Center also refused to accept the other half of her dentures when her family sent it to her. Unable to eat well with only half of her dentures, Ms. Wang soon became emaciated in custody.
She was later sentenced to two years and sent to the 13th Ward at Shijiazhuang Women's Prison on July 17, 2020. Her husband received a call from a guard surnamed Liu on September 19 and was told that Ms. Wang had been diagnosed with tuberculosis of the spine.
Guard Liu said that Ms. Wang had been sent to the prison hospital, but the prison was only responsible for part of her medical expenses. Ms. Wang's husband demanded to visit her in the hospital, but was rejected. Liu said that Ms. Wang was running out of cash and couldn't even afford to buy toilet paper in the prison. Her husband then deposited 500 yuan for her to buy daily necessities, but he refused to pay the 1,000 yuan requested by the prison to cover her medical costs.
Ms. Wang contracted tuberculosis of the spine when she was 16, and she later developed other respiratory diseases and problems with her liver, heart, spleen and stomach. Her health gradually recovered after she took up Falun Gong in 1997. She enjoyed good health over the next two decades, only to be jailed for holding fast to her faith and have the tuberculosis relapse.