Elementary School Teacher Sentenced to Prison, Husband Arrested and Daughter Fired for Seeking Her Release
Oct. 24, 2020 | By a Minghui correspondent in Hebei Province, China
(Minghui.org) A 45-year-old elementary school teacher in Baoding City, Hebei Province, was sentenced to three years and ten months with a 50,000-yuan fine on September 24, 2020, for her faith in Falun Gong, a spiritual discipline that has been persecuted by the Chinese communist regime since 1999. Ms. Zhu Surong has filed an appeal against the verdict.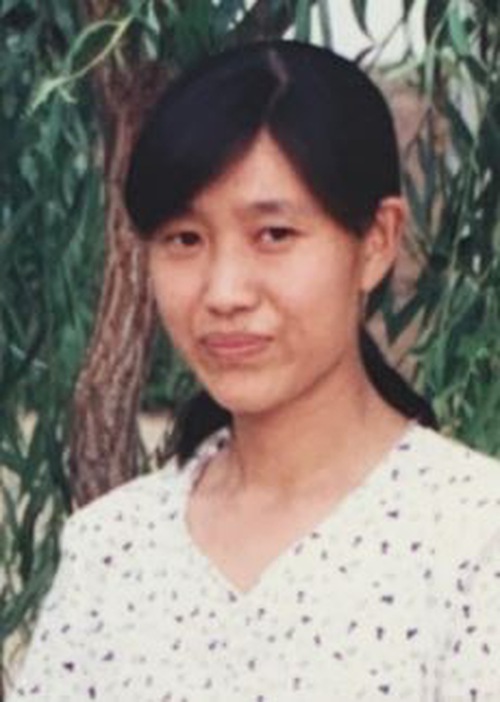 Ms. Zhu Surong
On July 1, 2020, Ms. Zhu's husband was arrested and their older daughter was fired from her job, both for seeking justice for her.
Ms. Zhu's prison sentence that came two months later dealt a further blow to her family. Her older daughter, who had recently given birth, struggled to care for her newborn son and take care of her school-age sister and elderly grandmother.
Arrested after Thief Reported Her to Police
Ms. Zhu was teaching in class on October 11, 2019, when police officers came to harass her. She was arrested at home later that day and taken to the Baoding City Detention Center.
It turned out that a thief in her village who had stolen her electric bike reported her to the police after finding Falun Gong materials in the bike's basket. Instead of arresting the thief, the police arrested Ms. Zhu.
More than 300 local villagers signed a petition within a few days following Ms. Zhu's arrest, demanding the release of the beloved teacher. The police continued to hold her in custody and submitted her case to the procuratorate.
At one point, the police promised Ms. Zhu that they would release her immediately if she signed a statement to renounce Falun Gong, but she refused to comply.
Ms. Zhu appeared in Gaoyang Court on May 12, June 19, and July 6, 2020, before being convicted.
First Hearing
During Ms. Zhu's first hearing on May 12, her lawyer pointed out that it was illegal for the police to ransack his client's home without a search warrant and that they had failed to provide a list of items confiscated from her as required by law. During the second home raid, the police scaled her fence and broke in.
The lawyer added that according to the police record of Ms. Zhu's arrest and their petition for the approval of her arrest, they confiscated 985 Falun Gong books and 133 copies of flyers from her home. However, in the confiscation list they submitted and Ms. Zhu's indictment, it was written that 977 Falun Gong books and 113 copies of flyers were taken from Ms. Zhu's home.
As both the police and prosecutor failed to explain the reason for the discrepancy, the lawyer said he couldn't rule out the possibility that some of the evidence was fabricated.
Ms. Zhu also testified that the police interrogated her and forced her to admit to having distributed Falun Gong materials. After the interrogation, the police turned off the surveillance cameras and forcibly put her fingerprints on the interrogation record.
Li Wenzhou, the village Party secretary, testified against Ms. Zhu and said he had heard from several people saying Ms. Zhu had distributed Falun Gong materials at local markets. But when asked who told him that, Li responded that it had been a long time and he couldn't remember it.
The prosecutor remained silent for most of the hearing.
To seek justice for Ms. Zhu, her family filed complaints against police officer Bian Jihui, who led her arrest, as well as prosecutor Hou Zhiyong, who framed her based on unlawful charges.
Second Hearing
Ms. Zhu's second hearing on June 19 lasted about two hours. The prosecutor was twenty minutes late and the judge ordered a recess of about 45 minutes, leaving less than one hour for the plaintiff and the defendant to present their arguments.
The police added a document to Ms. Zhu's case and said that they had made a mistake in counting the items confiscated from her. "Please refer to the indictment for the correct number," a police representative said.
During the hearing, Ms. Zhu said she was unable to hear what the prosecutor said. None of the evidence included in the indictment was presented in court.
On June 23, four days after Ms. Zhu's second hearing, the police broke into her home and searched it in front of her younger daughter. One week later, on July 1, the kindergarten that Ms. Zhu's older daughter worked at was pressured by the police to fire her. That same day, the police arrested Ms. Zhu's husband and fined him 600 yuan.
Third Hearing
Prior to Ms. Zhu's third court session on July 6, her lawyer asked to have police officer Bian Jihui appear in court to be cross-examined. Bian never appeared.
The police issued another document stating that they had a typo while printing the confiscation list. Ms. Zhu's lawyer pointed out that it was illegal for the police to arbitrarily change the number of confiscated items on their own without third-party verification.
Ms. Zhu's older daughter, who was also defending her in court, said, "How can the police make such careless mistakes? They counted it wrong or typed it wrong? Or could they just come up with a number however they want? How did the police do their job?"
She added that no matter how many Falun Gong materials her mother had at home, they were her mother's lawful possessions and couldn't be used to support the allegation that she had violated any laws or undermined the enforcement of any laws, which is the typical pretext used by Chinese authorities to sentence Falun Gong practitioners.
On September 27, less than three months after Ms. Zhu's third hearing, her older daughter received her verdict. She said it pained her heart to see her mother being convicted for her faith, yet she doesn't have any means to seek justice for her.
Related reports:
Hebei Teacher Tried for Her Faith, Family Intimidated for Seeking Justice for Her
School Teacher's Family Files Complaints against Police and Prosecutor for Framing Her for Practicing Falun Gong
Elementary School Teacher Tried for Her Faith
Elementary School Teacher Still Detained for Her Faith During Chinese New Year
Related article in Chinese: