Heilongjiang Woman Tortured in Custody, Police Refuse to Release Her Even After Prosecutor Returns Her Case for Lack of Evidence
January 08, 2020 | By a Minghui correspondent in Heilongjiang Province, China
(Minghui.org) Police in Jiamusi City, Heilongjiang Province have refused to release a local Falun Gong practitioner, even after her case was returned by the procuratorate on November 27, 2019 for insufficient evidence.
Ms. Che Jinxia has been detained at the Jiamusi City Detention Center for five months for practicing Falun Gong, a spiritual discipline that has been persecuted by the Chinese communist regime since 1999.
Ms. Che's 86-year-old father, Mr. Che Weiqi, has frequented the local police station over the past months to demanded her release. Li Aiguo, the deputy police chief, rejected him and said, "There is no way for us to release her. She has refused to plead guilty or report on other local practitioners."
Mr. Che, who is widowed and has been relying on Ms. Che as his main caregiver, struggles to care for himself.
The police also attempted to pressure Ms. Che's husband to provide information about local Falun Gong practitioners. They have threatened to block his and Ms. Che's son from finding a job after he graduates with his Master's degree.
Ms. Che was arrested on July 25, 2019 while reading Falun Gong books with others at a local practitioner's home.
Officers from the Jiaoqu Police Department, including Li Aiguo, Wu Bin, and Li Qiang, interrogated Ms. Che with torture for a whole day. At one point, they forced her to do a handstand. Two people then grabbed her legs and split them as far apart as possible.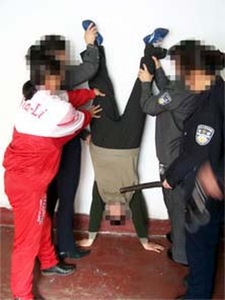 Torture reenactment: forced handstand
Ms. Che, whose menstrual flow had stopped six months ago, suffered profuse vaginal bleeding afterwards. Much of her hair was also pulled out and she was covered with bruises after being tortured for an entire day.
It was reported that the arrests in Jiamusi City were orchestrated by the Public Security Bureau in Heilongjiang Province. About 40 Falun Gong practitioners were arrested around July and August 2019. Mr. Yang Shengjun, who was arrested on August 2, 2019, was tortured to death nine days later in custody.
On the second day of Ms. Che's arrest, the police ransacked her and her father's homes.
Mr. Che's computer, equipment that he uses to produce informational materials about Falun Gong, as well as more than 1,000 yuan in special serial number banknotes his son had collected were confiscated.
Related report:
Police Chief Denies Having Received Returned Case Against Falun Gong Practitioner Despite Procuratorate's Confirmation of Case Status
Jiamusi City, Heilongjiang Province: 15 Falun Gong Practitioners Arrested in Three Days