Vancouver Residents Call For Release of Family Member Sentenced to 3 Years for Her Faith
January 08, 2020 | By a Minghui correspondent in Guangdong Province, China
(Minghui.org) A resident of Zhongshan City, Guangdong Province was recently sentenced to three years for practicing Falun Gong. Her 92-year-old mother and her older sister, who both live in Vancouver, Canada, are calling for her release.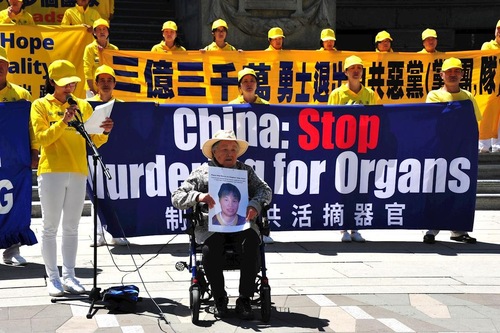 Ms. Yang's mother, 92, calls for her release during a rally in downtown Vancouver on July 20, 2019.
Falun Gong, also known as Falun Dafa, is a spiritual discipline that has been persecuted by the Chinese communist regime since 1999.
Ms. Yang Jinyan, 66, was arrested on April 21, 2019 by more than ten officers from the Hongji Police Station. The police confiscated over one hundred copies of informational materials about Falun Gong from her.
Ms. Yang was detained at the Zhongshan City Detention Center. She appeared in the Zhongshan City No.1 Court on November 5, 2019 and was convicted on December 12.
Ms. Yang's mother, who immigrated to Canada more than thirty years ago, said that Ms. Yang and her husband were the only members of their family who stayed in China to manage their family business. But she has been repeatedly persecuted in the past 20 years because of her faith in Falun Gong.
Past Persecution
Ms. Yang used to suffer severe sinus infection, which also caused frequent dizziness, headache and nosebleed. Her condition soon disappeared after she took up Falun Gong.
Because of not giving up her faith in the face of the persecution, Ms. Yang was arrested on February 9, 2002 and held in the Zhongshan City Detention Center for more than a month.
She was sent to Sanshui Brainwashing Center on November 14, 2003 and held there for three months.
The police arrested Ms. Yang again on December 7, 2004 and detained her in the Zhongshan City Detention Center. She was later given two years of forced labor. She served time in three different labor camps, where she was tortured and forced to do unpaid labor.
Ms. Wang was arrested one more time on July 15, 2009. The police ransacked her home without a search warrant.
She was later sentenced to 3.5 years in Guangdong Women's Prison. She lost her hearing and developed high blood pressure and gallstones as a result of the abuse in custody.
Related reports:
Vancouver, Las Vegas, and Hawaii: Rallies and Candlelight Vigils Commemorate Those Who Have Died During 20 Years of Persecution
Canada: Vancouver Practitioners Call for Help Rescuing Family Members Prior to Prime Minister's China Visit