Falun Dafa Practitioners on the New York Flag Team Respectfully Wish Master Li Hongzhi Happy New Year!
(Minghui.org) As we bid farewell to 2019 and welcome 2020, Falun Dafa practitioners from all around the world are sending cards and greetings to Minghui.org to wish the founder of Falun Dafa Happy New Year.
In this report, the practitioners on the New York Flag Team express deep gratitude to Master Li for teaching them the practice. They promised to be more diligent in cultivating themselves in the New Year.
The flag team was set up in May 2017 and consists of 70 practitioners from all circles of life. They conduct rehearsals and participate in parades after work hours. The team has become popular in local community parades.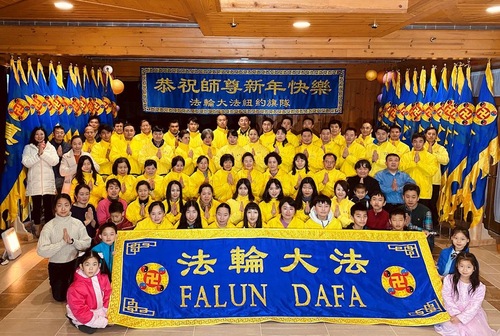 Group photo of Falun Gong practitioners on the New York Flag Team, wishing Master Li Happy New Year
The flag team in the Washington DC march to protest the persecution on July 18, 2019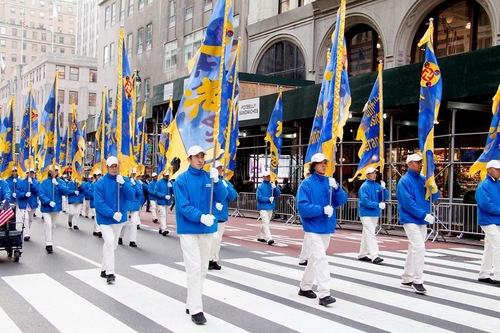 The flag team in the Veterans Day parade in Manhattan, New York on November 11, 2019
The flag team at the march in Brooklyn, New York on October 20, 2019, to support 340 million Chinese quitting the Chinese Communist Party and its affiliated organizations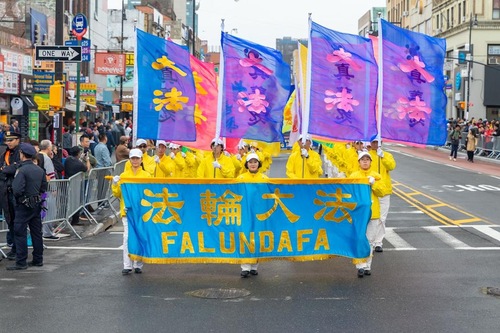 The flag team in a march in Flushing, New York on April 20, 2019, commemorating the April 25 appeal in Beijing
Practitioner Ba Xuerui: I Appreciate Master for Letting Me Practice Falun Gong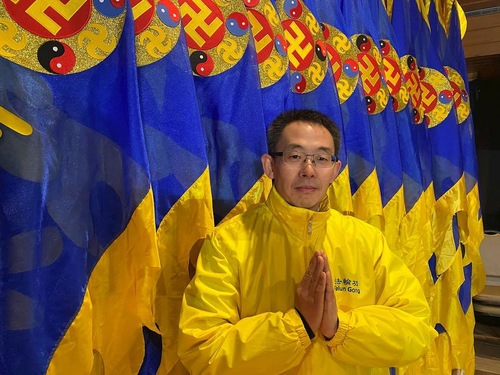 Ba Xuerui shows his appreciation to Master.
Ba Xuerui is from Heilongjiang Province, China. He started practicing Falun Gong in 2003. He got rid of his addiction to alcohol not long afterwards. His high blood pressure, high blood sugar and high cholesterol all became normal.
Mr. Ba said, "My family has had hereditary diabetes for at least three generations. My grandfather, father, uncle, and aunt died of this disease. I also developed symptoms when I was young. I was always in pain and fear.
"Amazingly, after I started practicing Falun Gong, all the diseases that could not be cured by any medicine in this world disappeared. I know Master protects me. Words cannot express my gratitude to Master."
Practitioner Lei Sheng: Dafa Teaches Me to Be a Good Person
Lei Sheng
Lei Sheng is from Hubei Province, China and started practicing Falun Gong in 1997. He said, "Falun Dafa made me understand how to be a good person by following the principles of Truthfulness-Compassion-Forbearance. When I face difficulties that I cannot solve, in my mind I ask for help from Master.
"I have been able to stay away from the gambling, drinking and taking drugs that were prevalent in my company. Under my influence, my work department became better than others in the company."
Practitioner Zhou Shujuan: Great Changes After Practicing Falun Gong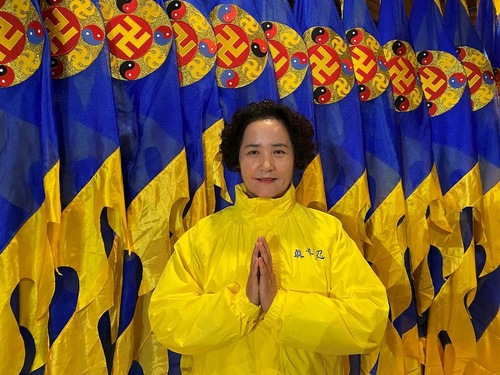 Zhou Shujuan
Zhou Shujuan, from Heilongjiang Province, China, started practicing Falun Gong in 1998.
She said, "I started my own business when I was laid off. Because of the intense, daily focus on my business, my health deteriorated. I had cervical spondylosis and lumbar disc herniation, making me unable to walk. I could not turn over in bed and could not take care of myself. I visited major hospitals, but there was no cure.
"One day, my friend gave me a Falun Gong book and videotape for me to learn the practice. Then I learned Falun Gong at home every day. My illnesses disappeared soon afterwards. When my family, relatives and friends saw the changes in my health, they said that it was amazing, and that Falun Gong was extraordinary. Later, they also started practicing Falun Gong.
"I used to be a selfish person. After studying Dafa, I asked myself to do things according to Truthfulness-Compassion-Forbearance. I think of others first when I encounter any difficulty.
"There was an elderly rural customer who came to my store once. He came in with a broken electric cooker that he'd bought from my store a long time ago. The warranty had long expired.
"I thought that villagers needed the cooker to cook for the Chinese New Year. I did not have time to repair it. I asked my employee to give him a new one. The elderly man said, with tears in his eyes, 'Thank you! You are such a good person!'"