New Year Greetings to Master Li Sent by Falun Dafa Practitioners Working to Expose the Persecution in China
January 27, 2020 | By a Minghui correspondent
(Minghui.org) In the past 20 years of persecution against Falun Dafa, many practitioners in China hold on firm to their faith and persist in bringing the truthful information to the public and awakening their compassion and kindness.
In the spirit of the lunar New Year, these practitioners, who emerge from the hardship like plum blossoms in cold winter, send their heartfelt greetings to Master Li Hongzhi, the founder of Falun Dafa, and wishing him a Happy New Year.
These practitioners come from every corner in China. Some go to the street to talk to people about Falun Dafa every day, some print materials at home for others to distribute, some install satellite dishes for people to receive uncensored news from overseas media, and some spread information on the internet.
One group of practitioners in Yishui County, Shandong Province said: "Thank you Master, for protecting us along the way. It was unbelievable to many that an illiterate woman learned to operate a computer and printer. This is the power of Falun Dafa. As long as we have the heart, Master will help us."
One practitioner in Gong'an County, Hubei Province wrote, "People are awakening now and they are eager to know more about Falun Dafa. The joy on their face after quitting the Chinese Communist Party is simply beyond words."
A couple in their 80s in Shijiazhuang City, Hebei Province said they have been practicing Dafa for 24 years. With Master's help, they are still operating a material production site at home despite their advanced age. On the occasion of the Chinese New Year, all nine members from their family are sending their best wishes to Master Li.
One practitioner in Hengyang City, Hunan Province said, "I'm really honored to have the opportunity to learn Falun Dafa. As I keep improving my heart, I realize that I'm no longer in panic when I see the police, but instead, I developed compassion towards them and have the courage to clarify the facts to them. Reading fellow practitioners' sharing articles also help me to have a deeper understanding about cultivation. No words can describe how thankful I am for Master. I will cultivate myself more diligently in the future and help more people know the facts!"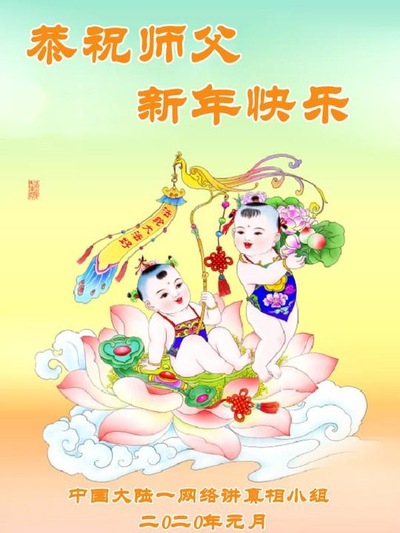 More greetings were received from:
Groups of practitioners who talk to people on the street in:
ShanghaiHandan City, Shijiazhuang City and Tangshan City, Hebei ProvinceShenyang City, Liaoning ProvinceDaxing'anling Prefecture, Suihua City and Qiqihar City, Heilongjiang ProvinceTianjinChifeng City, Inner MongoliaTonghua City and Jilin City, Jilin ProvinceChengdu City, Sichuan Province
And home-based material production sites in:
Shenyang City, Anshan City and Liaoyang City, Liaoning ProvinceJiamusi City, Heilongjiang ProvinceDeyang City, Sichuan ProvinceYueyang City, Hunan ProvinceTangshan City, Hebei ProvinceMengyin County, Linqing City and Zhaoyuan City, Shandong ProvinceShenqiu County, Henan Province