Falun Dafa Practitioners in 31 Provinces and Regions in China Wish Master Li Happy Chinese New Year
January 26, 2020 | By a Minghui correspondent
(Minghui.org) On the first day of the 2020 Chinese New Year, Minghui.org continued to receive warm greetings from Falun Dafa practitioners in China, wishing the founder of the practice, Master Li Hongzhi, a Happy New Year.
Despite the persecution in China, these practitioners remain firm in their faith and express their deep gratitude for Master Li. They vowed to be more diligent in their practice, help more people understand the facts about Falun Dafa, and bring blessings to them.
This article is a collection of greetings received from practitioners in 31 provinces and regions across China.
One practitioner in Shihezi City, Xinjiang Province, said, "In the past 20 difficult and trying years of the persecution, Master has been protecting us every moment. When we have tribulations, it is you who bear the tremendous karma for us. No matter how difficult the cultivation path ahead is, we will follow you to the end!"
A practitioner in her 90s in Chifeng City, Inner Mongolia, said that, after suffering tracheitis for most of her life, she recovered after she recited, "Falun Dafa is good, Truthfulness, Compassion, Forbearance is good." On the occasion of the Chinese New Year, her entire family of four generations are sending their heartfelt wishes to Master.
A family of three in Baoding City, Hebei Province, wrote, "It's our highest honor to be Falun Dafa practitioners! We will cherish the precious opportunity to practice Dafa, cultivate ourselves well, fulfill our historic mission, and live up to Master's expectations."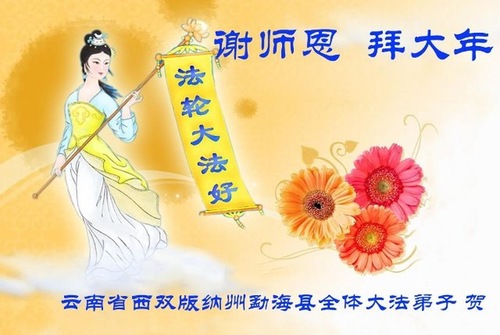 Other greetings come from the following regions:Lhasa, Tibet Xining City, Qinghai ProvinceShizuishan City and Yinchuan City, Ningxia ProvinceMenghai County and Kunming City, Yunnan ProvinceHuachuan County, Heilongjiang ProvinceShenyang City and Yi County, Liaoning ProvinceShanghaiTianjinYingcheng City and Macheng City, Hubei ProvinceFuyang City, Anhui ProvinceZhaoyuan City and Dongying City, Shandong ProvinceNanchang City, Jiangxi Province Guizhou City, Guiyang City and Anshun City, Guizhou Province Xiamen City and Wuyishan City, Fujian Province Huzhou City and Jiaxing City, Zhejiang ProvinceGuigang City, Guangxi Province Hainan ProvinceHanzhong City, Shaanxi Province ChongqingShifang City and Dazhou City, Sichuan ProvinceYanbian City, Jilin ProvinceDatong City, Shanxi Province Puyang City, Henan ProvinceBeijingQingyang City, Gansu ProvinceChangzhou City, Jiangsu Province Zhuhai City, Guangdong Province