Albany, New York: The Art of Zhen-Shan-Ren Exhibition Held in a Local Library
January 14, 2020 | By a Falun Gong practitioner in New York
(Minghui.org) Falun Gong practitioners in the Albany area of New York are holding the Art of Zhen-Shan-Ren Exhibition in the William K Sanford Town Library for 25 days during January 2020.
A reception and introduction to the exhibition was held from 2 p.m. to 4 p.m. on Sunday, January 5.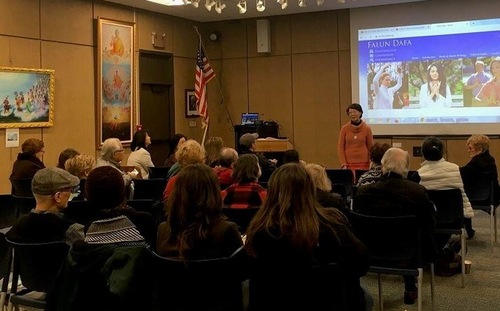 A reception and introduction to the exhibition at the William K Sanford Town Library in Loudonville, New York, on January 5, 2019.
A Falun Gong practitioner gave attendees an introduction to some of the paintings, explaining the stories and context behind each painting. Through her presentation, attendees learned about the Chinese Communist Party's (CCP) brutal persecution of Falun Gong and also learned more about the CCP's seven decades of killing.
The practitioner, who herself is an artist, gave the attendees an overview of some of the key benefits of practicing Falun Gong. Another practitioner shared how Falun Gong had kept her energetic, even when she had worked 12-hour days before retirement.
This practitioner had been a pharmacist. To provide the best service to customers, she had given up her lunch and dinner breaks for more than 10 years. She said she was considered one of the 10 best pharmacists in the country. Many of the attendees said they also wished to learn Falun Gong after listening to her experiences.
The introductory presentation ended with a three-minute video. Many people stayed longer to ask questions. A teacher who attended said he wanted to bring his students to see the paintings.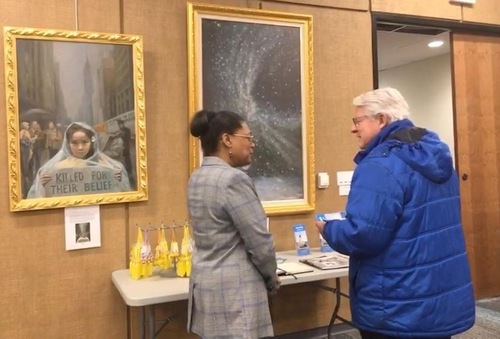 A practitioner answers questions after the presentation.
Some of the attendees asked where they could learn Falun Gong locally. An elderly lady, who had arrived at the reception an hour earlier than the scheduled time, stayed longer after the presentation was over. She said she had lived in Taiwan and learned Chinese. She is now 90 years old and was very interested in Falun Gong. She asked many questions.
Another attendee said that the paintings at the exhibition were the best she has seen in many years. Some of the attendees asked for a replay of the video so that they could learn more about the exhibition.
The exhibition will conclude at the end of January.