New Zealand: Practitioners Protest Outside Chinese Consulate Against CCP's Attack on Hong Kong Practitioner
September 30, 2019 | By a Minghui correspondent in New Zealand
(Minghui.org) Falun Gong (also called Falun Dafa) practitioners held a rally outside the Chinese consulate in Auckland on the morning of September 28, 2019, to protest against the Chinese regime's violent assault against practitioners in Hong Kong.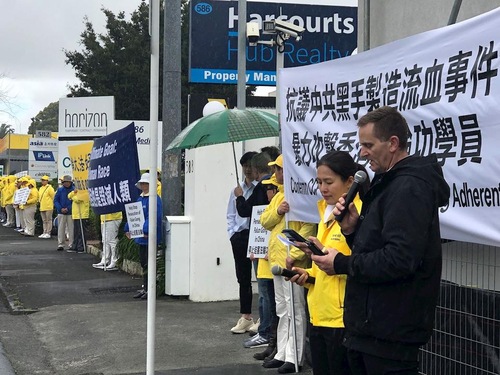 Rally outside the Chinese Consulate in Auckland
Hong Kong Practitioner Attacked by CCP Thugs
The host of the rally said that Ms. Liao Qiulan, a Falun Gong practitioner in Hong Kong, was assaulted by two thugs wearing masks after she went to the police station to apply for a parade permit on October 1, 2019, the National Day of the People's Republic of China. The recent events in Hong Kong show that the Chinese Communist Party (CCP) has extended its persecution to Hong Kong.
The CCP's Violent Acts Are Cowardly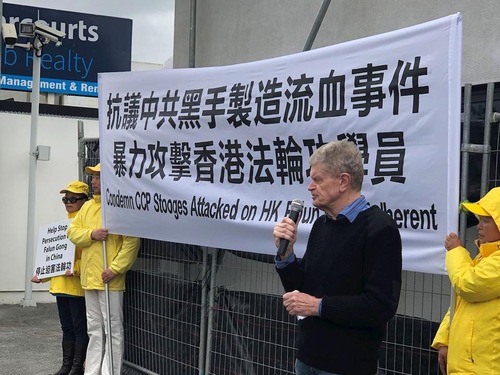 Barry Wilson, President of the Auckland Council for Civil Liberties, speaks at the rally.
Barry Wilson, President of the Auckland Council for Civil Liberties, came to show his support at the rally. He said, "I'm here to express my firm support for Falun Dafa practitioners. I used to work in Hong Kong. We can surmise that the attackers were hired by the CCP. This is a most cowardly action. This is a persecution of Hong Kong Falun Dafa practitioners as well as peaceful protesters."
Human Rights Lawyer Voices Support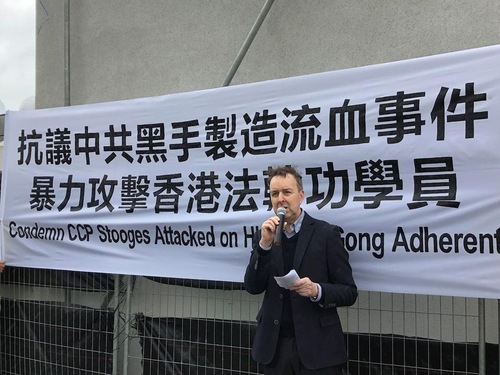 Human rights lawyer Kerry Gore speaks at the rally.
Kerry Gore, a renowned human rights lawyer said, "This terrible incident was instigated by the CCP in Hong Kong. This is a direct attack on Falun Gong practitioners and is cause for great concern. I hope many more practitioners will participate in the October 1 activities. I hope practitioners in Hong Kong will not be disheartened by this incident. I also hope Hong Kong residents will support Falun Gong practitioners."
Abandon Communism and Stop the Violence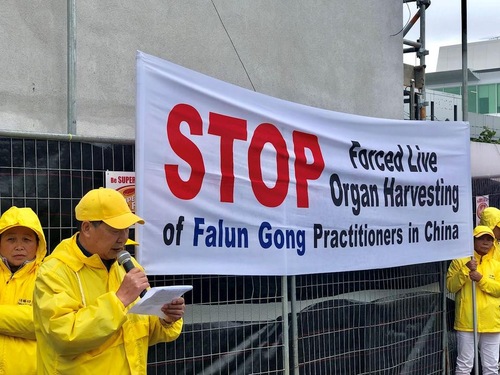 Falun Gong practitioner He Sanpu calls for public assistance to stop communist violence.
Falun Dafa practitioner He Sanpu said at the rally, "The bloody incident is another exemplification of the CCP's violent reign. The regime has been persecuting Falun Gong practitioners for 20 years, and has exported this persecution overseas. Given the knowledge of prior persecution cases committed by the CCP, there is no doubt this attack was orchestrated by the CCP behind the scenes. The CCP is the true culprit."
Mr. He also appealed to governments worldwide, and people from all walks of life to pay attention to this bloody incident in Hong Kong, recognize that the CCP exported its violent ways overseas, and come together to stop the regime's tyranny. He calls on Chinese citizens, including staff members of the Chinese consulate, to renounce the CCP.
Public Support for Practitioners' Resistance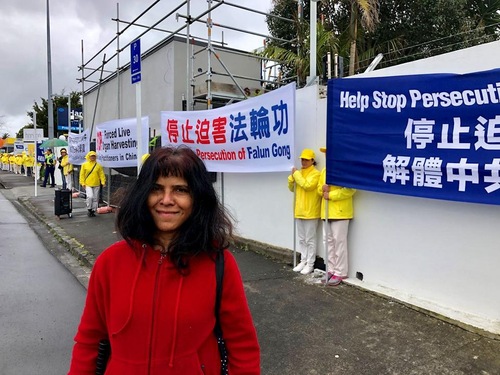 Mabel expressed her support for Falun Dafa.
Mabel, an IT analyst, said that human rights are very important. She said that a superpower like China must respect human rights if it wants to develop internationally and be accepted by other countries. Mabel said that she is aware of the forced organ harvesting and the Chinese regime's brutal suppression in Hong Kong, and told the reporter she will continue to follow these events.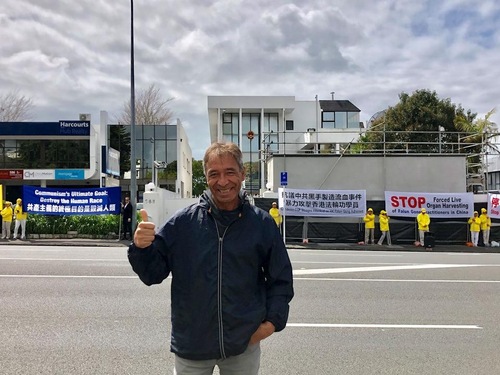 Craig shows his support for Falun Gong practitioners.
Craig Schaumkell is aware of the CCP's brutal persecution of Falun Gong practitioners in China. He wonders why the United Nations has not done anything about it. He said practitioners are doing a very good job in New Zealand, and they should never give up their resistance against the persecution.
Mr. Schaumkell works at a construction site nearby and has seen practitioners protest for over a decade. He said, "I support them and hope things [in China] will change."