(Minghui.org) According to information compiled by Minghui.org, a total of 156 Falun Gong practitioners had their cases returned in 2018 at various stages of the prosecution process, resulting in the release of 10 practitioners.
Among the 156 practitioners whose cases were returned in 2018, 107 had their cases returned to police by the procuratorate, 7 had their cases returned to the procuratorate by the court, and 3 had their cases returned to the trial court by the appeals court.
Shandong Province topped the list with 48 returned cases, followed by Liaoning (25), Heilongjiang (18), Inner Mongolia and Guangdong (10), Hebei (7) and Beijing (6), Jilin (5), Guizhou and Hubei (4 each), Gansu, Ningxia, and Shaanxi (3 each), and Henan, Jiangsu, Sichuan, Tianjin, Xinjiang and Yunnan (1 each).
One practitioner's case was returned both by the procuratorate to the police and by the trial court to the procuratorate.
Prosecutors and Judges Choose Not to Participate in Persecution
Thanks to Falun Gong practitioners' peaceful efforts to raise awareness of the persecution in the past 20 years, many working in the law enforcement and judicial systems have come to understand the illegality of the persecution and begun to distance themselves from the communist regime. Some have openly refused to carry out the persecution policy.
Although only 10 out of the 156 practitioners were later released, it is still significant given the ongoing persecution in China, as the judges and prosecutors risked losing their jobs or facing other forms of retaliation for seeking justice for the practitioners.
Ten Released Practitioners
Yunnan Province: County Procuratorate Declines to Charge Falun Gong Practitioner, Citing Insufficient Evidence
Ms. Shi Dexian, a native of Panzhihua City, Sichuan Province, was arrested in October 2016 for posting informational materials about Falun Gong in the neighboring Huaping County, Yunnan Province, five months ago.
She was briefly held at Huaping County Detention Center and then released on bail on October 25, 2016.
The Huaping County police submitted her case to Huaping County Procuratorate on July 24, 2017, but the procuratorate twice returned the case, on September 7 and November 6, respectively.
The Huaping County police refused to release Ms. Shi and submitted her case a third time. The Huaping County Procuratorate transferred the case to the Yulong County Procuratorate on December 4, 2017.
The new procuratorate declined to charge Ms. Shi and issued the formal notice to dismiss her case on January 18, 2018.
Heilongjiang Woman Released After Procuratorate Rejected Her Case
Ms. Li Yanqiu, a resident of Qiqihar City, Heilongjiang Province, was arrested on December 25, 2017. The police put her in criminal detention two days later.
While she was incarcerated, 407 people in her village signed a petition to demand her release.
The prosecutor rejected her case shortly after the police submitted it. She returned home on February 1, 2018, after 37 days of detention.
Young Mother Released after Higher Court Returns Her Case to Lower Court
Ms. Qin Lili, a resident of Qingdao City, Shandong Province, was arrested on January 11, 2016 while visiting her parents in Changle County, also in Shandong Province.
She was tried by Changle County Court on July 20, 2016 and sentenced to three years in prison three months later.
Ms. Qin filed an appeal, and the higher court returned her case to the trial court, which didn't take any action until early 2018.
The lower court later ruled to release Ms. Qin, and she returned home on February 12, 2018.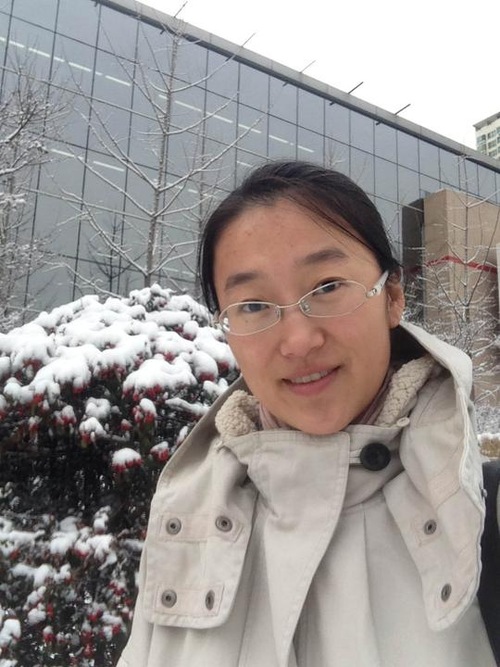 Ms. Qin Lili
Procuratorate Declines to Press Charges, Woman Released after 25 Days of Detention
Ms. Wei Yanhua, a Tieling City, Liaoning Province resident, was arrested on a bus on April 3, 2018, after the onboard surveillance camera recorded her talking to people about the persecution of Falun Gong.
The local police ransacked Ms. Wei's home in the afternoon and confiscated her daughter's laptop. Her daughter later requested the return of the laptop, but agents at Tongzhong Police Station said that she had to wait until they finished gathering information from it.
Ms. Wei was given 15 days of administrative detention at Tiexi Detention Center. Her daughter visited Tongzhong Police Station multiple times to urge officer Zhu Guangning, who was assigned to the case, to release her mother. Zhu ignored her and gave her mother criminal detention after the administrative detention term ran out.
Ms. Wei's lawyer visited her on April 19. He noted that she needed support to walk and had trouble talking. Her daughter visited police afterward to request Ms. Wei's release, again to no avail.
The police submitted Ms. Wei's case to Yinzhou District Procuratorate on April 23. The procuratorate decided not to charge Ms. Wei, citing insufficient evidence. Ms. Wei was released on April 28, 2018.
Beijing Businessman Released after Procuratorate Withdraws His Indictment
Mr. Yang Guanren, the regional president of a company based in Beijing, was arrested on May 15, 2017, while on a business trip to Shenzhen. When he talked to the taxi driver about Falun Gong, the driver took him straight to Yuehai Police Station.
Mr. Yang appeared in Nanshan District Court on June 28, 2018. His lawyer entered a not-guilty plea for him and argued that no law in China criminalizes Falun Gong.
Prosecutor Zuo Haixia claimed that he had electronic recordings of Mr. Yang talking about Falun Gong, but none of the alleged evidence was presented in court. The taxi driver didn't appear in court to give direct testimony.
Mr. Yang's lawyer, family, and colleagues kept calling for his release after the court hearing. As the case attracted more and more attention both inside and outside of China, Zuo made a request to withdraw the indictment against Mr. Yang. The court approved the request on November 16, 2018, and Mr. Yang was released days later.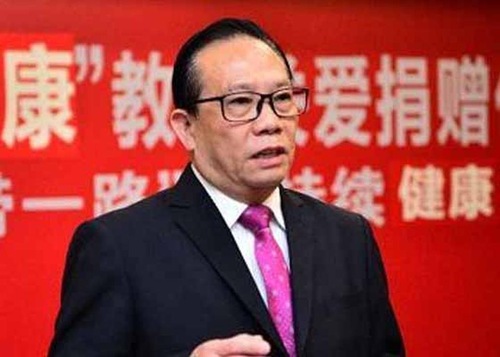 Mr. Yang Guanren
Shandong Woman Released after the Procuratorate Returns Her Case Twice
Ms. Xing Yuhua, a 74-year-old resident of Yantai City, Shandong Province, was arrested on September 6, 2017 for talking to people about Falun Gong.
During the period she was held at Yantai Detention Center, she held a hunger strike to protest the persecution. Her lawyer also worked hard to help the personnel handling her case understand the illegality of the persecution. Her family also frequented the police station and procuratorate to demand her release.
The Zhifu District Procuratorate returned Ms. Xing's case twice to the police. She was released on bail on April 2, 2018, after seven months of detention.
Hebei Man Released After the Procuratorate Withdraws His Indictment
Mr. Gu Daping, a resident of Handan City, Hebei Province, was arrested on July 19, 2017 for posting a notice by the Chinese Publication Bureau that revoked its ban of the publication of Falun Gong books in 2011.
The police put him in criminal detention on July 24 and took him to Handan City No.1 Detention Center. His computer, printer, Falun Gong books and related materials were confiscated.
The Congtai District Procuratorate indicted him and forwarded his case to Congtai District Court on July 19, 2018, after returning his case to the police for insufficient evidence once.
The court held a secret hearing of Mr. Gu on August 7, 2018. The presiding judge Zhao Hua only asked Mr. Gu to confirm whether the Falun Gong informational materials provided by the police belonged to him. After Mr. Gu confirmed his ownership of the materials, the judge adjourned the hearing and ordered the bailiff to take him back to the detention center.
The prosecutor later withdrew Mr. Gu's indictment, citing a "change in circumstance and evidence." The court approved the withdrawal on November 2, 2018, and Mr. Gu was released on bail on November 8.
Procuratorate Withdraws Case Against Shenzhen Woman
Ms. Liao Danyin, a resident of Shenzhen City, Guangdong Province, was arrested at customs for carrying Falun Gong books as she returned to Shenzhen from Hong Kong on January 8, 2018.
Six agents, including officers from the Fuqiang Police Station and the Domestic Security Division, went to Ms. Liao's home the next day. They ransacked her home and seized more Falun Gong books. They took Ms. Liao to the Futian Detention Center and notified her family that she was detained on criminal charges. Later they moved her to Nanshan Detention Center. She was indicted on January 21, 2018. The police threatened her family members, telling them that they would imprison Ms. Liao.
Her family repeatedly asked for her release, only to receive retaliation. Her daughter was beaten, and her husband was arrested and held in detention for ten days. Her friends and relatives were also harassed.
Ms. Liao maintained her innocence and did the Falun Gong exercises in defiance of detention center guards. The guards handcuffed and shackled her and gave her only plain rice for meals. Because Ms. Liao refused to be on forced guard duty at night, she was deprived of sleep and became emaciated.
Ms. Liao was released on October 12, 2018 on bail pending trial. Ten days later, however, the procuratorate notified her that her case had been withdrawn.
Xinjiang Woman Exempted from Criminal Penalty
Ms. Ju Lanying, a 68-year-old resident of Urumqi, Xinjiang, was arrested on June 1, 2016 for distributing informational materials about Falun Gong. After 15 days at the police station, she was transferred to Liudaowan Detention Center.
The Toutunhe District Procuratorate submitted her case to Toutunhe District Court in December 2016.
The court issued a deferred trial notice of her case in late February 2017 and then decided to exempt her from criminal penalty, meaning no prison time, on January 11, 2018.
Shandong Woman Released After 570 Days of Detention
Ms. Sun Chengfeng, a resident of Qingdao City, Shandong Province, was arrested on June 21, 2016 for distributing informational materials about Falun Gong. The police interrogated her at the police station and knocked out one of her teeth. She was held at Pudong Detention Center for 570 days and released on January 11, 2018 after authorities dismissed her case.
Related report:
66 Falun Gong Cases Returned in Second Half of 2017, Resulting in Release of 22 Practitioners