San Francisco: Falun Dafa Practitioners Participate in Vietnamese Mid-Autumn Celebrations
(Minghui.org) The mid-autumn festival is celebrated by many Asian cultures. On September 20-22, 2019, the Vietnamese community in the San Francisco Bay Area held its annual Mid-Autumn Celebration in San Jose. Falun Dafa practitioners were invited to participate in the event and held activities to let more people know about the ancient spiritual and meditation practice.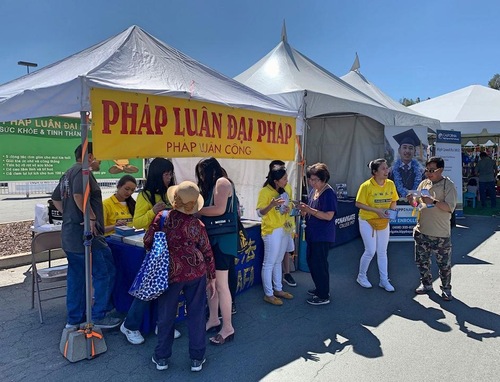 Falun Dafa practitioners from the San Francisco Bay Area were invited to join the Vietnamese community's Mid-Autumn Celebrations September 20-22, 2019.
For Vietnamese people, the Mid-Autumn Festival is also their Children's Day. The entire venue was decorated with more than 10,000 colorful lights. Dragon and lion dances wound their way through the crowds, and performers showcased their talents on stage.
Practitioner Yung Tran said local residents warmly welcomed Falun Dafa practitioners and that event organizers especially invited them to demonstrate the exercises on stage.
Throughout the three days, people stopped by the booth and talked with practitioners. Many said that they had heard about the persecution of Falun Dafa in China. Others said that they knew about the positive changes some people experienced and that they also wanted to learn how to practice.
Condemning the Persecution in China
Phuoc was excited to see practitioners and said he had seen people doing the Falun Dafa exercises when he visited San Francisco. He wanted to learn but did not know who to contact. He added that he had heard about the persecution in China and its cruelty.
Carol, who works for the U.S. Department of Defense, became upset when she heard the details of the persecution. She said that she supported Falun Dafa practitioners and would share the information with her colleagues. She also planned to invite her friends to the local group practice site to learn the exercises.
Thanh Tran-he said he had seen Falun Dafa practitioners in front of the Chinese Consulate in Toronto and that he knew about the persecution. He said everyone should live by Falun Dafa's principles of Truthfulness-Compassion-Forbearance and said the Chinese Communist Party (CCP) will collapse as a result of its persecution of Falun Dafa.
Message of Support: Persist in Your Faith
Nelly Duong said she had heard about the persecution during a Falun Dafa parade in San Francisco. She said that she will do her best to tell more people about the persecution. She wanted to tell all Falun Dafa practitioners: stay strong and persist in your faith.
Cuong said the CCP uses lies and propaganda to brainwash people in China, and thus the Chinese people are also victims. He believes that when everyone knows the facts about the Party and the persecution, they will support Falun Dafa practitioners.