Raising Awareness of the Persecution and Introducing Falun Gong in Buenos Aires
September 26, 2019 | By a Falun Gong practitioner in Argentina
(Minghui.org) Falun Gong practitioners, recently gathered in Buenos Aires, Argentina for the South America Fa Conference, held activities the day before the conference to introduce the practice and raise public awareness about the ongoing persecution of Falun Gong in China. On the morning of September 14, 2019, practitioners held a large-scale group exercise demonstration, and in the afternoon they staged a peaceful march through Buenos Aires' Chinatown. The public was very receptive to both events, and many people, including Chinese, expressed interest in learning the practice.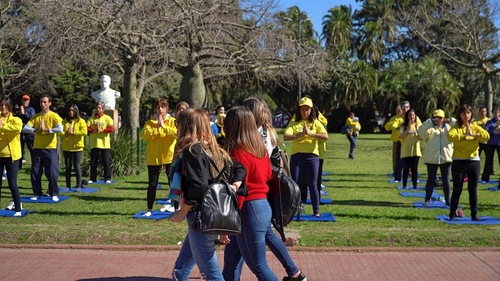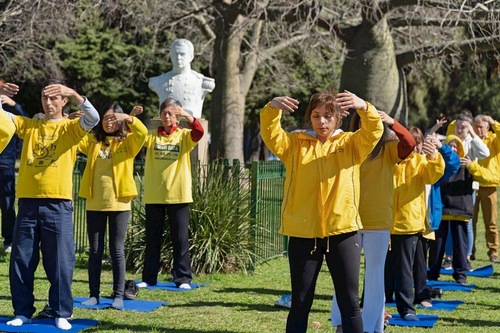 Practitioners demonstrate the Falun Gong exercises in Buenos Aires on September 14, 2019.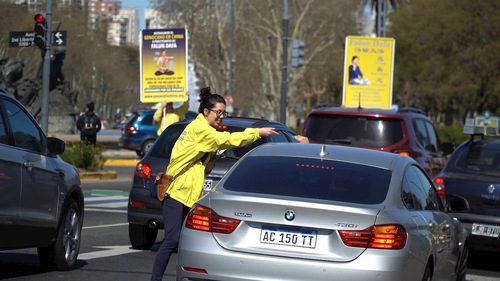 Distributing fliers during the exercise demonstration
The group practice was held in an affluent community in Buenos Aires. During the exercise demonstration, practitioners held banners about Falun Gong and the persecution, and distributed fliers to pedestrians and motorists.
The group practice caught the attention of local residents and tourists. After receiving a flier, a woman thanked the practitioners. "I do wish to know what this is about, and I will definitely read this," she said.
A man remarked, after reading about the persecution, "I know what's happening in China. The Communist Party always commits wrongdoing against humanity!"
A young Swedish tourist said, "I've heard of Falun Gong, but I've never seen so many people practicing together. Can I take a photo?"
After listening to a practitioner explain how Falun Gong is good for health and that it teaches people to live according to the principles of Truthfulness, Compassion, and Forbearance, a woman smiled and said, "This is what we need! Where can we learn?"
A man excitedly told a practitioner, "You practitioners are everywhere in the world! I saw you in New York this year." He wanted to know more about Falun Gong and talked with a practitioner. When he left, he said that he would read more about the practice.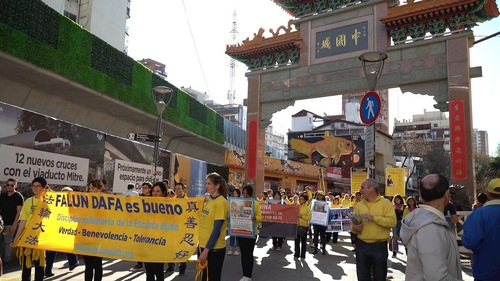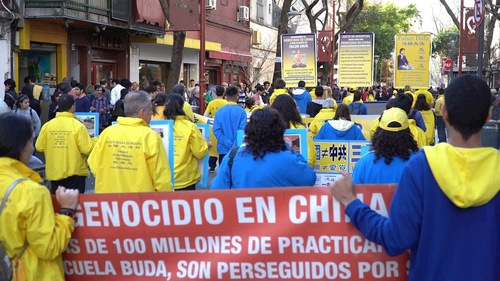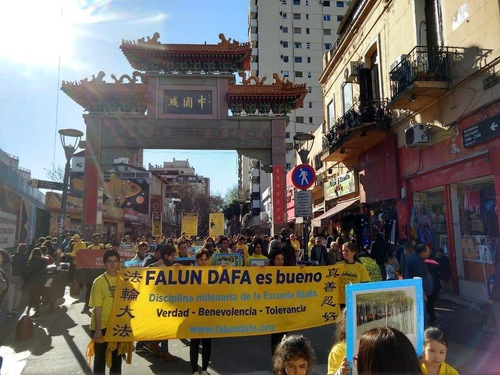 Practitioners stage a peaceful march in Buenos Aires' Chinatown.
Later in the day the practitioners held a march in Chinatown and talked with people about the Chinese Communist Party's (CCP) persecution of the practice. A police officer remarked that such a peaceful march should be held every week, as marches in Argentina are typically noisy, chaotic and sometimes violent.
After the experience sharing conference on September 16, practitioners went to the Chinese Embassy to raise awareness of the persecution. A young Chinese woman followed along with the practitioners as they demonstrated the exercises.
She said she'd seen the CCP's defamatory propaganda on China's state-run media when she was young, and added that she did not know much about Falun Gong. She read the informational posters carefully. When a practitioner invited her to join their group practice, the young woman said she would, and thanked her.