New York: Falun Gong Demonstration Adds Vibrancy to Times Square
September 16, 2019 | By a Falun Dafa practitioner in New York City
(Minghui.org) Thousands of tourists from all over the world visit Times Square, in Midtown Manhattan, every day. Their cameras and smart devices might have recorded a unique activity on September 8, when 100 practitioners demonstrated the Falun Gong exercises at this iconic NYC landmark.
Falun Gong, also called Falun Dafa, is a spiritual practice whose adherents follow the principles of Truthfulness, Compassion, and Forbearance. The practice was first introduced to the public by Master Li Hongzhi in 1992, and within 7 years accounted for more than 100 million followers worldwide.
Out of fear and jealousy, worrying that the practice's followers surpassed the number of the Chinese Communist Party (CCP), the then leader of the communist regime, Jiang Zemin, launched a brutal persecution of Falun Gong in July 1999, and the persecution is still ongoing in China.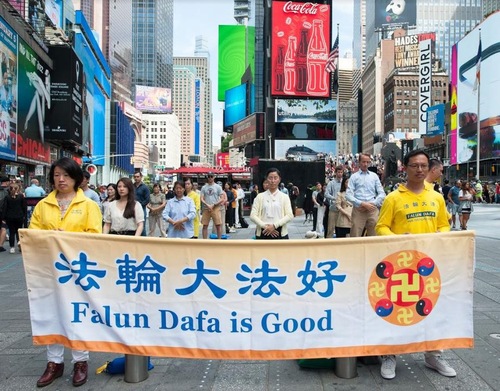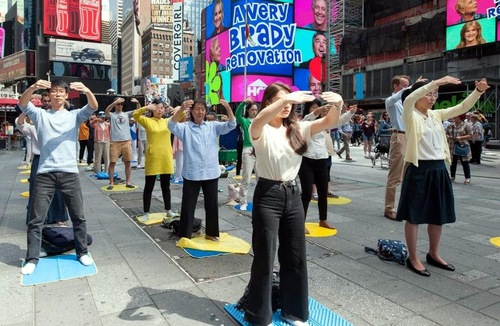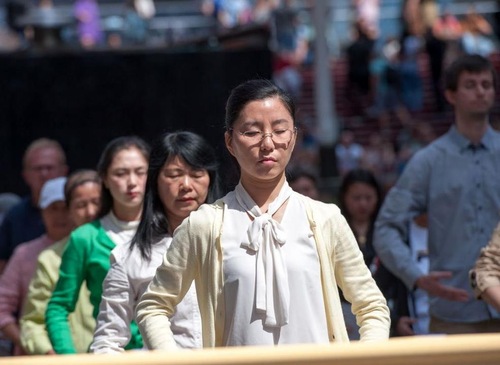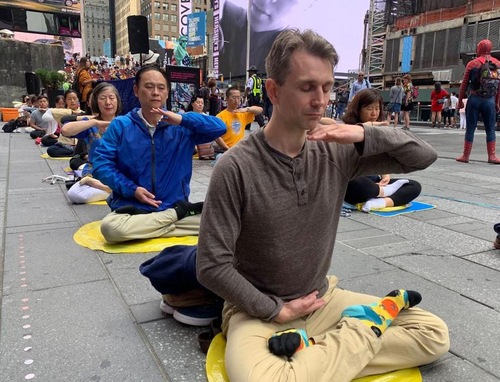 Falun Gong exercise demonstration at Time Square on September 8, 2019.
A passerby learns the Falun Gong exercise (right).
One of the event's volunteer organizers, Amir Talai said that Falun Gong has spread to more than 100 countries and regions, and people of different nationalities have embraced the practice. These people often experience great physical, mental and spiritual benefits. Amir said that the purpose of the event was to show the public that the propaganda against Falun Gong by the CCP are lies meant to turn people against Falun Gong.
Nadia Ghattas, a Western Falun Gong practitioner who participated in the activity, said that she came here to show the world the beauty of Falun Dafa. "I want to show people," she said, "that practitioners benefit from practicing the exercise. We wish for the world to become a better place for everyone. The world needs Truthfulness, Compassion, and Forbearance."
Five years into practicing Falun Dafa, Stuart Liess, a practitioner from the United Kingdom, said the practice enables him to keep calm under pressure, maintain focused and mental strength, in contrast to the feeling of anxiety he experienced in the past.
Michael Yang started practicing Falun Dafa 22 years ago with his parents when he was 7. He feels that the practice keeps his mind clear and not distracted. The practice also brought him wisdom such that he could learn new things easily and quickly.
Tourists loved the little lotus flower the practitioners handed out for free, and many of them immediately clipped them to their bags.
Many people expressed interest in learning the exercises and were told that they could find free teaching videos and exercise music at www.FalunDafa.org. Some people couldn't wait, and learned the exercises from practitioners right there on Times Square.