New York: Introducing Falun Dafa at Columbia University Student Organizations Fair
September 15, 2019 | By Falun Dafa practitioners at Columbia University
(Minghui.org) Columbia University held its annual student organizations fair on September 6, 2019. The Falun Dafa Club participated in the event, introducing the meditation practice to lecturers and students on campus.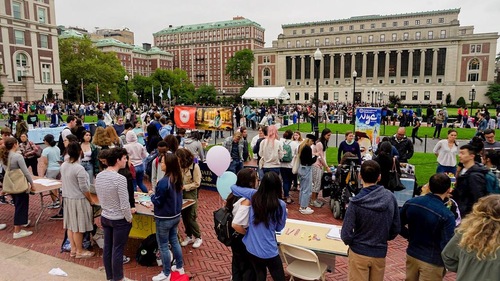 The annual Columbia University student organizations fair was held on September 6, 2019
Practitioners spent two weeks preparing for the fair, from designing the club logo to making display boards. The club's booth was in a prominent location in the middle of campus and offered brochures, handmade paper lotus flowers, and free drinks. The booth attracted attention with videos about Falun Dafa and a banner with a tranquil image of a practitioner sitting in meditation.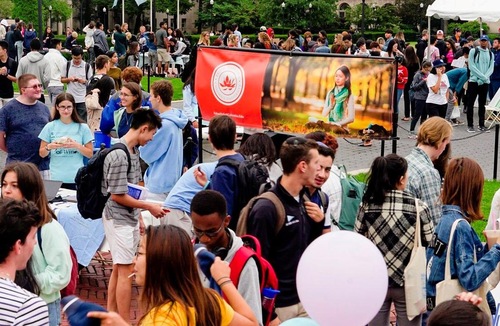 Falun Dafa display at the fair
Some people expressed interest in learning the Falun Dafa exercises as a form of relaxation, while others expressed sympathy for the practitioners because of the brutal persecution of Falun Dafa by the communist regime in China.
Practitioners gave out paper lotus flowers and explained that they are a symbol of purity that remains untainted by its muddy surroundings. Practitioners introduced Dafa to around 200 students, and 70 students signed up to join the club.
Many students from China were surprised to see the practitioners' booth as Falun Dafa has been severely persecuted by the Communist Party in China since 1999. A few of them read the brochures while others took photos with their phones. At one point, eight Chinese students gathered at the booth and listened to practitioners explain the facts about the persecution. Practitioners also shared their experiences of practicing Falun Dafa after a student asked what made them take up the practice.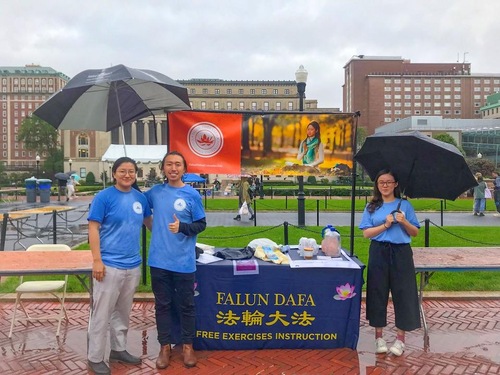 Practitioners stayed at the booth despite the rain.
It suddenly started pouring at three in the afternoon. Many organizations started to pack up their booths, but after a brief discussion, the Falun Dafa group decided to stay until the end of the fair. A few students were touched to see practitioners persisting in the rain and expressed keen interest in joining the organization.
A guest lecturer rushed to attend the fair but found that only the Falun Dafa booth remained. She hugged the practitioners and chatted with them. She was given a lotus flower before she left. That night, she sent practitioners a photo of the lotus flower, which she hung at a prominent spot above her head to show her appreciation for the gift.