Falun Gong Parade in London Receives Heartfelt Support
September 11, 2019 | By De Xiang and Zhou Wenying, Minghui correspondents in London
(Minghui.org) More than 1,000 Falun Gong practitioners from across Europe gathered in London in late August 2019 for a series of activities, including an annual Falun Dafa Experience Sharing Conference, a two-and-a-half-hour grand parade, and a candlelight vigil. Practitioners' calls to end the 20-year persecution in China received enthusiastic support from locals and tourists alike, including many people from China.
People from China Express Support for Falun Gong
Many Chinese tourists who saw the practitioners' activities took the opportunity to learn more about Falun Gong and quit the communist organizations they had joined when they were younger.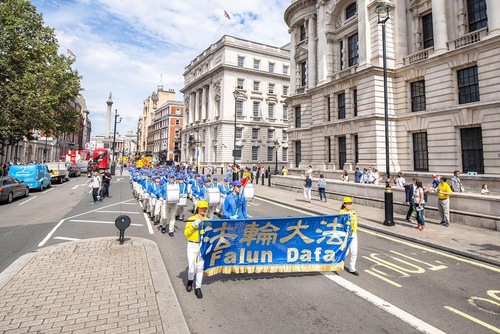 Falun Gong parade in London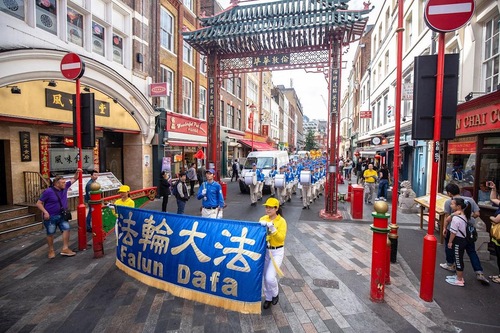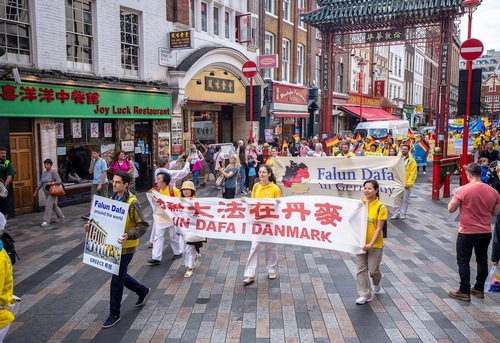 The Falun Gong parade passes through London's Chinatown.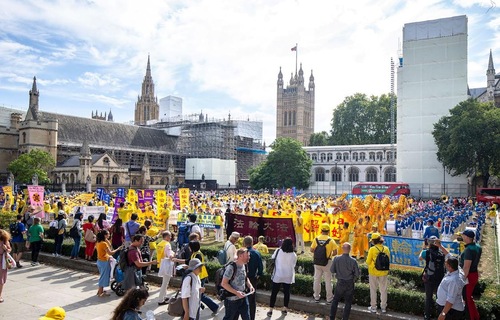 Falun Gong practitioners rally outside the Palace of Westminster.
A Chinese-American family was happy to see Falun Gong activities in London. They told practitioners that they had watched several Falun Gong parades in the United States.
A mother and daughter from China took many pictures of the parade. After a practitioner explained the Chinese Communist Party's (CCP) campaign of persecution against Falun Gong, they chose to quit the CCP and its affiliated organizations. They said they wanted to tell their family and friends all about it when they returned to China.
An elderly male tourist from China was happy to talk with a Falun Gong practitioner. When the practitioner brought up the persecution of Falun Gong, the man said, "I know it clearly. I have been looking forward to the day the Communist Party collapses. Its days are numbered. I have been living under its rule all these years. I know exactly how bad the Communist Party is."
The practitioner then told the man about the great tide of people quitting the CCP organizations, with 340 million Chinese having already renounced their memberships.
"It would be too late if I didn't quit now," the man replied. The practitioner then asked him, "Have you already felt how urgent it is?" The man said, "I have had this feeling for a long time. I have been looking forward to its doom anxiously. Seeing its current situation, I think it could be any day."
Mr. Liu from Northern China told a practitioner he was happy to see Falun Gong practitioners hold activities in London. He said everyone should have a sense of justice.
"My aunt is a Falun Gong practitioner too," Mr. Liu said. "She has done nothing wrong, but she was arrested for giving out flyers."
He chose to renounce the Communist organizations he had joined and thanked the practitioner for helping him quit.
Mr. Liu then said, "No one dares to talk about it in any park in China. Plainclothes police are watching and will arrest you the moment you mention it. They treat the people like monsters. The wicked are wild in China and ordinary citizens have suffered so badly from the Communist Party. It doesn't allow people to cultivate Truthfulness-Compassion-Forbearance, so the wicked have gone unchecked. What I'm telling you is the opinion of most people my age."
Heartfelt Support from Non-Chinese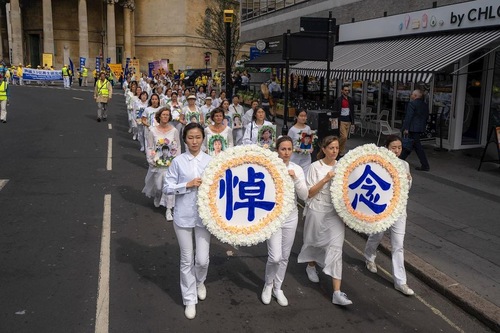 Falun Gong practitioners hold pictures of fellow practitioners who lost their lives in the persecution in China.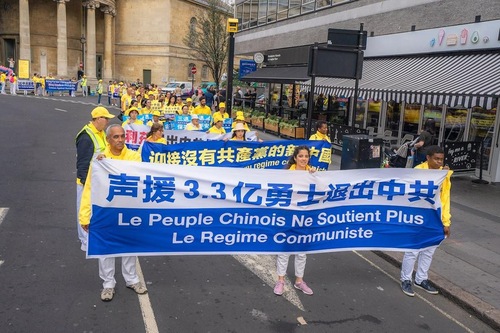 Large banners declare Falun Gong practitioners' support for the brave Chinese people who have quit the CCP and its affiliated organizations.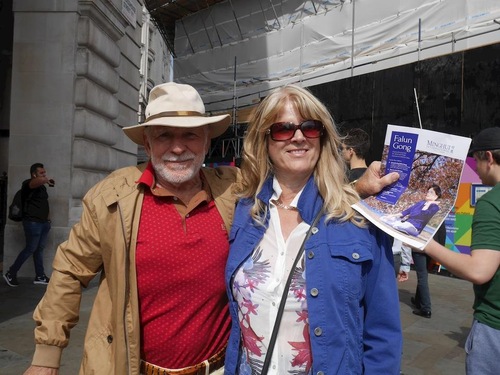 Local residents Pela and Frank condemn the CCP's persecution of Falun Gong.
London residents Pela and Frank were shocked when they learned how many people had been killed by the CCP's persecution.
"It's completely unacceptable! The persecution is so wrong! It must stop," Frank said.
He said that his daughter lives in Hong Kong and his grandchildren are half-Chinese. He was deeply concerned about what was happening in China.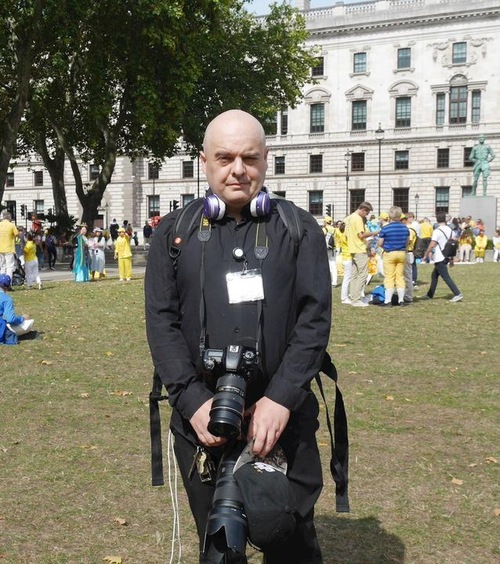 Mr. Paul Woodman supports Falun Gong practitioners' efforts to end the persecution.
Mr. Paul Woodman, a photojournalist, took many pictures of the practitioners' activities in London.
"I heard organ harvesting is happening in many places in China. People have been killed for their organs. It's murder! It must stop! Everyone has the right to live," he affirmed.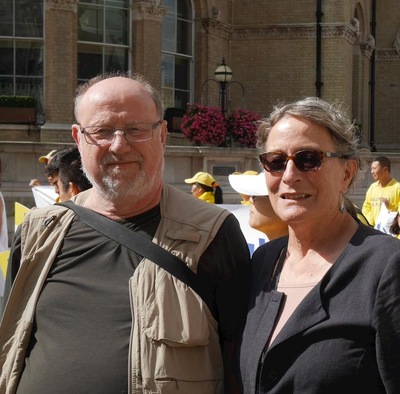 Yvonne and Andy appreciate the beauty of Falun Gong.
London residents Yvonne and Andy watched the parade and remarked, "The parade looks cheerful! They are a group of beautiful people."
"We have heard about Falun Gong and the Communist Party's suppression. I think Falun Gong is beautiful," Yvonne agreed.
Yvonne and Andy were both saddened by the CCP's organ harvesting and expressed their support for practitioners' efforts to expose it.