Arizona: Events in International Supermarkets Help Create a Connection with Local Communities
August 05, 2019 | By a Falun Dafa in Arizona
(Minghui.org) Falun Gong practitioners around the world have organized marches, rallies, and candlelight vigils recently to mark 20 years since they started peacefully resisting the Chinese Communist Party's (CCP) persecution.
In past years, Falun Dafa practitioners in Arizona have held rallies in the city's downtown area to mark when the persecution in China officially started on July 20, 1999. This year, they set up three Information Day events in three local international supermarkets to connect with people in the community.
Lee Lee International Markets
The first information site was in Lee Lee International Markets in Phoenix. Soon after practitioners' banners and display boards went up, a man named Chris came over to take some photos, and then talked to a practitioner.
Chris had been doing business in China in 1999 when the persecution of Falun Gong started. He witnessed firsthand as the nationwide propaganda machine started to defame Falun Gong. He remembered being skeptical about the propaganda, because he knew that the regime had killed thousands of students in Tiananmen Square on June 4, 1989, but China's state-run media had said that no students had died during the military crackdown.
Twenty years later at Lee Lee International Markets, Chris was having another encounter with Falun Gong. He excitedly told a practitioner that he knew about the evil nature of the Communist Party and that Falun Gong is a group of good people.
Mekong Plaza
Mekong Plaza is the only Asian plaza in Mesa, Arizona. Anchored by the Mekong Supermarket, which sells a wide variety of Asian foods, the plaza also has several popular Chinese restaurants. Many local Chinese people come for grocery shopping or to have a meal.
A Chinese woman stopped at the Falun Gong information table and chatted with a practitioner. Though she knew that the communist regime is very corrupt, and Chinese officials tell more lies than truth to deceive the Chinese people, she also held a negative opinion about Falun Gong.
The practitioner explained some of the lies the regime had used to brainwash the Chinese people by analyzing a CCTV news video from 2001 of the so-called Tiananmen self-immolation incident. The practitioner further explained that Falun Gong forbids suicide and killing, and the rest of the world had already recognized that the so-called self-immolation was planned propaganda to incite hatred against Falun Gong, rather than factual news.
The woman was surprised because she didn't hear this kind of information when she was in China, where the news is filtered and altered by the communist regime.
After the chat, the woman took a copy of the Nine Commentaries on the Communist Party to read at home.
Many Chinese were surprised to see a western Falun Gong practitioner at the booth and stopped to talk to the practitioners. Through these conversations, people learned that Falun Gong is based on principles of Truthfulness-Compassion-Forbearance and that China is the only nation that persecutes Falun Gong.
Falun Dafa Information Day event in Mekong Plaza in Mesa Arizona.
AZ International Supermarket
The manager of AZ International Supermarket is a Vietnamese American, and she wanted to learn the practice right after practitioners set up their information table.
Many Chinese shoppers stopped to talk to the practitioners and said they had learned about the persecution from the Falun Dafa Student Club at Arizona State University.
One Asian woman took some printed materials about Falun Gong for her sister who loves meditation.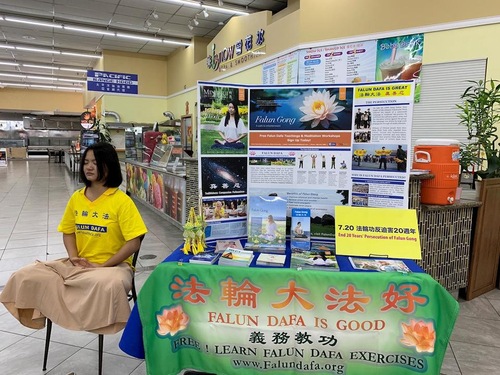 Falun Gong information table inside AZ International Supermarket in Mesa, Arizona.
On July 20, 1999, Jiang Zemin, the former head of the communist regime, launched the brutal nationwide persecution of Falun Gong practitioners using all of China's state apparatus, including the media, army, and police.
Falun Gong, also called Falun Dafa, is a peaceful cultivation practice that benefits both body and mind and is based on the principles of Truthfulness-Compassion-Forbearance.