Washington DC: Forum Held on the Twentieth Anniversary of Falun Gong Practitioners' Protesting the Persecution
August 03, 2019 | By a Falun Gong practitioner in Washington DC
(Minghui.org) A forum was held in Washington DC on July 20, 2019, commemorating Falun Gong practitioners who died during the 20-year-long persecution which was initiated by the Chinese Communist Party (CCP) on July 20, 1999. The speakers commended the uncompromising courage of practitioners in upholding their belief.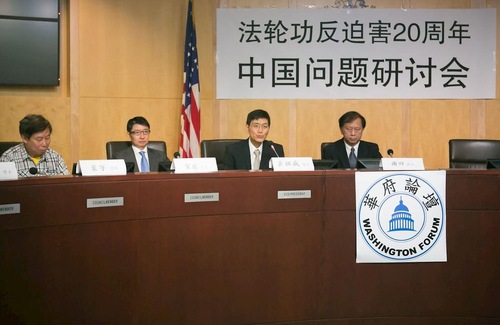 Forum on July 20, 2019, commemorating the 20th anniversary of Falun Gong practitioners' protesting the persecution.
Practitioners' Peaceful Protest Wins Support
China expert Bin He said that for 20 years, Falun Gong practitioners have held events to clarify the truth and raise awareness of the persecution, their main way of protesting the persecution.
He said he felt that telling people about the true situation was the best way to expose the CCP's coverup. The Minghui website has released a report covering the twentieth anniversary of the human rights violations in China, which describes various typical cases of persecution.
Senior commentator Xiaoxu Lin from the Sound of Hope said that the international community was awakening. The China Tribunal at London, UK reached a verdict in June concluding that the CCP has conducted live organ harvesting from prisoners of conscience, including Falun Gong practitioners. It is a crime against humanity.
In July, President Trump met with victims of religious persecution, including a Falun Gong practitioner, in the White House. Secretary Pompeo of Department of the State announced in the Ministerial to Advance Religious Freedom that the U.S. would work with other countries to create the International Religious Freedom Alliance.
Falun Gong Uplifts Morality
Executive Director Ping Hu of China Human Rights participated in the forum via video. Hu said, "Falun Gong practitioners' perseverance in protesting the persecution is awesome. This leaves a very glorious chapter in the history of human rights in contemporary China and the world."
On the occasion of the 20th anniversary of Falun Gong's protesting the persecution, Hu paid tribute to those practitioners who lost their lives for their belief. He commended those who were steadfast in their belief and have not given up, and expressed hope that more people in the world would learn about Falun Gong.
Lawyer Ning Ye
Lawyer Ning Ye recalled Falun Gong's 20-year journey of protesting the persecution and summarized three unprecedented aspects. The first one was that the CCP shows its evilness, cruelty, and crimes against humanity in the persecution.
The second is that Falun Gong stands firm facing the persecution and has conducted full-scale peaceful protesting.
The third is that facing such a significant event in human history, the numbness of free countries is unprecedented. He pointed out that the last point has changed after President Trump entered the White House.
The CCP's Persecution Weakens the Party
China expert Hong He participated in the forum via video. He said that the CCP's attempt to eliminate Falun Gong has completely failed. He said, "The CCP has exhausted all the means that can be used. But Falun Gong has gone global in the past 20 years."
He said, "The CCP uses lies and violence in its control of China, which are completely opposite to Falun Gong's principles of Truthfulness-Compassion-Forbearance. The persecution indeed accelerates the decline of the CCP."