Former Middle School Arts Teacher Recounts 12 Years of Wrongful Imprisonment
August 21, 2019 | By Jiang Tao, a Falun Gong practitioner in China
(Minghui.org) During the past 20 years, many people in China have been persecuted for their belief in Falun Gong, a meditation system based on the principles of Truthfulness-Compassion-Forbearance.
This article is about the experience of a teacher who had been imprisoned for a total of 12 years and 6 months for practicing Falun Gong. The mistreatment he suffered while imprisoned left him with poor vision and hearing, loss of memory, and high blood pressure. Although he is only 46, people judge him to be much older.
Persecuted for Practicing Falun Gong
He began his story by saying, "I was an art teacher at a middle school in Yongning County of Ningxia. I started to practice Falun Gong in 1995 after reading Zhuan Falun by Mr. Li Hongzhi, the founder of Falun Gong."
After some time, his chronic health problems, such as headaches, rheumatoid arthritis, and stomach pain disappeared. He felt stronger and energetic. His wife also took up the practice after witnessing the positive changes in him.
Just when Falun Gong was spreading widely in China, the Chinese Communist Party launched the persecution in July 1999. He was arrested and imprisoned three times. The first time, in 2001, he was sentenced to three-and-a-half years in prison. Then, he was sentenced to six-years in 2006. He was sentenced for the third time in 2016. Initially he was sentenced to a two-year term, which was extended to three years after he filed an appeal.
He said, "I was fired from my job as an art teacher after being released from prison in 2010."
He became a taxi driver to make a living. His parents also suffered a lot due to him being persecuted, given that their health deteriorated.
Peaceful Appeal and Imprisonment
In October 2000, almost a year after the persecution started, he and his wife went to Beijing with their one-year-old son to appeal for the right to practice Falun Gong. He was arrested and sentenced to three-and-a-half years of forced labor, and his wife to a two-year term.
At a brick factory operated by the Yinchuan Prison, he was forced to work in brick kilns where the temperature was over 120°F. He worked long hours and had painful blisters on his hands. He was often injured by falling bricks. When he asked to practice the Falun Gong exercises, guards held him in a solitary confinement cell for 15 days. His food intake was reduced, he was handcuffed, and his feet chained. His wrists and ankles festered, and flies attacked him.
Second Imprisonment
Three months after his wife was arrested in July 2005, he was arrested again. He was deprived of sleep for seven days and seven nights. Police put shackles on his feet and handcuffed his hands behind his back to a chair. He went on a hunger strike to protest the torture. Since then, his blood pressure has become unstable and he is often dizzy.
He said, "I was transferred to the Yongning County Detention Center where I openly practiced the Falun Gong exercises and went several times on a hunger strike to protest my detention. The guards put chains and shackles used for death row inmates on me for four months. They also reduced my food ration for two months."
He continued, "I was sentenced to six years in prison in May 2006 and taken to the Shizuishan Prison three-months later. To protest the persecution, I went on hunger strikes several times. Starting from June 2007, after I went on a hunger strike for 24 days, prison guards forced me to sit motionless on a small stool from 6:00 a.m. to 9:00 p.m. daily for 45 days. They also instructed inmates to beat me hard, resulting in a broken rib."
Starting from June 2008, he was tortured in an intensified unit for six-months, including sitting for over 10 hours a day without moving. Because of sitting in one position for so long, every joint in his body hurt, and there were blisters on his buttocks, which rotted.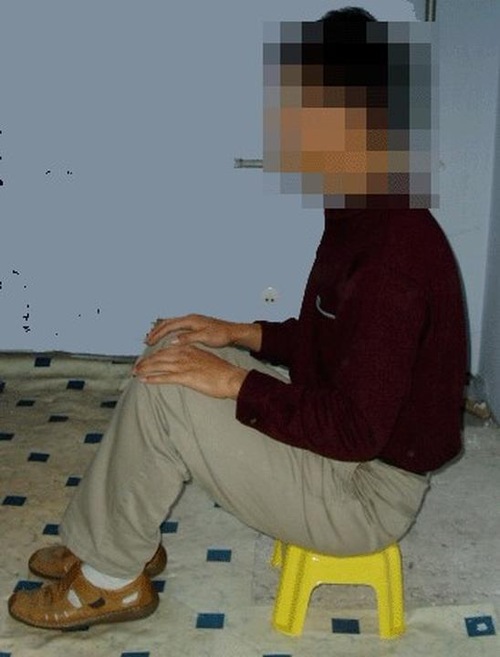 Torture demonstration: forced to sit on a small stool motionlessly all day long
Due to vision problems he asked to be assigned to another type of forced labor in February 2009. Instead, he was put into a solitary cell for 15 days. During a campaign against determined practitioners in April 2009, he was beaten and deprived of sleep. In addition, guards forced him to perform physical drills, and read books that defamed Falun Gong. He also had to perform hard labor.
Jail Time Extended for Appeal
In June 2016, a group of police officers broke into his apartment and arrested him. They confiscated computers, printers, and other personal items. Using fabricated evidence, the authorities sentenced him to two years in prison. He immediately filed an appeal, while his family filed a complaint against the officials in Yongning County for wrongful conviction. Yet, the Intermediate Court of Yinchuan City increased his sentence.
Prior to being transferred to Shizuishan Prison in January 2017, guards beat his head, which caused a headache that lasted for several weeks. They demanded that he renounce Falun Gong. Prison guards put him into a solitary cell and removed his winter clothes and shoes. They turned off the heat and kept the windows open to keep the room at freezing temperatures at all times.
He said, "I was given only a thin mat to sleep on the floor and a thin blanket. Food was scarce, which included only a small steamed bun and a cup of water per meal or sometimes for the entire day. One month later, I was emaciated and my joints hurt. Sometimes they played audio recordings that defamed Falun Gong, in the loudest setting, around the clock. This lasted for three months."
He recounted, "For a period of a month starting February 2018, I was again a target of the campaign against determined practitioners. Two other practitioners and I were forced to sit motionlessly on a small stool that was less than a foot tall from 6:00 a.m. to 11:00 p.m. We had to put our feet together with our hands on our lap, without moving the entire day."
"At the end of the month, I was so weak that I had difficulty walking, and I was dizzy. But the guards and inmates forced me to perform slave labor, as well as beat and humiliate me. I suffered from a headache, and there was swelling of the neck. Guards did not stop the inmates from mistreating me but awarded them for torturing me. I was released on June 14, 2019."
Related Reports:
Three Ningxia Falun Gong Practitioners Suspected of Hanging Up Banners Put on TrialArt Teacher Arrested Again for His Faith