New York: Falun Gong Shines in Dominican Day Parade in Manhattan
August 20, 2019 | By a Falun Gong practitioner in New York
(Minghui.org) New York's Falun Gong waist drum team was invited to participate in the 37th Annual Dominican Day Parade, which was held in Manhattan on Sunday, August 11, 2019.
This was the first year that the waist drum team had been invited to participate in the parade, and they also included a team of practitioners who demonstrated the five Falun Gong exercises.
More than 10,000 people representing 200 different groups were in the parade this year.
The procession started at West 35th Street and traveled up 6th Avenue to West 56th Street. The festive music of the different groups, with their colorful traditional costumes and different folk dances, brought a sense of joy to 6th Avenue.
The event was broadcast live to an estimated audience in the tens of thousands.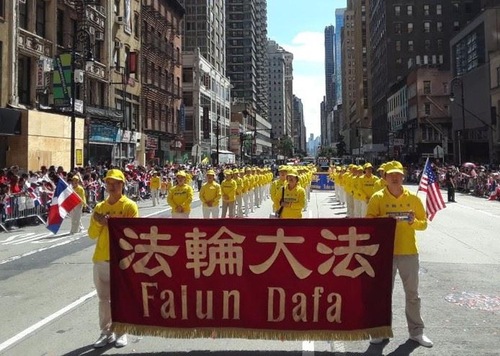 Falun Gong practitioners demonstrate the exercises in the parade.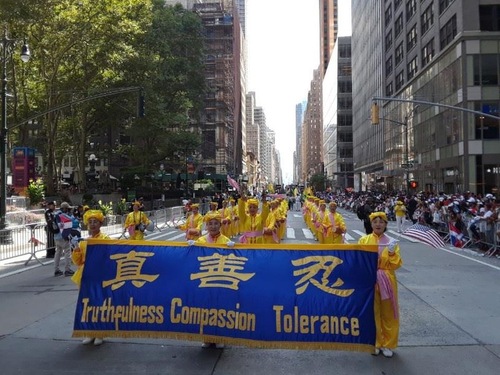 The drumming of the Falun Gong waist drum team added to the festivities.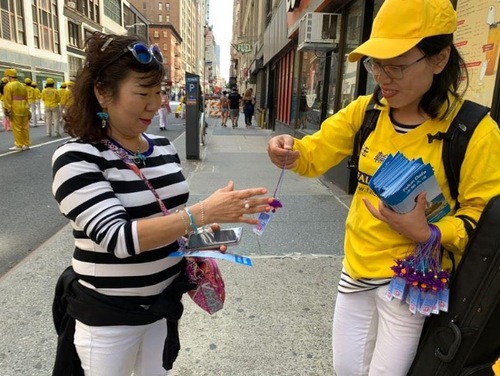 Falun Gong practitioners give out fliers and hand-made paper lotus flower keepsakes.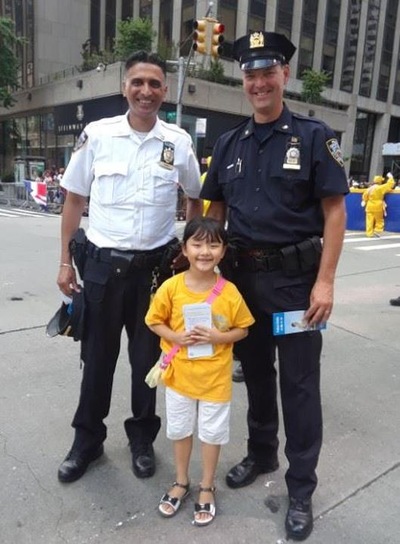 A little practitioner gives fliers to police officers who are keeping order.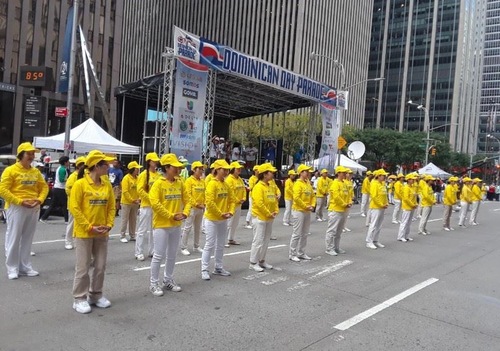 Practitioners demonstrate the exercises in front of the podium.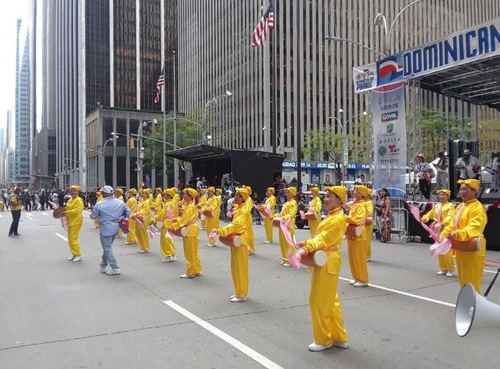 Falun Gong's waist drum team performs at the podium.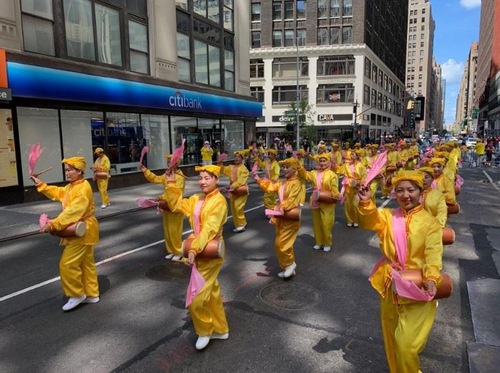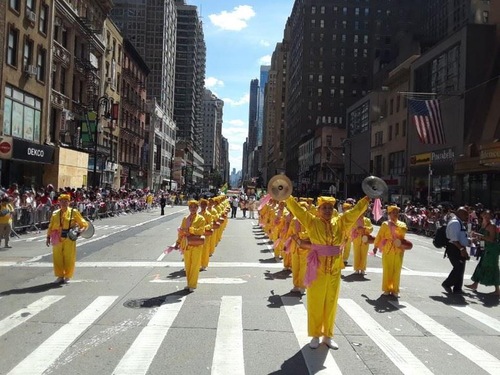 Invited by the event organizers, Falun Gong's waist drum team participates in the 37th Annual Dominican Day Parade in Midtown Manhattan.
Many participants were dressed in traditional Dominican costumes as they performed next to their colorful floats in the procession. The Falun Gong practitioners brought the richness of traditional Chinese culture to the parade with their bright golden-yellow costumes, orderly movements, and vibrant drumbeats. The crowds cheered as they heard the drums and many photographed the waist drum team.
Several practitioners gave out Falun Gong fliers and hand-made lotus flower keepsakes to the spectators.
Event organizer William Cedeño said that the waist drum team demonstrated traditional Chinese culture and added to the multicultural atmosphere of New York City.
Waist drum team leader Ms. Li said that waist drums have a 2000-year-history in China and are still very popular in central and northwestern China, where they are mostly used in festivals and ceremonies.
As practitioners in the parade procession demonstrated the exercises, a spectator copied their movements and said she was trying to learn the exercises.
"It's my lucky day!" she said. "The waist drum team is captivating. I've heard that practicing Falun Gong is good for your health. I really want to learn."