Seoul, South Korea: Tianti Books Holds Nine-day Falun Dafa Seminar
August 14, 2019 | By Falun Dafa practitioners in Seoul
(Minghui.org) Tianti Books in Seoul, South Korea, held free Falun Dafa classes in July 2019. Over 40 people attended the nine-day seminar and experienced positive changes to their physical and mental well-being. Many of the class participants had learned about Falun Dafa through videos on YouTube and signed up for the classes.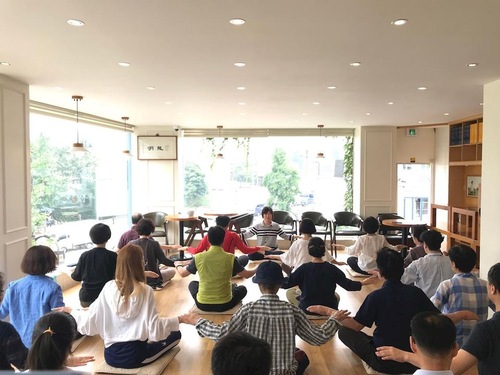 Learning the sitting meditation in the afternoon class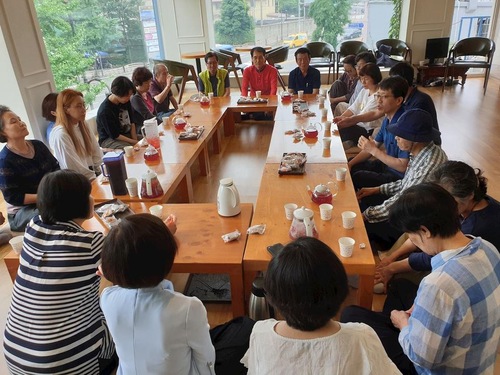 Students discuss their experiences of learning Falun Dafa in the afternoon class.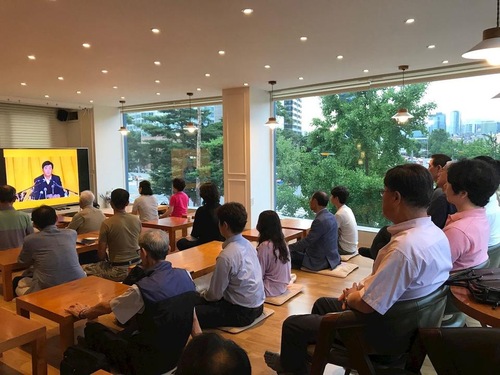 Listening to Master Li's Falun Dafa lecture in the evening class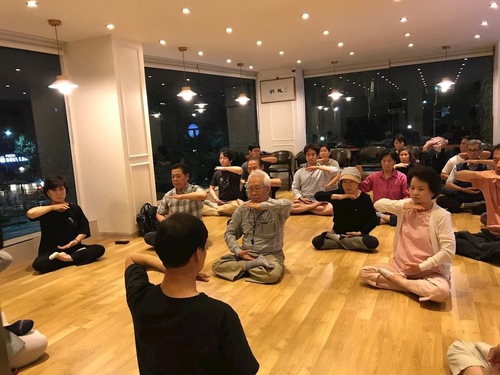 Learning the sitting meditation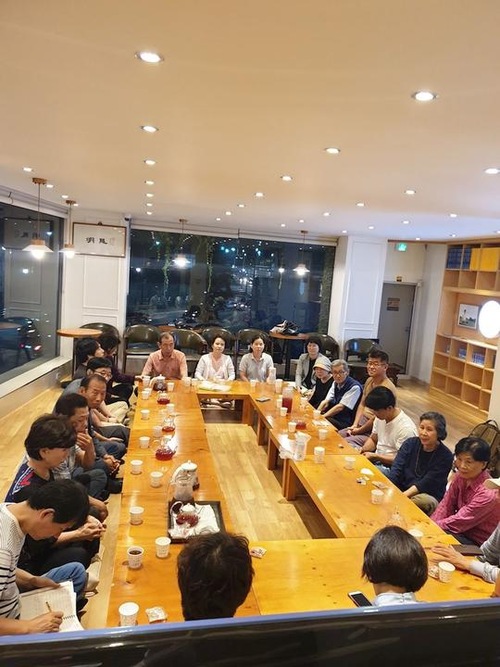 Course participants talk about their experiences of learning Falun Dafa.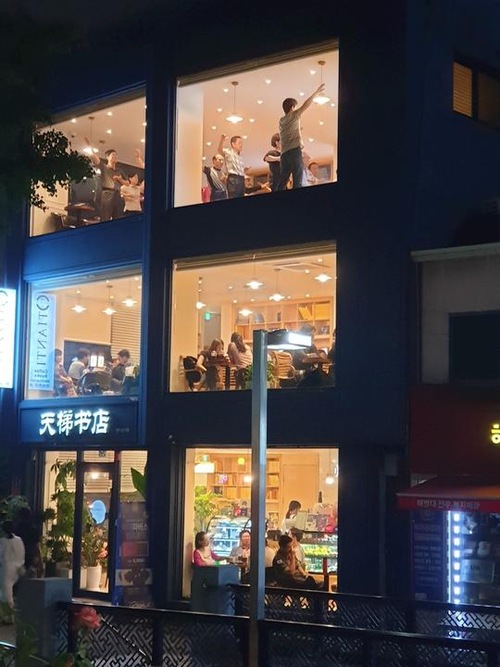 Tianti Books & Café in Seoul at night
Devout Buddhist Finally Finds the True Way
Pak Shengyu has been a devout Buddhist for over 40 years. She also tried many qigong schools. She then felt that Buddhism could no longer guide her. She switched to other religions and even went to China to learn qigong, but none of those practices gave her what she was looking for. One day she saw a Falun Dafa practitioner doing the exercises in a park and wanted to learn them.
She waited for two months before she signed up for the July class. At the end of the first day of class, she felt it was not enough to listen to the lectures just once, so she decided to attend both afternoon and evening sessions.
Ms. Pak used to have to use the bathroom frequently at night, at least three or four times. After the third day of the Falun Dafa seminar, she only had to get up once to use the bathroom. She is grateful to have found Falun Dafa, and is determined to continue with the practice.
Searching for the Meaning of Life
Liu Yankai, from Ganghwa County in Incheon City, was introduced to Falun Dafa by a friend. He had been searching for the meaning of life for the past several decades. Before, no matter what he looked at, he would start to question it after one or two days. However, he has been reading the teachings of Falun Dafa for over a month now, and his doubts were gradually reduced. He is more and more certain that this is what he is looking for. He used to love to drink wine, but no longer enjoys drinking. Furthermore, since practicing Falun Dafa, he is able to control his temper.
Finding Dafa on YouTube
Bian Chengyun, from a Northern district in Seoul, found Falun Dafa on YouTube. When surfing the internet, he learned that 97% of those who practiced Falun Dafa experienced improved health, and he became interested in the practice. He said that he felt wonderful after attending the nine-day seminar. He plans to read one lecture of Zhuan Falun, the main book of this cultivation practice, every day and is determined to cultivate diligently. He also hopes to tell his family and friends about Falun Dafa.
Zheng Shunxi from Gyeonggi-do, a province in South Korea, also found Falun Dafa on YouTube. She shared that after doing the second set of exercises she felt a warm sensation in her right arm, which would usually be painful. The following week, the pain gradually subsided. Every time she did the exercises, a painful part of her body that generally felt discomfort, felt well.
Ms. Zheng also realized that besides doing the exercises, it is important to study the teachings and improve her moral standards. She is determined to put her heart into practicing Falun Dafa.
Retired Civil Servant: Falun Dafa Is Amazing
Jin Zhenmei worked in civil service for 35 years. She saw a video of Falun Dafa on YouTube and was drawn to it by the peaceful expression of practitioners. In the video, a female practitioner talked about being beaten by police officers in China for refusing to give up her faith in Falun Dafa. The practitioner said she felt sorry for the police officer who tortured her. Ms. Jin was struck by the forbearance shown by the practitioner and searched for more information on Falun Dafa. She decided to give it a try, and went to a practice site near her home to learn the exercises, and signed up for the nine-day seminar at Tianti Books.
Ms. Jin shared that her father passed away last year after battling illness for one-and-a-half-years. She was deeply traumatized by her father's death and could not eat or sleep. She learned to let go of her grief through reading Zhuan Falun. She felt immersed in a strong energy field every time she read the book. She also observed that veteran practitioners conducted themselves with a high moral standard. Ms. Jin is confident that practicing Falun Dafa will lead her to higher levels.
Writer: Improving One's Moral Standards Is Key to Cultivation
Jin Minxiang, a writer from Gunpo, a city in South Korea's Gyeonggi Province, recently watched an interview with a Falun Dafa practitioner on YouTube and bought two books on the teachings. He and his wife are currently reading the books. While reading Zhuan Falun, he realized that improving one's moral standards is the key to practicing cultivation. He said, "Master Li is a very kind and caring instructor. He guides us step by step, from beginning to end."
Seeing a Bright World When Reading Zhuan Falun
Mr. Jin Guanzhi is from Goyang, a city in Gyeonggi Province. He has been searching for a cultivation way that addresses mind and body cultivation, and he tried many forms of qigong. He recently started to learn the Falun Dafa exercises at a park near his home.
Mr. Jin said that he has read Zhuan Falun twice, and through attending the nine-day seminar, he found the answers to all his questions. He feels fortunate to have found Falun Dafa and feels that Zhuan Falun showed him a bright world.
He shared that his lungs were in bad shape and he used to have difficulty breathing. After practicing Dafa for about two weeks, his lungs became much better and he no longer feels breathless when running up the steps at the train station.
A Couple from China Learns Falun Dafa
Li Dingfeng (a pseudonym) is a businessman from China. He and his wife attended the nine-day seminar. Mr. Li often travels outside of China on business trips and remarked that wherever he went he would see Falun Dafa practitioners at tourist sites raising awareness about the persecution in China. He became drawn to the practice and after attending the nine-day seminar, he feels that Falun Dafa is wonderful.
Mr. Li's wife shared that their daughter became a better person after she started practicing Falun Dafa. She once thought of taking up the practice, and now her wish has come true. She became a practitioner after attending the nine-day seminar in Seoul.