Kunming Woman Recalls Being Forced to Take Unknown Drugs in Prison
August 14, 2019 | By a Minghui correspondent in Yunnan Province, China
(Minghui.org) "You must take these drugs while you are here. You can stop only when you go home," Ms. Liu Cuixian recalled the director of Yunnan No. 2 Women's Prison's hospital telling her before she was released after being incarcerated for eight years.
Ms. Liu, 65, from Kunming City, Yunnan Province, was arrested in 2012 for distributing informational materials about Falun Gong. Arrested with Ms. Liu were three other women: her daughter-in-law Ms. Peng Yumei, Ms. Ran Xiaoman, and Ms. Liu Xiaoping, all of whom are Falun Gong practitioners.
The four women were later sentenced to up to ten years in prison.
Taking Up Falun Gong
After Ms. Liu's husband died from electrocution in 1993, she struggled to take care of her elderly mother-in-law and raised her then-14-year-old son, who became mentally challenged after her husband's death. When she came across the ancient spiritual discipline of Falun Gong in 1997, her despair was lifted after she understood the meaning of life.
However, she was monitored, harassed, arrested, and detained when the Chinese communist regime started to persecute Falun Gong in July 1999.
Below is her personal account of what happened the third time she was arrested.
Arrested and Sentenced
On December 20, 2012, I was distributing informational DVDs in Tuoan Town with my daughter-in-law and two other practitioners when we were reported to the police. They arrested us and confiscated my daughter-in-law's car, our cash, and our Falun Gong materials.
They took us to the station, where they punched and kicked us before leaving us handcuffed to the trees with nothing to eat. We were not allowed to use the restroom.
The next morning, the police drove us to Lufeng Police Department to interrogate us the whole day, then took us to the detention center that night.
At the detention center, I was told to put my thumbprint on a document. I refused to, so the police held my arms down on the ground and one officer stepped on my back to pull my thumb backward to get my thumbprint. I thrashed and struggled to get up, and they never got my thumbprint. They then put the heaviest shackles on my ankles for one week, making it impossible to sleep at night.
Torture re-enactment: Shackles
On May 31, 2013, the Lufeng Court sentenced my daughter-in-law and me to eight years in prison each; Ms. Liu Xiaoping, to ten years; and Ms. Ran, to seven and a half years.
When I decided to appeal the verdict in June 2013, the police and 610 Office agents tortured me and tried to force me to plead guilty for refusing to give up my faith.
I was informed on October 10 that the Intermediate Court of the Yi Autonomous Prefecture had upheld the verdict.
Corporal Punishment
We were taken to Yunnan No. 2 Women's Prison on November 1, 2013.
This prison is dedicated to persecuting Falun Gong practitioners. From the beginning when I was transferred to the No. 9 ward, two particularly violent inmates were assigned to monitor me, with the understanding that their prison terms would be reduced if I gave up Falun Gong.
I was deprived of sleep and not allowed to use the restroom or drink water when I needed to. I was told I had to write the "crime" that I had committed before I was allowed to buy my daily necessities.
For four months, I was made to sit on a small stool with an uneven surface for long periods of time, which was very painful. Once, I tried to relieve the pain by putting some bathroom tissues in my pants but the inmates discovered it when I went to the restroom, and they reprimanded me.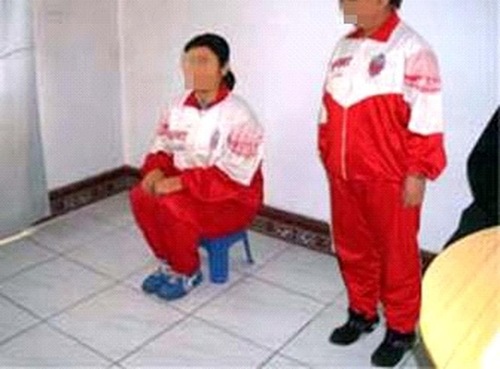 Torture re-enactment: Sitting on a small stool
Forced to Take Unknown Drugs in Prison
While in the prison, I was injected with unknown drugs and forced to take two pills said to lower blood pressure three times a day after the authorities took my blood pressure three times.
Before taking the pills, my blood pressure was 120/80 mmHg. At times it was 130/90 mmHg, but that is still normal. However, when the inmates shouted at me or when I was anxious, my blood pressure would measure 140/90. The prison used that as an excuse to force me to take the pills, which resulted in my blood pressure reaching 150/90 mmHg or 160/100 mmHg.
I couldn't understand why my blood pressure increased after taking the pills they gave me. Moreover, I felt nauseous after taking them, so I tried to spit them out secretly. I didn't do it for too long before the inmates caught me and reported it to the hospital director. I was given new pills again.
During the time I was forced to take the drugs, I had severe nausea and sometimes vomited up to 100 times one day. I had difficulty sleeping I was so dizzy.
After taking the pills, the inmates checked my mouth and made me sign a form that I took them. Those who took the pills had their blood drawn every month, and I was not exempt. Although my face swelled up and I felt depressed after taking the pills, the prison authorities insisted that I continue to take them.
The inmates forced me to write a guarantee statement when they saw that I could no longer bear what was happening to me. When I said that I don't know how to write it, they wrote one for me and made me sign it. I signed the document against my will. Here, I solemnly declare that whatever I wrote and signed in prison is invalid.
After I signed the guarantee statement, I was transferred to the No. 4 ward. The inmates there were not as terrible. Only one inmate was in charge of distributing the pills and didn't notice when I spit them out.
After spitting out the pills, I no longer felt nauseous and regained my energy. My blood pressure also returned to normal. However, I still had to have my blood pressure measured once a month and my blood was drawn every year.
Once, when I saw the inmate record my blood pressure as 100/70 mmHg, I asked to stop taking the medicine. However, the hospital prison refused and only reduced the number of pills and the number of times a day I had to take them.
The director of the prison hospital said to me, "You must take these drugs while you are here. You can only stop when you return home."
As a result, I was forced to take those pills for nearly six years, until I was released on October 20, 2018.
Slave Labor
The prison forced all inmates to do work like robots from morning to night. During my term, I had to process mushrooms, fold paper bags, glue cartons, package, and load crates and boxes. The heavy workload put a strain on my body.
On June 8, 2017, I was transferred to the No. 8 ward, where I had to process mushrooms. When I became allergic to the mushrooms and could no longer work, I had to learn prison rules and be tested on it while two inmates monitored me.
When I was in prison, my family begged the guards to allow me to return home to see my bedridden and terminally ill mother, but the guards denied their requests. On August 8, 2015, my mother passed away without having the chance to see my daughter-in-law and me one last time.
Related reports:
Four Kunming Falun Gong Practitioners Arrested While Distributing Shen Yun DVDs
Officials Sued for Interfering with Meetings Between Lawyers and Their Clients
A 10-Minute Show Trial for Four Practitioners in Lufeng Court
Police, Procuratorate and Court Charged with Abusing Power and Unlawfully Obstructing Lawyers
Ms. Liu Cuixian and Three Other Practitioners in Kunming Illegally Tried Again
Four Women Sentenced for Up to Ten Years for Distributing Shen Yun DVDs
Four Attorneys Sue Court For Mishandling Falun Gong Cases
Persecution's Imminent End Marked by Outrageous Incentives and Long Prison Sentences