Australian Political Candidates Condemn Persecution of Falun Dafa in China
August 13, 2019 | By Falun Dafa practitioners in Australia
(Minghui.org) The Chinese regime should apologize and release all detained Falun Dafa practitioners, said several political candidates at a Gold Coast vigil on July 26 to mark the 20th year of the persecution of Falun Dafa in China.
Michael Kaff, who ran as an independent candidate for the seat of McPherson for the 2019 federal election, called on the Chinese Communist Party (CCP) to apologize and make amends to practitioners it has arbitrarily detained, tortured, forcibly harvested organs from, and killed since July 20, 1999.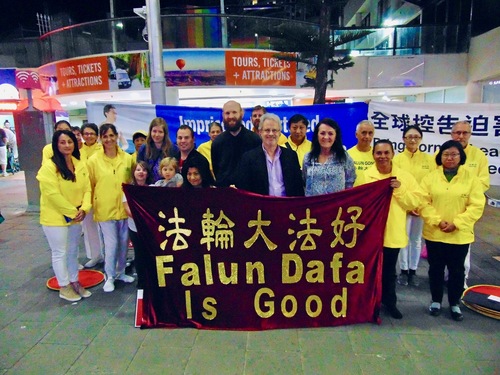 Candidates Janica Leppanen, Arjay Martin, Scott Turner, Michael Kaff, and Deb Lynch with Falun Dafa practitioners at a vigil marking the 20th year of the persecution of Falun Dafa in China.
CCP Should Admit Persecution Was Wrong
"Say...to repress [Falun Dafa] was the wrong thing to do [and] say 'we have done this for 20 years and we are so sorry,'" said Kaff, who posted a statement to his Facebook page. "Support those who are practitioners and who embrace it. You need to then have some sort of retribution and payment to those who have suffered and release them from prison."
Kaff made the remarks at a vigil practitioners organized at Cavill Mall in the heart of the Surfers Paradise entertainment district. During the peaceful vigil, practitioners held banners, demonstrated the Falun Dafa exercises, handed out fliers, and collected petition signatures. More than 1,000 fliers were handed out within just a few hours.
No Reason to Continue Bloodshed
Having experienced the Falun Dafa exercises firsthand, Kaff believes there is no legitimate reason for the Chinese regime to continue persecuting peaceful Falun Dafa practitioners whom the regime estimated to total between 70 million and 100 million in mainland China alone.
"I know it's a peaceful, meditative healing practice, and they truly are there for the good of themselves and everybody around them," he said. "It's a peaceful, wonderful, loving, and beautifully energetic practice that helps people, it is so encompassing, and it brings people together. Why anyone would want to harass or oppress that is way beyond me."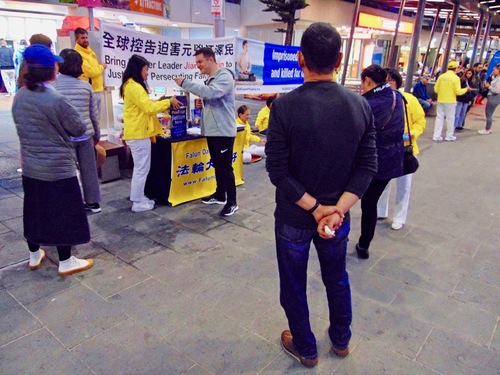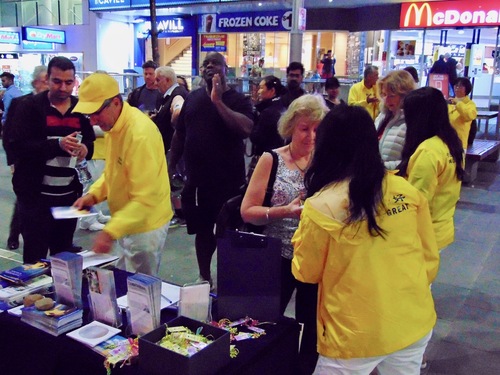 Persecution Is a 'Terrible Policy'
Great Australian Party Senate candidate Arjay Martin described the CCP's decision to initially support Falun Dafa practitioners and later persecute them and harvest their organs due to the practice's fast-growing popularity as "terrible."
"People are being killed for their organs," said Martin who previously supported practitioners at an election candidates evening back in May. "[CCP-funded institutions] cut them open while they are alive and don't even use any anesthetic … it's terrible in itself and terrible where people seen with a healthy lifestyle are particularly targeted."
As a law student, Martin considers the CCP's persecution of Falun Dafa practitioners to be a direct breach of Article 36 of China's constitution, which guarantees its citizens freedom of religious belief and forbids the state and individuals from forcing someone not to believe in any particular faith.
"[The persecution is] a terrible policy, and it shows that China just follows whatever law they want to, whatever suits the person enforcing the law," he said.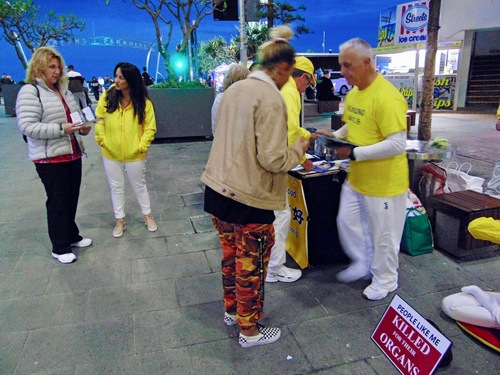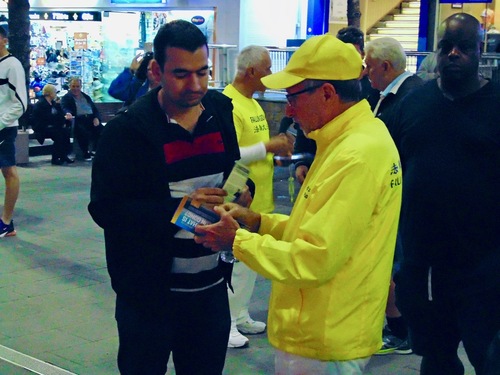 Organs Removed Without Permission
Drug Law Reform Australia Senate Candidate Deb Lynch, who is a qualified health professional, believes it is "absolutely disgraceful" that mainland Chinese health institutions are harvesting the organs of Falun Dafa practitioners.
"They are forcibly incarcerating people and they are harvesting organs from healthy people who have not given their permission, and [the proceeds are] being used to fund goodness knows what," said Lynch, who posted photos from the event on her Facebook page.
Lynch was horrified to hear a Falun Dafa practitioner's account in a news story on SBS Television that he was never taken to hospital for medical care and instead forced to give two vials of blood while detained in China.
"They were doing tissue typing and trying to match people to unload their [harvested] organs on, [which] is wrong," she said. "There should be more media coverage about this. There is some media coverage coming through the social media, but mainstream media in Australia is very silent about it, and I think it is disgraceful."
End of Persecution Cannot Come a Day Too Soon
Scott Turner, Greens candidate for the seat of Fadden, said, "Every day more people are taken from their families and tortured, so it can't come a day too soon." Turner showed his support for practitioners in a Facebook post about the Confucius Institute.